René Barbera lands tenor roles in famed European opera houses
Nearly a decade ago, just before completing his studies in the A.J. Fletcher Opera Institute at UNCSA, tenor René Barbera emerged as one of five winners in the Grand Finals Concert of the Metropolitan Opera National Council Auditions, and he secured an apprenticeship in the prestigious Merola Opera Program of San Francisco Opera. In 2011, he would also win first prize for opera, first prize for zarzuela (Spanish operetta) and the audience prize at the World Opera Competition, Operalia.
Would Barbera, who studied with Marilyn Taylor at UNCSA, sustain the momentum of this remarkable early success?
American audiences have long known the answer to that question, having watched him perform with distinction at the Met and several other major houses. In 2015, he also played the Duke of Mantua in a Piedmont Opera production of Verdi's "Rigoletto."
As for audiences in Europe, if they aren't yet as familiar with Barbera's star-quality artistry as his United States fans are, they soon will be:
Barbera and his wife, Anna, recently moved to Berlin. Their new home puts Barbera just a train trip or short flight away from several cities where he will make his house debuts during the 2018-19 season. He's also enjoyed the excitement and rigors of filling in as a last-minute replacement for productions in Dresden and Zurich.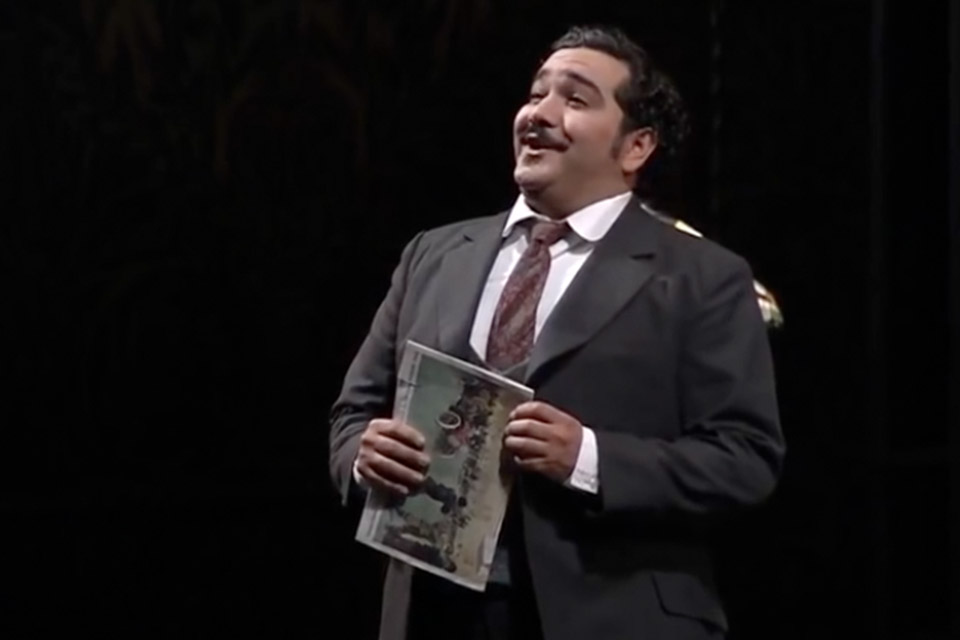 Watch René Barbera's performance from "La Traviata," performed at Teatro Massimo in Palermo, Italy.
Barbera's coming house debuts belong on the bucket list of any opera singer. Beginning this month, he will perform for the first time at the famed Vienna State Opera, singing Ernesto in Donizetti's "Don Pasquale." After that, it's on to Amsterdam, where he will make his first appearance at the Dutch National Opera as Il Conte Almaviva in Rossini's "Il barbiere di Siviglia." And in February, he will make his Opera Roma debut by singing Riccardo Percy in Donizetti's "Anna Bolena."
In addition to these prominent debuts, New York Public Radio WQXR recently named Barbera to their list of 40 opera singers under 40.
During a break in rehearsals for the Dutch National Opera production, Barbera chatted via Skype about life in Europe, his opera career so far and his UNCSA training:
You aren't the first American opera singer to try their luck in Europe. What are the advantages of relocating there?
There is more operatic work in Europe. Period. End of story. At this point I'm getting quite a bit more work here than anywhere else. I think in the next calendar year the only time I'm going to set foot in the States is for about a week.
I know you're very much looking forward to singing at the Vienna State Opera. But since you've already made your house debut at La Scala, singing Ernesto in Donizetti's "Don Pasquale," I'm eager to hear your impressions of singing there.
It was a little intimidating. All of the greats sang there and it's such an historic house. I mean, it was Verdi's house at some point—you know? Obviously, you want to make a good impression. You want to do well. You learn about the spots on the stage where the acoustics are really good, and you make sure to stand there. Everyone always tells you that you've just got to take two steps forward because if you're two steps back, the sound is, like, 80 percent smaller.
I've heard that La Scala's fans are so passionate that they will nearly riot if a performance isn't going well. What's your take?
Fortunately, I didn't experience any of that. The fans are definitely committed. They're very dedicated people. I met a few after each show, including one lady who has been to every performance since 1973.
Let's talk about your time at UNCSA. As I remember, you first heard about it one summer when you were in Colorado and participating in the Vocal Arts Symposium.
Yes, I had been studying with Martile Roland (a soprano who is also the artistic director of Opera Theatre of the Rockies). I met UNCSA instructors Steve LaCosse and James Allbritten (now general and artistic director of Piedmont Opera), along with a bunch of their students, who were all there. I liked them. I talked to Martile about attending UNCSA and she said, "You should go, you need to study with Marilyn Taylor, you should do that." I'm so glad I did.
Tell me more about working with Marilyn.
She's been incredible. She's helped me to know what I need to do when I'm having an off day and to be able to continue singing at a high level even when I'm not feeling well. She's always been available to me. In fact, I just flew her to Berlin, where she provided me voice lessons for a week. It was great. We worked on certain passages of certain pieces. She left me with a couple of tricks up my sleeve to help me with some of those hard spots.
What surprised you about practicing and studying your art in Winston-Salem?
For being such a small town, I feel like the support for the arts in Winston-Salem is unmatched. I never would have expected something from a town like that. It's such a cool thing.
For being such a small town, I feel like the support for the arts in Winston-Salem is unmatched. I never would have expected something from a town like that. It's such a cool thing.

René Barbera
Finally, imagine that a current or prospective student is reading your story. What advice would you have for them?
Other than learning to roll with the frustrations that come with any career, I think the biggest advice I can give them is to find an appropriate work/study-life balance.
What I didn't see enough of at UNCSA was people doing things for themselves, having a hobby, having something outside of singing. It's important to do that. You'll burn out otherwise.