Meet the Studio
Composition
Meet the Studio
The UNCSA Composition Department has four Master's degree candidates, ten undergraduates and three high school students. The program is led by three Composition Professors: Lawrence Dillon, Kenneth Frazelle and Michael Rothkopf.
---
Caleb Adams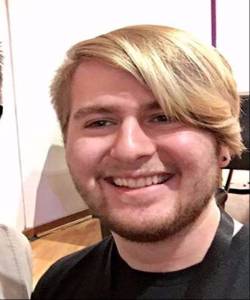 Caleb Adams first got into composition through playing guitar. Noticing that many of his rock idols had strong roots in the blues led him to improvisation. As he began songwriting in a rock and blues vein, he felt that every song should have a story, and every story should have a meaning. The love of blues led to jazz, and Adams became obsessed with more complex chord structures. Throughout this development in musical interests, Adams played in several local ensembles and bands honing any compositional skills as opportunities arose. In the summer of 2017, Adams attended the Young Composers Program of the Cleveland Institute of Music, after which he enrolled at the University of North Carolina School of the Arts. Caleb is currently a high school junior studying with Dr. Lawrence Dillon.
---
Kyrie Antoinette
Originally from Boston, Kyrie Antoinette began arranging and composing for recreation, but decided at 16 to devote her future to composition completely. She is currently a college senior studying music composition under Dr. Lawrence Dillon at UNCSA, through which she's had several pieces performed since her entry, including an orchestra piece, a number of chamber works as well as collaborations with the university's Schools of Design and Production, Drama and Dance.
---
Derek Wesley Arnold
Derek Wesley Arnold, a native of Raleigh, N.C., has composed for a variety of ensembles from large orchestras to numerous chamber groups, as well as several pieces for solo piano. His undergraduate studies were with Dr. Lawrence Dillon at UNCSA where he graduated in 2016 with a Bachelor of Music degree. Derek has remained at UNCSA while he earns his Master of Music degree studying with Mr. Kenneth Frazelle.
---
Alicia Bachorik
Alicia Bachorik is a composer whose choral and chamber works have been performed both in the USA and in her second home of the Philippines. Her love of reading has grown into a desire to connect language and storytelling to her compositions, as demonstrated in various vocal and choral works. More recently, she has been experimenting with incorporating text into instrumental music: an example of this practice may be found in A Visit to the Asylum, which was premiered by the UNCSA flute ensemble. Alicia is currently pursuing a graduate degree in composition at UNCSA where her principal teacher is Lawrence Dillon.


---
Jessica Buford
Jessica Buford is a college senior studying with Kenneth Frazelle. Originally from Bluefield, West Virginia, She navigated her way to North Carolina through a large family of musicians. Seeking to incorporate as many influences as possible, she takes inspiration from elements such as gospel, jazz, contemporary classical, and rock. Currently, she sings with the Winston-Salem Symphony Chorale. She has studied with Hummie Mann at the Pacific Northwest Film Scoring Intensive and has received grants to participate in both this intensive and the Siena Summer Music Festival. She enjoys books (writing/editing), the shadows clouds cast on mountains, hats, and professional wrestling.
---
Peyton Clifford

Peyton Clifford's interest in blending genres comes from his upbringing in Charlotte, N.C., where he was exposed from an early age to everything from classical opera to The Rolling Stones to punk rock. Throughout high school he developed a serious interest in folk, jazz, and classical music. He is a firm believer in music as both a political/social tool and a basic human necessity. What excites him most about being a 21st-century composer is the ability to constantly explore new sounds, new interactions between acoustic and electronic music, and new ways to collaborate with other artists. Peyton is a college junior studying with Lawrence Dillon.


---
Tyson Davis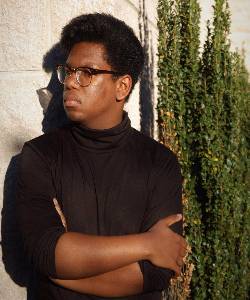 Tyson Davis began composing for piano at the age of eight. In middle school, he joined the orchestra, playing cello and bass. He entered UNCSA as a high school freshman. Currently a junior, Tyson studies with Lawrence Dillon. In the summer of 2017, he attended Interlochen Summer Music Camp, where he had works for chorus and percussion ensemble premiered and earned the Fine Arts Award. Tyson's String Quartet will be recorded in February 2018 by the Attacca String Quartet. His Another Sky will be performed by UNCSA Cantata Singers in April.



---
Oliver Glynn
Oliver Glynn is an avid listener, composer, performer and page turner of music. Born and raised in Richmond, Va., Oliver was taught music first by his father, John Glynn, who has remained a mentor throughout his life. Other instructors include Jane Benson, Nathan Miller, and William Southerland. His music has been performed in the Richmond, Va., Wilmington, Del., and Winston-Salem, N.C., areas. In 2015 he was a member of the Boysie Lowery Living Jazz Residency where he performed at the World Café Live theatre in Wilmington, Del. He is currently a fourth-year composition student at UNCSA in the studio of Dr. Michael S. Rothkopf.



---
Nicholas Karr
Nicholas Karr was born in Asheville, N.C., in 1994. He grew up in the nearby town of Lake Lure, where he discovered a passion for music at a young age. In his early teens, he discovered his love for the concert band. The experiences of being in band changed the way he conceived of music, and he was soon applying his talents to writing compositions for his high school concert band. From 2012-14, Karr attended Appalachian State University for instrumental music education in clarinet under Dr. Andrea Cheeseman. He continued to compose while attending, having compositions performed by many ensembles, including the Appalachian State Wind Ensemble. In 2014, Karr began studying composition at UNCSA under the instruction of Dr. Michael Rothkopf. Karr's music has been described as moving, emotional, and progressive. He aims to achieve an integration of modern technique and style, while retaining the expressive and emotional qualities of earlier styles of music. Karr does not use music to create a picture, but hopes to invoke an emotional response that encourages the listener to come to their own unique experience.
---
Gustav Knudson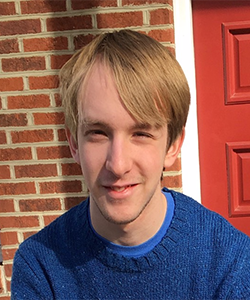 Gustav Edward Knudson is a composer from Chicago, Illinois. He is currently studying at the University of North Carolina School of the Arts with Mr. Kenneth Frazelle. His interest in music burgeoned at an early age when listening to bands like Wilco and They Might Be Giants. He began playing music at the age of ten in sixth grade band in Gainesville, Florida, but had attempted playing both the guitar and drums beforehand. He mastered every discipline of high school band percussion and took an interest in composition in his freshman year. He now plays guitar, clarinet, and piano in addition to percussion. Compositionally, Knudson is highly influenced by the sounds of big-band jazz (composers such as Nestico and Gershwin) and 20th- century classical music, taking melodic and harmonic ideas from composers like Stravinsky and Percy A. Grainger. He also has a liking for percussion writing, especially for the vibraphone. He is often inspired by the sounds of nature, such as the arrhythmic sounds of birds chirping, water dripping, or small stones tumbling down a mountain-face.

---
Thomas Little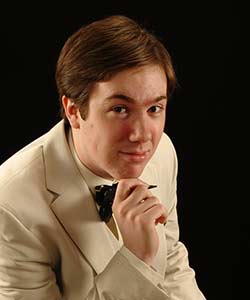 Thomas Little was identified as a musical prodigy at the age of six and studied piano with Dr. George Kiorpes for twelve years. His improvisations led him to the world of composition, which he has studied with Dr. Michael Rothkopf since the summer of 2012. Highlights of his prolific and eclectic output include an electronic piece played for multiple years at the Tanglewood Festival of Lights, annually attended by a quarter million people, as well as the humorous musical-theater chamber piece Overdrive, which has been performed across the country by UNCSA's own "Low and Lower" cello-bass duo of Brooks Whitehouse and Paul Sharpe.
Mr. Little's music is characterized by the fusion of old and new concepts and techniques, combined with both an affinity for Haydnesque humor and a thorough fascination with music's unique ability to directly convey the emotions of lived experiences. He performs as pianist and organist at St. Michael Lutheran Church in High Point and as a part of Wake Forest's Gamelan Giri Murti. He runs the music education series "Classical Nerd" on YouTube, and can passably imitate a kazoo with his mouth. In his spare time, he enjoys going on exorbitantly long road trips. He is currently a college junior in Dr. Rothkopf's studio.
---
Thomas McMillan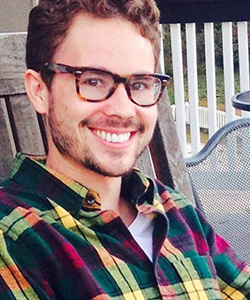 Thomas McMillan is a graduate student at UNCSA in the studio of Dr. Michael Rothkopf. He began studying composition seriously during a summer program at UNCSA nine years ago. He continued his studies at Davidson College, and now finds himself back at UNCSA working towards a Master of Music in Music Composition and writing lots of modal counterpoint.
---
K. Christopher Pyle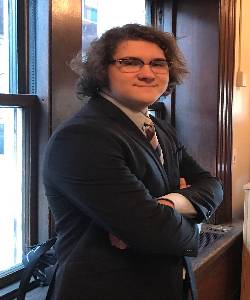 Kollen Christopher Pyle has been playing various instruments since age eleven when he began learning guitar by ear, later doing the same with piano, banjo, and several other instruments. In sixth grade he joined the concert band, playing clarinet. The following year he switched focus to saxophone, which he would play for the remainder of his time in both middle school and high school. While interested in composition early on, he did not fully pursue this interest until his junior year of high school, while taking an AP Music Theory course. Particularly interested in writing for large ensembles, he wrote a piece that was performed by his high school concert band. Christopher is currently a college freshman, studying with Lawrence Dillon.
---
Algernon Robinson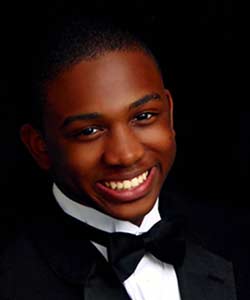 Algernon "AJ" Robinson, born in Hartford, Conn., began studying piano at an early age, and picked up the violin and singing in middle school. In high school, AJ played violin with the Wilmington Symphony Orchestra (WSO) and the Wilmington Symphony Youth Orchestra (WYSO) under the direction of Dr. Steven Errante in addition to singing with the concert and chamber choirs at UNCW. In his second year at UNCSA, AJ studies music composition under Dr. Lawrence Dillon. He previously studied with Dr. Lowell Liebermann at Mannes School of Music in NYC. AJ deeply appreciates the music of 20th century French composers such as Darius Milhaud, Francis Poulenc, and Jean Françaix. While still developing his artistic voice, he enjoys experimenting with tonal ambiguity as a means to musical expression.
---
Luis Sanz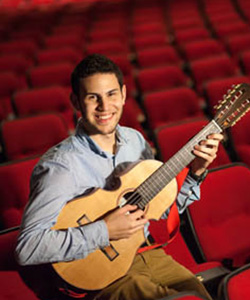 Born in 1994 in Bayamon, Puerto Rico, Luis Sanz began playing the Puerto Rican cuatro at the age of four. As a young boy, Luis displayed a great interest in the folkloric music of Puerto Rico and a talent for performing this music on the cuatro. Throughout his formative years he garnered much recognition, recording his first album, Un legado para la historia, at the age of nine. That same year, Luis was selected by audition to participate as a soloist in the Concerts of the Symphony Orchestra of Puerto Rico by Maestro Roselin Pabon. In addition, in 2005, the Puerto Rican House of Representatives gave him special recognition for his dedication to conserving Puerto Rican folkloric music, and for his talent and success.
Luis' creative development and talent in improvisation brought him to arranging and composing works for symphony, bands and other groups. He entered the Conservatory of Music of Puerto Rico, where he earned a Bachelor of Music Degree in Composition under the tutelage of Professor Alfonso Fuentes. He won first place in a competition, sponsored by Glade for young composers at the Conservatory of Music of Puerto Rico, for his composition, "Vuela con Glade." In April 2015, his composition "Fantasia para Cuatro y Orquestra," was performed by the Symphony Orchestra of the Conservatory of Music, directed by Roselín Pabon. He received his first commission from APAOS, for a symphonic band work, "Emociones del Caribe." It was premiered in May 2015 at El Centro de Bellas Artes Luis A. Ferre. At the same time, with a granted scholarship, he also completed a Bachelor Degree at Universidad Interamericana de Puerto Rico with an emphasis in the area of Popular Music and a minor in Education.
---
Scott Shea

Scott is a budding composer with a performance background in French horn and guitar. He began composing his sophomore year of high school, and in Spring 2015 his first orchestral work, "A Pilgrimage," was premiered and recorded by the Greensboro Youth Symphony Orchestra after winning the ensemble's Young Composers Competition. His style of writing is influenced by the Romantic period, with borrowed elements of jazz and other contemporary styles. He attended the 2014 UNCSA Summer Session for composition, and is now studying under Dr. Michael Rothkopf. Scott is currently a member of the UNCSA horn studio, where he participates in the wind ensemble and horn choir. As a jazz guitarist, he has performed in a variety of big band and chamber settings, as well as participating in the Summer Jazz Workshop at UNC-Wilmington. When he isn't playing or writing music, Scott likes to read, watch movies and play ping-pong. Scott is a college sophomore, currently pursuing a Bachelor's of Music in Composition at UNC School of the Arts.