Meet the Flute Studio
Meet the Flute Studio
Students in the UNCSA Flute Studio range from high school to graduate-level studies. The studio is led by Dr. Tadeu Coelho. Meet the 2021-22 studio members below.
Dr. Tadeu Coelho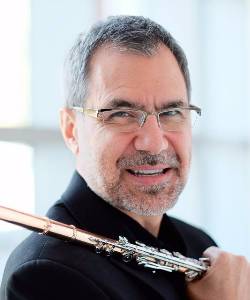 Tadeu Coelho teaches flute at UNCSA. Prior to teaching at UNCSA, he served as associate professor of flute at the University of Iowa (1997-2002), as assistant professor of flute at the University of New Mexico (1992-97) and as visiting professor at the Ino Mirkovich Music Academy in Croatia. He frequently appears as soloist, chamber musician and master clinician throughout Europe, Asia and the Americas. He has performed as first solo flutist of the Santa Fe Symphony, Hofer Symphoniker in Germany and the Spoleto Festival Orchestra in Italy, among others.
---
Isabel Aviles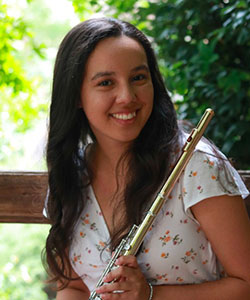 Isabel Aviles is currently a master's student studying Flute Performance at UNCSA with Dr. Tadeu Coelho. She received her B.M. in Flute Performance at the University of Central Florida under Dr. Nora Lee Garcia. During her time at UCF, she also received a minor in Cinema Studies, was the President of the Flute Club at UCF, and was the 2020 UCF Performance Excellence Competition winner. Currently, she works as a flute teacher at the Music Academy of North Carolina and is the Aural Skills Graduate Teaching Assistant at UNCSA.
Recently she worked as a Marketing Intern for Orbis Technologies and for several years was the flute teacher at the Orlando School of Music, Avalon School of Music, a Woodwind Tech at Timber Creek High School. During the summers she works as a counselor at the UCF Flute Institute/Bootcamp. Her music festival experiences include the Camino Spain Flute Camp, Interhuman Music Festivals in Italy and Germany, and Flauti al Castello in Italy. Professionally she has performed with the Villages Orchestra, Orlando Contemporary Chamber Orchestra, Bach Festival Orchestra, and several local churches in Florida.
Boroka Boisen
Boroka is a native of Harrisonburg Virginia and is currently a first-year master's student at UNCSA. She earned her B.M. in 2022 from James Madison University where she studied with Dr. Beth Chandler Cahill. During her studies at James Madison University, Boroka was a member of various ensembles such as the Symphony Orchestra, Wind Symphony, and several chamber ensembles. She also enjoyed playing in pit orchestras for Gounod's "Faust" and Bill Russels "Sideshow."
Boroka has had the pleasure of playing in masterclasses for several well-known flutists including Jennifer Grim, Alison Brown-Sincoff, Bonita Boyd, and Christopher Chaffee. In the future, Boroka hopes to teach flute at the collegiate level while maintaining an active private studio.
Kayla Cieslak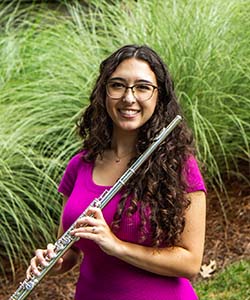 Kayla Cieslak is a native of Macomb, Michigan and is a second-year graduate student at UNCSA. She is currently the Flute Studio Teaching Assistant to Dr. Tadeu Coelho. She is also the Academic and Artist Services Graduate Assistant. Before attending UNCSA, Kayla received her B.M. from Eastern Michigan University where she studied with Dr. Julie Stone.
During Kayla's undergraduate degree, she won both the William Stewart Concerto Competition and the Concerto/Aria Competition. She also won the Barry Manilow Scholarship Competition, which she has been recognized for on a national level through the Manilow Music Project. Kayla served as Principal Flute/Piccolo in both the EMU Wind Ensemble and Orchestra for three years. She is also an active member in the professional music fraternity Mu Phi Epsilon.
Nationally, Kayla won the opportunity to perform in the United States Premier Air Force Band Collegiate Symposium as one of two flutists selected and performed in the National Flute Association Collegiate Flute Choir in 2018. She has also participated in the Renova Chamber Orchestra Music Festival. Kayla has performed in many masterclasses with prominent flutists such as Sharon Sparrow, Amy Porter, Richard Sherman, Amanda Blaikie, Marina Piccinini and Christina Jennings. Professionally, Kayla has subbed regularly with the Piedmont Wind Symphony. Currently, she is a member of ArtistCorps, a community engagement program at UNCSA that serves the Winston-Salem community through the arts.
Lauren Davies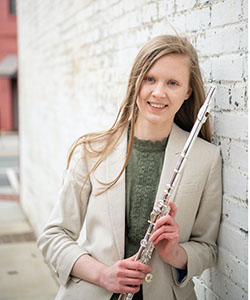 Lauren Davies is a first-year graduate student studying with Dr. Tadeu Coelho and has been playing flute for 14 years. She graduated with her B.M. in Flute Performance at Bob Jones University under the instruction of Dr. Esther Waite. During her time at Bob Jones, Lauren was a Concerto/Aria Competition winner and a pit orchestra musician for both The Tale of Two Cities musical and Saint-Saëns' grand opera Samson et Dalila. Prior to collegiate instruction, Lauren studied with
Dr. Kelly Kazik for nine years and participated regularly in numerous competitions and events, particularly with The Flute Society of Washington. Lauren is passionate about collaborating, teaching and communicating with music.
While studying at UNCSA, she hopes to strengthen her artistry and ability as both a performer and instructor. Currently one of two Ensemble Library Graduate Assistants at UNCSA, Lauren holds four years of experience as an ensemble librarian and in addition to performing and teaching, is interested in pursuing a professional position in performance librarianship.
Caroline Gordon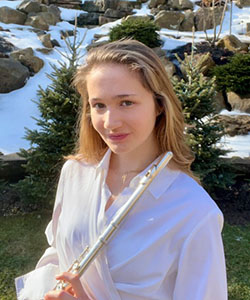 Caroline Gordon, high school junior, is an avid artist and graduate of the Cleveland Institute of Music Pre-College Program from Akron, Ohio where she played principal flute in the Cleveland Youth Wind Symphony, Contemporary Youth Orchestra, and Akron Youth Symphony. Self-taught, Caroline eagerly entered the ensemble environment in sixth grade playing her mother's flute and envisions the future of classical music.
Caroline has played in masterclasses for numerous renowned flutists including Alexa Still, Dr. Leonard Garrison, Dr. Rita Linard and Rene Miska. Additionally, she has won second prize and was selected as a finalist in the Central Ohio Flute Association Senior Division and received top scores in juries from Dr. Jacqueline Cordova-Arrington and Dr. Susanna Loewy. She was selected to perform principal flute in multiple honors ensembles including the Wright State Honors Band, Ohio District VI Junior High Honors Band, as well as summer festivals such as the Blue Lake Masterworks Orchestra, Interlochen Online, and Wooster Music Camp.
Along with playing flute and piccolo in UNCSA ensembles, Caroline also is a soprano, previously singing in her Akron Honors Chorale, pianist, and composer at heart. Outside of the music domain, she was a representative to Cisco Systems Girls Power Tech, the Anatomy and Physiology Science Olympiad Coach for her previous school and is a zealous writer. Caroline is a proud, lifelong friend of her flute professors, including Heidi Ruby-Kushious, Dr. Christopher Chaffee, Barbara O'Brien, Audrey Park, and Melanie Stoll.
Sydney Horner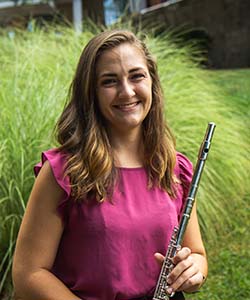 Sydney Horner is a North Carolina native and is a second-year graduate student at UNCSA. She graduated in 2021 from UNC Greensboro where she studied with Erika Boysen. During her time at UNCG, Sydney was a member of the Wind Ensemble, Symphonic band, as well as the UNCG flute choir. She was part of the Flute ensemble that performed at the Mid-Atlantic flute fair in spring of 2019. During her undergraduate degree she was a finalist for the UNCSA woodwind competition, she was also chosen to present her research paper on female composers in the Middle Ages at the University Honors Symposium in spring of 2019. Sydney aspires to teach at the collegiate level and have a private studio of her own.
Ivan Felipe Muñoz Vargas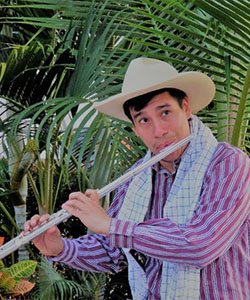 Ivan Felipe Muñoz Vargas was born and raised in Neiva, Huila (in the South of Colombia). He began his musical studies at eight years old in the music school National Music Foundation BATUTA (2002). His first teachers during his childhood and teenage years were Pedro Dussan Salazar (flute teacher, chamber music and wind symphonic band) and Rafael Serrano Barceló (symphonic orchestra and accompaniment piano). He was a teacher and first flute in the Chia Symphonic Band under the baton of Jesus Orielso Jacome.
Ivan is the former teacher of the Regional Huila Conservatory of Music & Chant, a position he held from 2019 – July 2021. After completing his studies in Bogota, he returned to Neiva, Huila, where he continued to teach. His students are successful and have been accepted to continue their studies at several prominent music schools in Colombia. In 2019, he assumed the Musical Direction of the Hands of Piece musical social band school program. In 2020, he continued being faculty of the same program, though the program name changed to Artistic Education Schools.
Since May 2021, he is the Musical Coordinator of Artistic Education Schools of his home state. Ivan gave recitals and concerts to stay in shape and work with his colleague and friend Guitar Nicolas Guerrero, in a Flute-Guitar Duet named Magenta-Duo, playing Latin-American music and folklore music. Magenta-Duo was part of the Anselmo Duran Colombian Andean Music competition in 2019 and 2021 and won 5th place in 2022. In 2021, the best year of the ensemble, they won a competition in Ibague-Tolima (2nd Place) and were selected as one of the best musical ensembles in Huila State. Ivan graduated with his bachelor's degree from El Bosque University, and have studied with Javier Olave and Rafael Aponte. Ivan is a graduate student in Dr. Tadeu Coelho's flute studio at UNCSA.

Ell Poole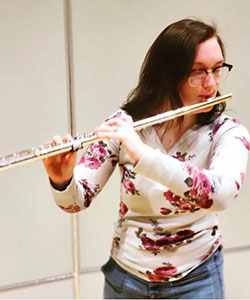 Ell Poole, born in Savannah, Georgia, is a second-year undergraduate and has been playing flute from the age of 10. By age 12, they decided they wanted to become a professional. Living in Georgia, Ell played in GMEA district 8 honor band for two years, making first chair in eighth grade. They also played second chair in GMEA South Region Honor Band and were invited to state level auditions.
Along with honor bands, as a sixth grader they won 2nd place in the middle school 4-H District Project Achievement in the category of Instrumental Music, after just six short months of playing the flute. Ell performed in the North Carolina Eastern District honor bands for three years and in the UNC Greensboro and UNC Wilmington honor bands for two years. They have also performed in the UNC Pembroke honor band and participated in a European tour with the North Carolina Ambassadors of Music.
They started playing piccolo at age 13 and have played with the North Carolina Eastern Youth Orchestra. After spending their senior year of high school at UNCSA, they decided to return and study under Dr. Tadeu Coelho for their undergraduate degree as well. Ell will graduate in the class of 2025.
Phoebe Pylant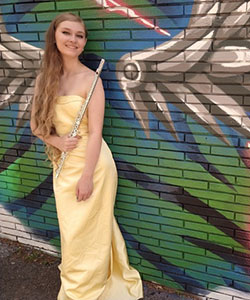 Phoebe Pylant is a flutist, harpist, pianist, soprano, and composer from the metro Atlanta area. She has played piano since 3rd grade, flute since 4th, and harp since 7th. She has participated in more than two dozen youth chamber groups as well as the Georgia Music Educators Association All-State Band, All-State Chorus, Georgia Youth Symphony Orchestra, and Sinfo-Nia Youth Orchestra. She has attended and performed in masterclasses given by Valerie Coleman, Katherine Borst Jones, and Robert Dick, and has been commissioned by flutist Tadeu Coelho for his concert featuring underrepresented composers.
The Music Teachers National Association named her the 2020-2021 Georgia alternate for the woodwind competition (junior division), the 2019-2020 Georgia winner for the woodwind competition (junior division), as well as the 2021-2022 and 2020-2021 Georgia winner and Southeast regional alternate for its music composition competition (junior division). Juan Ramirez of The Atlanta Symphony Orchestra named her the 2021 Georgia winner of the inaugural statewide music composition competition hosted by Ztunes Music.
Phoebe's creative compositions have been played at many concerts, university degree recitals, and even masterclasses. Her works have been recorded multiple times by a wide selection of performers and many of these recordings are featured on this website. 

Phoebe currently studies flute at the University of North Carolina School of the Arts as a sophomore in the high school program and composes regularly.
Madelyn Sealey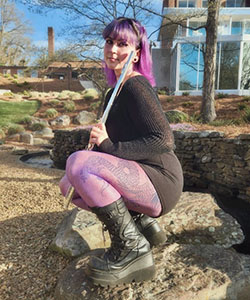 Madelyn Sealey's interest in becoming a flutist was sparked at age 11 when she joined her middle school's band program. As she excelled, she began studying privately with French flutist Nicolas Duchamp. With his help, Madelyn won seats in several local, regional, and state-wide band and orchestral competitions throughout her high school years. She hopes to continue her success at UNCSA, now with the guidance and instruction of Dr. Tadeu Coelho.
Gabrielle Small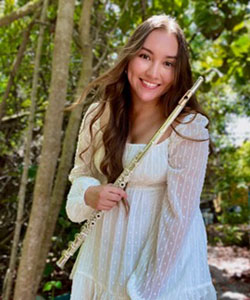 Flutist Gabrielle Small is a south Florida native and a first-year graduate student at UNCSA. She previously attended the University of South Florida where she earned degrees in Music and Environmental Science and Policy. Her principal flute teacher is Dr. Marie Jureit-Beamish. During her undergraduate studies, Gabrielle maintained an active teaching career coaching the flute section of the Treasure Coast Youth Symphony and working as an assistant educator at the Florida Oceanographic Society. She now works as a graduate assistant in the UNCSA library.
Gabrielle has been performing in musical organizations throughout the state of Florida, including the Treasure Coast Academy Orchestra, the University of South Florida Flute Ensemble, the Treasure Coast Flute Choir, the Florida Flute Association annual convention, and has been featured in concert series with the Martin County Arts Council. She has also been featured performing in masterclasses for renowned flutists such as Marina Piccinini and Paul Edmund-Davies. In 2021, she won second prize in the Bellegrande International Music Competition and was named runner-up for the Florida Music Teacher's National Competition state round division in 2018, 2020, 2021.
Recently, in March 2022, Gabrielle was one of several flutists who performed the premiere of Samuel Zyman's duet for two flutes titled "Intuition." In addition to performance, Gabrielle continues to search for new ways to connect both her passion for the arts and sciences.