Meet the Flute Studio
Meet the Flute Studio
Students in the UNCSA Flute Studio range from high school to graduate-level studies. The studio is led by Dr. Tadeu Coelho. Meet the 2020-21 studio members below.
Dr. Tadeu Coelho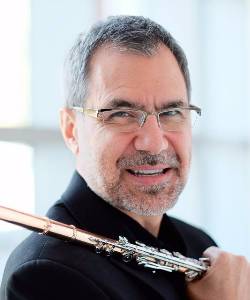 Tadeu Coelho teaches flute at UNCSA. Prior to teaching at UNCSA, he served as associate professor of flute at the University of Iowa (1997-2002), as assistant professor of flute at the University of New Mexico (1992-97) and as visiting professor at the Ino Mirkovich Music Academy in Croatia. He frequently appears as soloist, chamber musician and master clinician throughout Europe, Asia and the Americas. He has performed as first solo flutist of the Santa Fe Symphony, Hofer Symphoniker in Germany and the Spoleto Festival Orchestra in Italy, among others.
---
Jaron Deming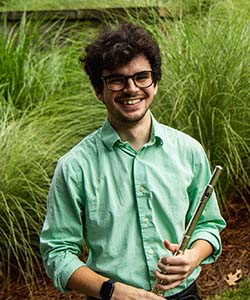 Jaron is a native of Greenville, South Carolina, and a first-year graduate student at UNCSA. At the age of nine, he began instruction under Bob Jones University's former Associate Professor of Flute Mrs. Amanda Barrett. He holds a Bachelor's of Music Education from the South Carolina School of the Arts at Anderson University (AU), where he studied under Mrs. Leah Wilson. He held the principle chair of the city's Anderson Symphony Orchestra and AU's Wind Symphony and Flute Choirs.
During his final three years of undergraduate study, he represented AU at the SCMEA Intercollegiate Honor Band, two years of which he was awarded principle chair. Jaron also served as the Advocacy Chair for AU's National Association for Music Education Chapter, where he pursued ambitions to build on community service opportunities.
Currently, Jaron has focused most of his efforts on instruction at the community level. Several of his current and previous students have placed high in region and state level honor bands. He hopes to continue to build on his emerging performance and teaching careers while studying at UNCSA.
Ricardo Gil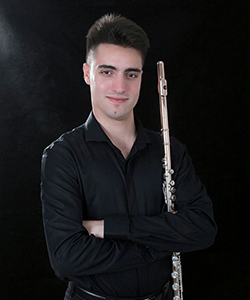 Ricardo Gil is a second year graduate student at UNCSA, earning his MM in Flute Performance. Ricardo serves as the Flute Studio Teaching Assistant to Dr. Tadeu Coelho. Before residing at UNCSA, he earned his BM in Flute Performance at Indiana State University. While earning his BM, he distinguished himself in a variety of ways—both on and off campus—with multiple honors and awards, including the 2018 Presser Award.
Nationally, Ricardo has been chosen to perform in the National Flute Association Collegiate Flute Choirs and multiple William Bennett masterclasses. Internationally, he has been awarded and performed in Carnegie Hall in New York City, Musikverein in Vienna, Austria and Weggis, Switzerland for many competitions. In addition, he has been sponsored by the Straubinger Flutes Co. to become a Straubinger Young Artist, as well as participate in multiple festivals, masterclasses and competitions throughout his career. He has performed multiple times, as a soloist, with the Dominican Wind Orchestra and the National Symphony Youth Orchestra of Santo Domingo.
Ricardo is active in the Associated Board Royal School of Music diplomas program, earning completion with distinction of grade IV and V in theory and grade VI in instrumental-flute. Ricardo was invited to participate in the Orchestral Workshop with the India National Youth Orchestra and professors of the University of Vienna in Lucknow, India. During the Summer of 2014, he attended masterclasses, rehearsals and performances in Winchester, England.
Ricardo has studied with Dr. Joyce Wilson, Claudio Barile, principal flutist of the Buenos Aires Philharmonic and Luis Ruiz, former principal flutist of the Santo Domingo Symphony Orchestra. Ricardo has participated in masterclasses with many renowned artists.
Jack King
Jack King is a high school junior at UNCSA. With the encouragement of his parents, Jack joined the school band in sixth grade. After trying out instruments varying from the saxophone to the oboe, he decided that his favorite was the flute. This curiosity in the flute followed him when he moved schools in the seventh grade.
Through the support of his parents and teachers, he began auditioning for several honor bands and put a name out for himself. He participated in three years of All-District and All-State Honor Bands, UNCW Honors Band, NC Youth Wind Ensemble and a European tour with the North Carolina Ambassadors of Music.
Miriam Laughlin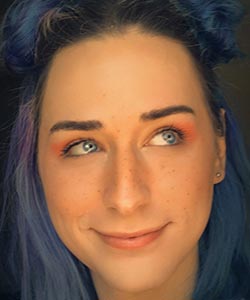 Miriam Laughlin is from Avon Park, Florida, and began her studies at the age of 12. She received a BM in flute performance from UNCSA and is now pursuing her MM degree at UNCSA after spending some time at Boise State University.
As an orchestral musician, Miriam has performed with the Western Piedmont Symphony Orchestra, Renova Chamber Music Festival orchestra and in the pit for multiple musical productions including "Beauty and the Beast" and "The Wizard of Oz." Miriam was a concerto competition winner at the University of Akron, and performed "Poem" by Charles Griffes in 2016. Miriam participated in 2018 Passion Flute IX with the help of the Semans Foundation, and was selected to perform Jacques Ibert's Flute Concerto as a featured closing recital soloist.
She has performed in masterclasses for Marina Piccinini, Dr. Claudia Anderson, Jill Felber, Dr. Angeleita Floyd and Dr. Marianne Gedigian. Her teachers include Dr. Tadeu Coelho, Dr. Nicole Molumby, Heidi Ruby Kushious, Jane Berkner and George Pope. In her free time, she enjoys roller skating, cooking and playing with her cat, Lukas. Upon completion of her degree, Miriam hopes to make a living playing in opera productions.
Kiana Luna
Kiana Luna is a flute player from Missouri. She has been playing since she was in the sixth grade. This year, she will attend UNCSA under the guidance of Dr. Tadeu Coelho.
Will O'Donoghue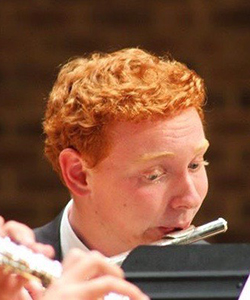 Will O'Donoghue was born and raised in Charlotte, North Carolina. He began playing flute at the age of nine. Throughout his primary schooling, Will was involved in numerous ensembles, both in school and out of school, including: Youth Orchestras of Charlotte, Charlotte Youth Wind Ensemble, All District Honors Band and various honors clinics and bands in the region.
In the Charlotte area, Will has performed as a soloist at the St. Alban's Youth Artist Series and at St. Peter's Catholic Church. During the summers, he has attended Cannon Music Camp at Appalachian State University, studying with Dr. Nancy Schneeloch-Bingham. As a member of the Raleigh Area Flute Association, Will performed in the Fall 2018 Review & Contest accompanied by David Gilliland (Davidson College), receiving Division 7 Honorable Mention. Since 2015, Will has studied flute and piccolo with Shirley Gilpin (Charlotte Symphony and Queens University). Will is pursuing a BM in flute performance at UNCSA.
Emily Osborne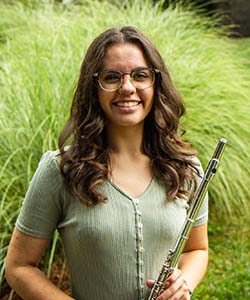 Emily Osborne is from North Las Vegas, Nevada, and has been playing flute for 11 years. She comes from a very musical family, and has always known it was something she wanted to get into. Emily has competed in MTNA, played in the NFA youth ensemble, as well as the SAA flute ensemble.
She has played in orchestras since she was 12, specifically in flute ensembles for nine years, and is a trained Suzuki Book 1 Flute Teacher. Emily really wants to become a flute teacher and have her own private studio, and maybe even work a pit or orchestra job! Emily is going to be a junior this year.
Mary Poole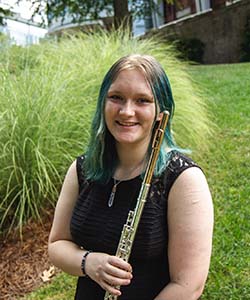 Mary Poole was born in Savannah, Georgia, and is a high school senior who has played flute from the age of 10. By the time she was 12, she had decided she wanted to become a professional.
Living in Georgia, Mary played in GMEA district 8 honor band for two years, making 1st chair in eighth grade. She also played 2nd chair in GMEA South Region Honor Band and was invited to state level auditions. Along with honor bands, as a sixth grader she won 2nd place in the middle school 4-H District Project Achievement in the category of Instrumental Music, after just six short months of playing the flute.
Mary has performed in the North Carolina Eastern District honor bands for three years and in the UNC Greensboro and UNC Wilmington honor bands for two years. She has also performed in the UNC Pembroke honor band and participated in a European tour with the North Carolina Ambassadors of Music.
She has also played piccolo since the age of 13, and played piccolo with North Carolina Eastern Youth Orchestra.
Madelyn Sealey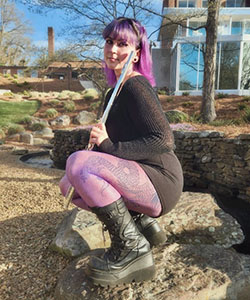 Madelyn Sealey's interest in becoming a flutist was sparked at age 11 when she joined her middle school's band program. As she excelled, she began studying privately with French flutist Nicolas Duchamp. With his help, Madelyn won seats in several local, regional and state-wide band and orchestral competitions throughout her high school years. She hopes to continue her success at UNCSA, now with the guidance and instruction of Dr. Tadeu Coelho.