Meet the Flute Studio
Meet the Flute Studio
Students in the UNCSA Flute Studio range from high school to graduate-level studies. The studio is led by Dr. Tadeu Coelho.
Dr. Tadeu Coelho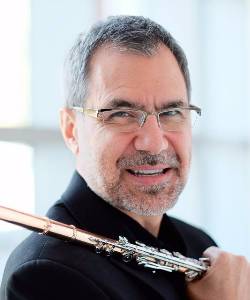 Tadeu Coelho teaches flute at UNCSA. Prior to teaching at UNCSA, he served as associate professor of flute at the University of Iowa from 1997-2002, as assistant professor of flute at the University of New Mexico from 1992-1997, and as visiting professor at the Ino Mirkovich Music Academy in Croatia. He frequently appears as soloist, chamber musician, and master clinician throughout Europe, Asia, and the Americas. He has performed as first solo flutist of the Santa Fe Symphony, Hofer Symphoniker in Germany, and the Spoleto Festival Orchestra in Italy, among others.

---
Sami Eudy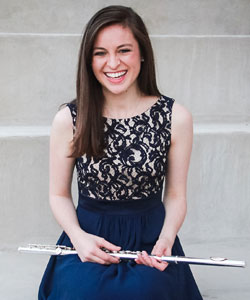 Sami is the current Teaching Assistant for the UNCSA Flute Studio and the Community Engagement & Career Services Office Graduate Assistant. She is in her second year pursuing her Master's degree in Flute Performance. She graduated from Southern Methodist University with a B.M. in Flute Performance and a B.A. in Psychology, where she studied flute and piccolo with Dallas Symphony Orchestra members Jean Larson Garver and Deborah Baron.
Sami's desire to push the boundaries of music to create art that is relevant and engaging for a modern audience has led her to work extensively with in new music collaborations in Dallas. She has performed frequently in partnerships with classical music ensembles Bridge the Gap and Open Classical, and new music ensemble SYZYGY. She has collaborated with members of Seraphic Fire, Roomful of Teeth, and Eighth Blackbird.
Sami was a Fellow at the Chamber Music Institute at UNL and has performed in masterclasses with Jeanne Baxtresser, Jim Walker, and Alberto Almarza. Sami has performed at the National Flute Association Convention and has spent summers studying at the Oberlin Conservatory with Kathleen Chastain and Michel Debost, and at Northwestern University studying with Walfrid Kujala. She has also taught private lessons and masterclasses in school districts throughout Houston and Dallas.
Her accomplishments have been recognized through numerous awards, including the nationally proclaimed and prestigious Presser Scholarship, the Seawell Memorial Scholarship from the Winston-Salem Foundation, the Sigma Alpha Iota award, and the John Philip Sousa award. Sami has won the Densie Jennings Solo & Ensemble Competition and the Meadows Concerto Competition. She is a member of the National Music Honor Society Alpha Eta Chapter of Pi Kappa Lambda.
---
Claire Hagedorn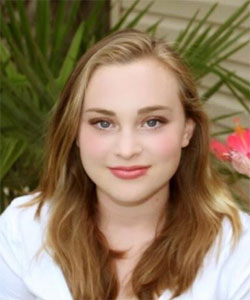 Claire is from Jacksonville, North Carolina. She began her study of the flute in 2014 through independent research and self-instruction. As her desire to perform at a higher level grew, she sought formal instruction with Michael Lopez. With Mr. Lopez, she studied music theory and flute performance. Her commitment to developing as a musician was rewarded during her eighth grade year when she was selected as first chair in the concert band's flute section.
Lauded for her hard work and commitment to growth, Claire began high school at Jacksonville High School where she played in Jacksonville Wind ensemble. She recently transferred to the high school program at UNCSA, where she performs with the Flute Ensemble and Wind Ensemble, and performs regularly in masterclasses.
---
Dayna Hagstedt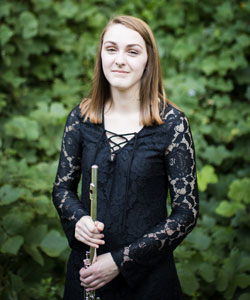 Dayna is from Waxhaw, NC. She began her flute studies at the age of 7 with Erin Moon-Kelly and studies at UNCSA as a high school senior. She has performed in numerous ensembles including: UNCSA Wind Ensemble and Jazz Ensemble, Union Symphony Youth Orchestra and Union Jazz, Winston-Salem Symphony Youth Orchestra, NC All State Honors Band, UNCSA Flute Ensemble and UNCSA High School Woodwind Quintet.
In April 2015, she won first place in the SC Flute Society Clinic Artist Competition. In February 2016, she was a finalist in the Harlan Duenow Young Artist Concerto Competition and was awarded third place in the Peter Perret Youth Talent Search. In March 2016, she won the Winston-Salem Youth Symphony Concerto Competition and was awarded second place in the Omega Psi Phi Talent Search. In May 2016, she was chosen to perform as a solo artist in the Rising Stars Piccolo Spoleto Festival in Charleston, South Carolina.
Dayna has performed in masterclasses for Egor Egorkin of the Berlin Philharmonic, Soo-Kyung Park of NYU, Dr. Tadeu Coelho and Nicolas Duchamp of UNCSA. During the summers of 2015 and 2016, she was chosen as a performer at the Jeffrey Khaner Summer Flute Class where she performed eight pieces for Jeffrey Khaner. In the fall of 2015, she was chosen to perform in a series of masterclasses at The Consummate Flutist in which she performed for Jeanne Baxtresser, Alberto Almarza and Soo-Kyung Park.
---
Haeun (Helen) Kim
Helen was born in South Korea, but raised in the United States. She is a flutist based on North Carolina and artistic director of Fayetteville International Youth Symphony. As a young rising artist, she has won several competitions and auditions include Carolina Band Festival, Dallas Symphony Festival, and Raleigh Area Flute Association Competitions, Raleigh Symphony Orchestra Concerto Competition.
Helen participated as a principal flute player in Fayetteville Korean Orchestra and Fayetteville International Youth Symphony. She has played solo with Carolina Philharmonic in 2013, and Raleigh Symphony Orchestra in 2015. She is currently pursuing Bachelor of Music in flute performance at UNCSA.
---
Donavan Laughlin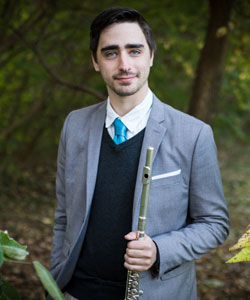 Donavan is originally from Avon Park, Florida, where he began his flute studies at the age of 12. He is currently pursuing a Bachelor's degree in Flute at UNCSA, after spending time at the University of Akron. In 2015, Donavan received numerous awards, including the Hurd Scholarship and the George Pope and Todd Fulmer Flute Scholarship.
In April 2016, he performed "Poem" by Charles Griffes with the University of Akron Symphony Orchestra. His teachers and mentors include Dr. Tadeu Coelho, Heidi Ruby-Kushious, George Pope, Jane Berkner, and Kim Houser. He has performed in masterclasses for Marina Piccinini, Molly Barth, Jeffrey Zook, Aaron Goldman, and Christina Jennings.
Donavan has a special interest in the musical scores from Japanese films and enjoys studying music by Japanese composers. He has a strong desire to perform musical theater scores and record for film and television.
---
Sarah Mitchener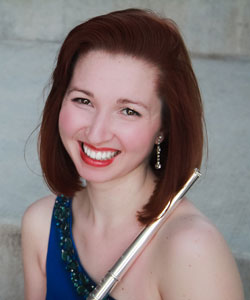 Born and raised just outside of Memphis, Tennessee, Sarah is in her third year of her Bachelor's of Music in Flute Performance at UNCSA. Musically active and competitive, Sarah was the winner of the 2013 Memphis Beethoven Club Young Artists Solo competition. In the spring of 2016, she was a finalist in the UNCSA Concerto Competition. A participant of multiple orchestras in the Memphis area, she was the principal of the Balmoral Chamber Orchestra and active participant of the Memphis Repertory Orchestra. She was a continuous soloist with the Balmoral Chamber Orchestra from 2012-14.
Sarah remains musically busy in the summers through participation in acclaimed music festivals such as the Boston University Tanglewood Institute, Sewanee Summer Music Festival, and Credo Music. In the summer of 2016, she attended the Master Players Chamber Music Festival at the University of Delaware.
While at UNCSA, her passion and drive for music have only grown. She was selected to participate in the 2015 and 2016 UNCSA Flute Tour. In 2015, she was a winner of the Raleigh Symphony Concerto Competition and soloed with the orchestra in March 2015. This past fall, she participated in a ground-breaking collaboration of the UNCSA School of Music and the School of Drama in a two-act play production entitled Good. Sarah has also worked alongside renowned teachers and performers such as Michel Debost, Kathleen Chastain, Trevor Wye, Tara Helen O'Connor, Bonnita Boyd, and Linda Toote.
---
Catherine Monczewski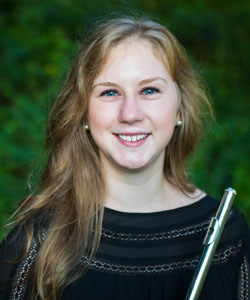 Catherine graduated with a Bachelor's degree in Music Education from Bob Jones University in Greenville, South Carolina. During her undergraduate studies, she was principal flutist for the University Symphony Orchestra and the University Symphonic Wind Band. In 2014, Catherine placed co-first chair in the prestigious South Carolina Collegiate Honor Band. In 2015 at the South Carolina Flute Society's Spring Convention, Catherine won the opportunity to play in a masterclass with Paula Robison, and she also performed for the South Carolina Flute Society's masterclass in 2016 for Jill Felber.
Throughout her years of playing flute, she has studied with Amanda Barrett, Julianna Nickel, Pam Daniels, Sharie Stegeman, and Robin Monczewski. Her mom was her first flute teacher and taught her not only the fundamentals of playing the flute but also inspired a love for music. She enjoys sharing her music with others in both casual and formal settings. In January 2016, she and Krista Pack, a friend and fellow flutist at George Mason University, performed a recital to raise funds for a nonprofit organization called Amazima Ministries.
Catherine began her studies for a Master's degree in Flute Performance at UNCSA in the fall of 2016.
---
Kirkland Moranos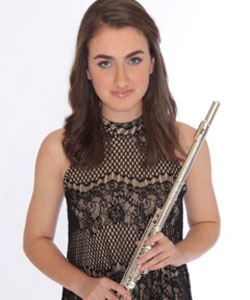 Originally from Camden, South Carolina, Kirkland is a high school flutist at UNCSA. Her playing was praised as "remarkably fine" and "musically exquisite…exciting and enjoyable" ("Free Times" and Dr. Benjamin Woods). Kirkland has held chairs with the South Carolina Philharmonic Youth Orchestras, the South Carolina Youth Wind Symphony, The Curtis Institute of Music Summerfest Orchestra, and the Lake Murray Symphony Orchestra.
In February 2014 and 2016, she performed alongside the South Carolina Philharmonic under the direction of Morihiko Nakahara. Locally, she performs extensively as a soloist and chamber musician. In the past, she has studied with Mimi Stillman, Christina Smith, and Teri Forscher-Milter.
Kirkland attended the Curtis Institute of Music's Young Artist Summer Program (2014 and 2015) where she was coached and directed by some of today's most prolific musicians. She has received numerous scholarships and awards including the Margaret Beckley Upton Brevard Music Scholarship. In 2014 the Piccolo Spoleto selected Kirkland as a Rising Star soloist. She has played in masterclasses for Jeffrey Khaner, Jasmine Choi, and Virginia Crabtree.
Performing is a true passion of Kirkland's; she feels privileged to communicate the power and joy of music to others. In her free time, Kirkland enjoys reading and painting.
---
Savannah Ridley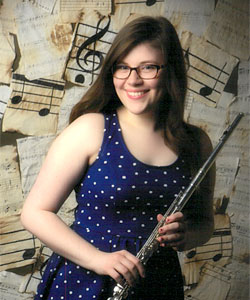 Savannah is a sophomore in college at UNCSA and has been playing the flute for about 11 years. She has performed in various chamber groups and the wind ensemble in her time at UNCSA.
Additionally, she has performed in the past with the CSOYO, NFA High School Flute Choir, Cadek Flute Choir, and in masterclasses for Linda Chesis, Nicolas Duchamp, Goran Marcusson, April Clayton, and Stephen Preston. The highlight of her flute experience thus far has been performing at The Salle Cortot in Paris, France.
---
Theresa Rose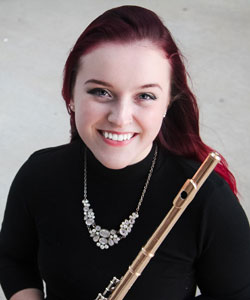 A native of the D.C. Metropolitan area, Theresa is pursuing her Bachelor's degree in flute performance. She has performed around the country, both as a soloist and as a member of the Chesapeake Youth Symphony Orchestra, the Chesapeake Flute Consort, the UNCSA Wind Ensemble and Orchestra, and as principal flutist of the Southern Montgomery County Orchestra. Recently, she has enjoyed performing in venues such as the White House in Washington, D.C., and L'église de la Madeleine in Paris, France.
In addition to solo and ensemble performance, Theresa also enjoys orchestral work for musical theater and opera, recently playing flute and piccolo in Les Contes d'Hoffman, Guys and Dolls, The Drowsy Chaperone and, most recently, Il capello di paglia di Firenze. Working as a woodwind doubler earned her the St. Genesius Most Valuable Musician award for her playing in The Secret Garden, where she played seven instruments. Outside of classical music, Theresa has also won awards for her jazz improvisation, including an award from the 2012 Festival Disney for Best Jazz Soloist.
---
Danica Southerland
Danica first started playing the flute in 6th grade, when she joined Concert Band in middle school. She fell in love with the gorgeous melody the flute possessed. Since then, she has been involved in many music-related camps and events. The past three years, she has attended the UNCG Summer Music Camp. She was accepted into the UNCG Honor Band Clinic and Festival in February 2016, and was also accepted into Interlochen's three week arts camp in the summer of 2016.
Danica has been a part of many different school performances and musicals. Her current extracurricular activities include the YMCA Leader's Club and different volunteer projects. In late March 2016, she went on a week-long mission trip to New York. She has fostered dogs with Independent Animal Rescue for over three years, has been a volunteer at the SPCA of Wake County for four years, and was on the Auction Committee for the SPCA's annual Fur Ball.
Danica's future aspirations involve traveling around the world, learning to fluently speak at least two foreign languages, continued work with animals, and improving her abilities as a flautist. Danica joined the UNCSA flute studio in the fall of 2016.
---
Sarah VanSkike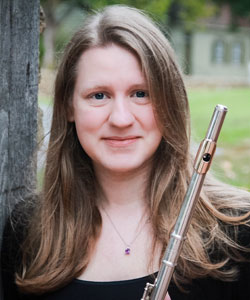 Sarah is a flutist in North Carolina who regularly performs in the Hickory and Winston-Salem areas. She is pursuing her Master of Music degree at UNCSA, where she performs with the UNCSA Wind Ensemble, Orchestra, and Flute Ensemble in addition to her duties through ArtistCorps, which she joined in May 2016.
Sarah received her Bachelor of Arts in flute performance from Lenoir-Rhyne University in Hickory, NC. There, she studied with Lissie Shanahan and performed with the LR Concert Band, Flute Ensemble, the LR Athletic Band, and as a pit orchestra musician for their production of the musical Ragtime!
Additionally, she collaborated with the Lenoir-Rhyne A Capella Choir, the Lenoir-Rhyne Youth Chorus, and Hickory Choral Society. Her campus performances also included efforts to promote both traditional genres of music and newly composed music through the annual festivities of Bach Week and the Lenoir-Rhyne Komposers Kammermusikkonzert.
Sarah remains established in the Hickory community through her involvement in local churches and the Eclectic Winds Trio, which she joined in 2014. Eclectic Winds, founded and managed by Lutz Keller, performs at many venues, often as a tool for outreach.