Meet the Flute Studio
Meet the Flute Studio
Students in the UNCSA Flute Studio range from high school to graduate-level studies. The studio is led by Dr. Tadeu Coelho. Meet the 2021-22 studio members below.
Dr. Tadeu Coelho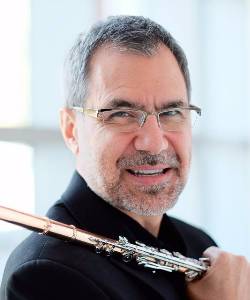 Tadeu Coelho teaches flute at UNCSA. Prior to teaching at UNCSA, he served as associate professor of flute at the University of Iowa (1997-2002), as assistant professor of flute at the University of New Mexico (1992-97) and as visiting professor at the Ino Mirkovich Music Academy in Croatia. He frequently appears as soloist, chamber musician and master clinician throughout Europe, Asia and the Americas. He has performed as first solo flutist of the Santa Fe Symphony, Hofer Symphoniker in Germany and the Spoleto Festival Orchestra in Italy, among others.
---
Isabel Aviles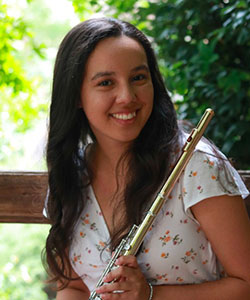 Isabel Aviles is currently a first-year Master's student studying Flute Performance with Dr. Tadeu Coelho. She received her B.M. in Flute Performance at the University of Central Florida under Dr. Nora Lee Garcia. During her time at UCF she also received a minor in Cinema Studies, was the President of the Flute Club at UCF and was the 2020 UCF Performance Excellence Competition winner. Currently, she works as a flute teacher at the Music Academy of North Carolina and is the Aural Skills Graduate Teaching Assistant at UNCSA.
Recently she worked as a Marketing Intern for Orbis Technologies and for several years was the flute teacher at the Orlando School of Music, Avalon School of Music and a Woodwind Tech at Timber Creek High School. During the summers she works as a counselor at the UCF Flute Institute / Bootcamp. Her music festival experiences include the Camino Spain Flute Camp, Interharmony Music Festivals in Italy and Germany, and Flauti al Castello in Italy. Professionally she has performed with the Villages Orchestra, Orlando Contemporary Chamber Orchestra, Bach Festival Orchestra, and several local churches in Florida.
Kayla Cieslak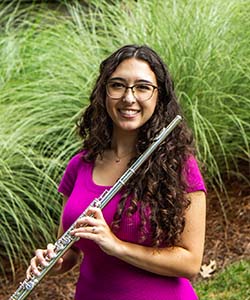 Kayla Cieslak is a native of Macomb, Michigan and is a first-year graduate student at UNCSA. She is currently the Flute Studio Teaching Assistant to Dr. Tadeu Coelho. Before attending UNCSA, Kayla received her B.M. from Eastern Michigan University where she studied with Dr. Julie Stone.
During Kayla's undergraduate degree, she won both the William Stewart Concerto Competition and the Concerto/Aria Competition. She also won the Barry Manilow Scholarship Competition, which she has been recognized for on a national level through the Manilow Music Project. Kayla served as Principal Flute/Piccolo in both the EMU Wind Ensemble and Orchestra for three years. She is also an active member in the professional music fraternity Mu Phi Epsilon.
Nationally, Kayla won the opportunity to perform in the United States Premier Air Force Band Collegiate Symposium as one of two flutists selected and performed in the National Flute Association Collegiate Flute Choir in 2018. She has also participated at the Renova Chamber Orchestra Music Festival. Kayla has performed in many masterclasses with prominent flutists such as Sharon Sparrow, Amy Porter, Richard Sherman, Amanda Blaikie, Marina Piccinini and Christina Jennings.
Kayla has studied with Jeff Zook, Piccoloist of the Detroit Symphony Orchestra, Sharon Sparrow, Associate principal flutist of the Detroit Symphony Orchestra, Amanda Blaikie, second flutist of the Detroit Symphony Orchestra, Dr. Penelope Fischer, Applied Flute Professor at Eastern Michigan University, and Jacqueline Fornari, Artistic Director of the Detroit Flute Guild 2.0 and is also Kayla's mother.
Jaron Deming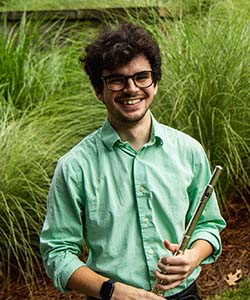 Jaron is a native of Greenville, South Carolina, and a second-year graduate student at UNCSA. At the age of nine, he began instruction under Bob Jones University's former Associate Professor of Flute Mrs. Amanda Barrett. He holds a Bachelor's of Music Education from the South Carolina School of the Arts at Anderson University (AU), where he studied under Mrs. Leah Wilson. He held the principal chair of the city's Anderson Symphony Orchestra and AU's Wind Symphony and Flute Choirs.
During his final three years of undergraduate study, he represented AU at the SCMEA Intercollegiate Honor Band, two years of which he was awarded principal chair. Jaron also served as the Advocacy Chair for AU's National Association for Music Education Chapter, where he pursued ambitions to build on community service opportunities.
Currently, Jaron has focused most of his efforts on instruction at the community level. Several of his current and previous students have placed high in region and state level honor bands. He hopes to continue to build on his emerging performance and teaching careers while studying at UNCSA.
Sydney Horner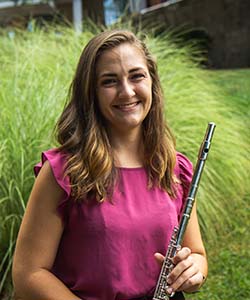 Sydney Horner is a North Carolina native, and is a first year graduate student at UNCSA. She graduated in 2021 from UNC Greensboro where she studied with Erika Boysen. During her time at UNCG, Sydney was a member of the Wind Ensemble, Symphonic band, as well as the UNCG flute choir. She was part of the Flute ensemble that performed at the Mid-Atlantic flute fair in spring of 2019. During her undergraduate degree she was a finalist for the UNCSA woodwind competition, she was also chosen to present her research paper on female composers in the Middle Ages at the University Honors Symposium in spring of 2019. Sydney aspires to teach at the collegiate level and have a private studio of her own.
Jack King
Jack King is a high school senior at UNCSA. With the encouragement of his parents, Jack joined the school band in sixth grade. After trying out instruments varying from the saxophone to the oboe, he decided that his favorite was the flute. This curiosity in the flute followed him when he moved schools in the seventh grade.
Through the support of his parents and teachers, he began auditioning for several music programs and put a name out for himself. He's participated in All-District and All-State Honor Bands, UNCW Honors Band, NC Youth Wind Ensemble, Juilliard Summer Winds, the Winston-Salem Youth Symphony, the Wilmington Youth Symphony and a European tour with the NC Ambassadors.
Emily Osborne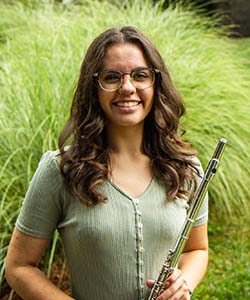 Emily Osborne is from North Las Vegas, Nevada, and has been playing flute for 13 years. She comes from a very musical family, and has always known it was something she wanted to get into. Emily has competed in MTNA, played in the NFA youth ensemble, as well as the SAA flute ensemble. She has also competed in Festival competitions, and participated in masterclass with Carol Wincenc, Robert Granados, Jill Felber and other well known flutists.
Emily has played in orchestras since she was 12, in flute ensembles for 12 years and is a trained Suzuki Book 1 Flute Teacher. Emily really wants to become a flute teacher and have her own private studio, and maybe even work a pit or orchestra job! Emily is a cuttant a senior, and is pursuing graduate school after she graduates.
Mary Poole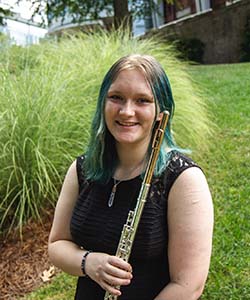 Mary Poole, born in Savannah, Georgia, is a first-year undergraduate and has been playing flute from the age of 10. By age 12, she decided she wanted to become a professional. Living in Georgia, Mary played in GMEA district 8 honor band for two years, making first chair in eighth grade. She also played second chair in GMEA South Region Honor Band and was invited to state level auditions. Along with honor bands, as a sixth grader she won 2nd place in the middle school 4-H District Project Achievement in the category of Instrumental Music, after just six short months of playing the flute.
Mary has performed in the North Carolina Eastern District honor bands for three years and in the UNC Greensboro and UNC Wilmington honor bands for two years. She has also performed in the UNC Pembroke honor band and participated in a European tour with the North Carolina Ambassadors of Music. She started playing piccolo at age 13, and has played with North Carolina Eastern Youth Orchestra.
After spending her senior year of high school at UNCSA, she decided to return and study under Dr. Tadeu Coelho for her undergraduate degree as well. Mary will graduate in the class of 2025.
Phoebe Pylant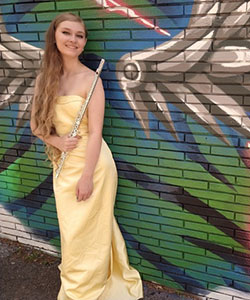 Phoebe Pylant is a UNCSA high school freshman from the metro Atlanta area. She previously studied flute for three years with Cain-Oscar Bergeron, an alumni of Dr. Coelho's music studio. She has played flute since fourth grade and served as first-chair flute in her middle school honor band. She earned high chair positions with Georgia Music Educators Association (GMEA) All-State Band in seventh and eighth grades, and with Georgia Youth Symphony Orchestra (Philharmonic) in eighth grade.
Music Teachers National Association named her the 2020-2021 Georgia alternate for the woodwind competition (junior division), the 2019-2020 Georgia winner for the woodwind competition (junior division), as well as the 2020-2021 Georgia winner and Southeast regional runner-up for its music composition competition (junior division). Juan Ramirez of The Atlanta Symphony Orchestra named her the 2021 Georgia winner of the inaugural statewide music composition competition hosted by Ztunes Music. In addition to playing flute, piccolo, and composing music, Phoebe also enjoys playing harp, piano and singing (she was a soprano with GMEA All-State Chorus).
Elizabeth Saller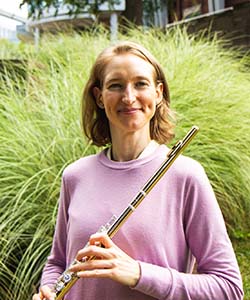 Elizabeth Saller is a PAC student at UNCSA, studying with Dr. Coelho. She performed two concert seasons with the Waynesboro Symphony Orchestra in Virginia. During this time she received her M.M. in flute performance from James Madison University. Previously, she completed a B.M. from the University of Florida while actively subbing with the Central Florida Symphony Orchestra.
Accustomed to performing in the flute community, Elizabeth has performed at the National Flute Association Convention, Florida Flute Convention, and Mid-Atlantic Flute Fair. Additionally, Elizabeth has won the opportunity to perform in masterclasses for world-renowned artists including Alexa Still (New York Flute Club Masterclass Competition), Marianne Gedigian (Florida Flute Association Masterclass Competition), Jonathan Snowden, Keith Underwood, Christina Jennings and Trevor Wye.
Elizabeth enjoys inspiring young flutists. Students in her studio consistently excel in competitions. Her students place high in Honor, District, and All-State bands, the Governor's Honor Program and are frequently accepted into competitive Universities across the U.S. For more information on Elizabeth's bio, testimonials, and teaching philosophy, visit her website at www.elizabethsaller.com
Madelyn Sealey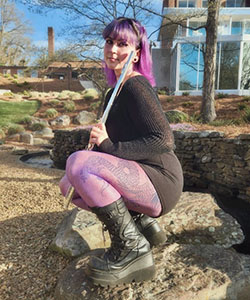 Madelyn Sealey's interest in becoming a flutist was sparked at age 11 when she joined her middle school's band program. As she excelled, she began studying privately with French flutist Nicolas Duchamp. With his help, Madelyn won seats in several local, regional and state-wide band and orchestral competitions throughout her high school years. She hopes to continue her success at UNCSA, now with the guidance and instruction of Dr. Tadeu Coelho.
Tori Thomas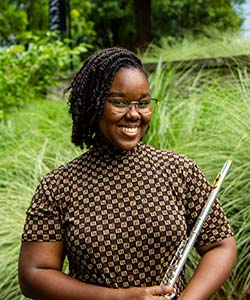 Tori Thomas, born in Pennsylvania and raised in North Carolina, is a high school senior at UNCSA. She began her musical journey on piano at age 5 and continued to take lessons for 6 years before ultimately switching to the flute at the age of 13. Her love for the instrument grew quickly and within a year Tori knew that she wanted to pursue the flute professionally.
Over the years Tori has studied under three teachers for both classical and jazz flute, including Mary Boone, Oakley Lyon, Dontez Harris. In 2019, Tori alongside two previous bandmates formed a flute trio and went on to perform around Raleigh as well as receive the highest rating of superior performance by the North Carolina Music Educators Association for Solo and Ensemble.
She has also performed various gigs throughout the Raleigh/Durham area for solo jazz flute as well. Aside from flute, Tori has many creative hobbies that she enjoys during her free time such as crocheting, painting, drawing, and playing the guitar. Now studying under Dr. Tadeu Coelho, Tori is very excited to learn, collaborate and further enhance her skills as a musician and flutist