Flute Studio Alumni
Flute Studio Alumni
Alumni of the UNCSA Flute Studio have gone on to win orchestral jobs, to teach at the collegiate level as renowned pedagogues, and to pursue successful careers as advocates for the arts. Read about some of them below, or jump to the bottom of the page to view a listing of studio members by year.
Tom Barkal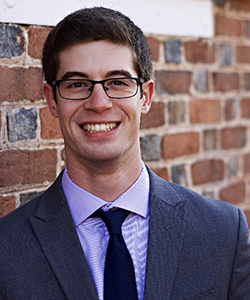 Tom Barkal is an adventurous flutist, known mostly for his efforts to vitalize compositions by lesser-known composers. Colleagues have described his music as, "an inspiration to break from tradition and explore more of the musical world." As a fourth generation Slovak-American, Tom was first motivated to explore music by Eastern European composers such as Paul Schoenfield and Erwin Shulhoff. He has since pursued performances of a variety of world-music, most recently by Venezuelan composer Exequiel Mantega and French composer Guillaume Connesson. Outside of solo performing, Tom has been busy as principal to the Ithaca College Symphony Orchestra, performing prominent works such as Stravinsky's "Firebird Suite" and "Porgy and Bess," in collaboration with Opera Noire.
While studying music education and performance at Ithaca College, Tom experimented playing with a variety of chamber ensembles and aimed to present unique and exotic combinations of sound to his audiences. Tom's woodwind quintet was praised by the Akropolis Reed Quintet for their portrayal of gypsy themes in their 2017 performance of "Tzigane" by Valerie Coleman. Tom earned a MM from UNCSA.
Leah Arsenault Barrick
Leah Arsenault Barrick was appointed Assistant Principal Flute of the National Symphony Orchestra in 2014. Her previous positions include Acting Associate Principal Flute with the Cincinnati Symphony Orchestra and Second Flute with the Louisville Orchestra, as well as appearances as guest Principal Flute with the Seattle Symphony and Principal Flute with the Crested Butte Music Festival. She was a fellow at the Tanglewood Music Center and has served as a member of the Spoleto Festival (USA) Orchestra and the National Repertory Orchestra. In addition to her professional engagements, she has won first prize in the National Flute Association Young Artist Competition, the Myrna W. Brown Young Artist Competition and the Frank Bowen Young Artist Competition.
She earned her high school diploma from UNCSA, and her BM and MM from the University of Cincinnati College-Conservatory of Music. She also received a Professional Studies Certificate from the Colburn School Conservatory of Music.
Cain-Oscar Bergeron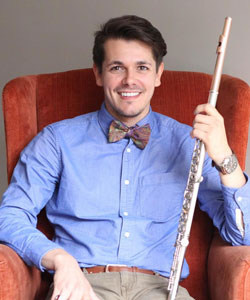 Cain-Oscar Bergeron is a multifaceted performer and educator in Atlanta, Georgia. In January 2014, Cain made his Lincoln Center debut with a recital entitled "Chez Nous Autres." He completed the Kenan Fellowship at Lincoln Center Education, where he worked alongside some of the most talented teaching artists in New York City, such as his mentor Lisa Kozenko. While in NYC, Cain performed with The Metropolitan Four, an NYC-based flute quartet, and with pianist and baritone Scott Wesley Hawley. Cain gained invaluable experience in the realm of aesthetic education and plans to augment his talents as a performing artist with a career as a teaching artist trained in LCE's imaginative learning capacities.
Originally from the small Cajun French town of Cottonport, Louisiana, Cain grew up inspired by Cajun folk music. Before leaving his home state, he earned a BM from Northwestern State University, where he studied flute with Dr. Dennett Derby McDermott. Cain enjoyed a diverse education at NSU, where he minored in Vocal Performance and French Studies and was a founding member and president of the Natchitoches-Northwestern Flute Guild. He was principal flute in the Natchitoches-Northwestern Symphony Orchestra under the baton of Douglas Bakenhus and also in the Wind Symphony conducted by Bill Brent.
Cain is a graduate of the Master of Music program at UNCSA. He also completed a Professional Artist Certificate concentrating in Orchestral Flute Performance.
Erika Boysen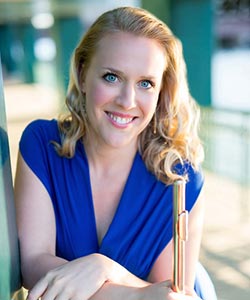 Erika Boysen is a leading innovator within interdisciplinary performance. For her demonstrative expertise and virtuosic performance, she has been invited to Asia, Australia, Europe and to over a dozen states to perform in recitals, teach master classes and lead creative workshops.
Active on all fronts, recent highlights include: solo and chamber performances in Shanghai, China; a guest artist invitation to the Melbourne Conservatorium of Music in Australia; guest artist appearances at the Flutes by the Sea Workshop in California; and Anatomy of Sound Workshop in Michigan.
When possible, Erika believes in combining the power of music, movement and theater to create. To this end, she has performed theatrically inclined work by composer Kate Soper, fully choreographed interpretations of existing work from composers such as Toru Takemitsu and entirely new works from composers such as Jane Rigler.
Erika also takes the stage frequently as a chamber musician. Though she regularly performs in a number of chamber ensembles, most decorated has been her role in the Four Corners Ensemble (4CE)—a sextet of flute, clarinet, violin, viola, cello and piano dedicated to international collaboration. In addition to her primary position as Assistant Professor of Flute at UNCG, Boysen has had other faculty positions of note. She served on the faculty of Interlochen's Arts Camp and Arts Academy. She received her Doctorate of Musical Arts from the University of Michigan. Further education comes from the New England Conservatory and UNCSA.
Erika Bradley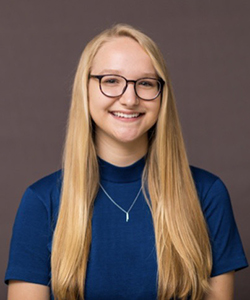 Erika Bradley was born in Canada, but has spent the majority of her life in Cary, North Carolina. Inspired by her great-grandmother's music teaching, she joined middle school band in sixth grade playing the flute. Since then, Erika has joined TRI-M National Music Honors Society, was made the Assistant-Director of the Apex High School Flute Choir and has won several trophies for Superior Performances at both the Raleigh Area Flute Association's Solo and Ensemble Fest and the Smokey Mountain Music Festival in Gatlinburg, Tennessee. She came to UNCSA as a high school student, and hopes to pursue an orchestral career, having received instruction from world-renowned flutist Tadeu Coelho.
Sami Eudy Bruemmer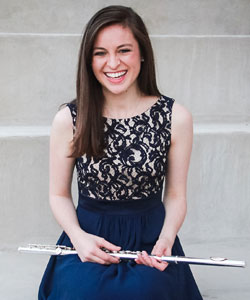 Sami Eudy Bruemmer graduated from Southern Methodist University with a BM in Flute Performance and a BA in Psychology, where she studied flute and piccolo with Dallas Symphony Orchestra members Jean Larson Garver and Deborah Baron. She received a MM from UNCSA.
Sami's desire to push the boundaries of music to create art that is relevant and engaging for a modern audience has led her to work extensively with in new music collaborations in Dallas. She has performed frequently in partnerships with classical music ensembles Bridge the Gap and Open Classical, and new music ensemble SYZYGY. She has collaborated with members of Seraphic Fire, Roomful of Teeth and Eighth Blackbird.
Sami was a Fellow at the Chamber Music Institute at UNL and has performed in masterclasses with Jeanne Baxtresser, Jim Walker, and Alberto Almarza. Sami has performed at the National Flute Association Convention and has spent summers studying at the Oberlin Conservatory with Kathleen Chastain and Michel Debost, and at Northwestern University studying with Walfrid Kujala. She has also taught private lessons and masterclasses in school districts throughout Houston and Dallas.
Her accomplishments have been recognized through numerous awards, including the nationally proclaimed and prestigious Presser Scholarship, the Seawell Memorial Scholarship from the Winston-Salem Foundation, the Sigma Alpha Iota award, and the John Philip Sousa award. Sami has won the Densie Jennings Solo & Ensemble Competition and the Meadows Concerto Competition.
Emma Broberg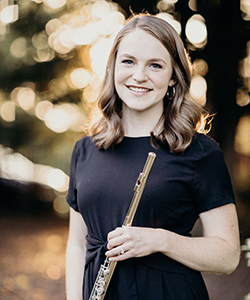 Emma Broberg began playing the flute at the age of five, when her mother enrolled her in a group flute class at the local community center. Over the past 20 years of flute playing, she has had opportunity to perform around the country and around the world in Australia, Germany, the Czech Republic, DR Congo and the Philippines.
Emma is a recent graduate of Brigham Young University in Provo, Utah, where she earned a BM in Flute Performance, and of UNCSA, where she earned a MM.


Anna Conigliari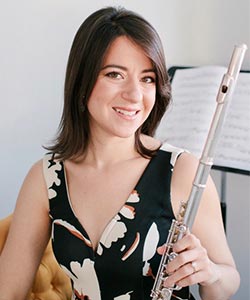 Anna Conigliari is a professional flutist and life coach. As a coach, she is certified through the Institute for Professional Excellence in Coaching (iPEC) program. She has given workshops on high performance and performance anxiety for musicians at the New Jersey Flute Society, Montclair State University, the University of Massachusetts-Amherst, The University of Texas at Arlington, Longy Conservatory and The Integrated Flutist.
As an orchestral musician, Anna won the 2nd flute position with the Flagstaff Symphony Orchestra, and was honored as being one of the only musicians to create and perform educational workshops for the Flagstaff community. She is also the recipient of the prestigious Kenan Fellowship at Lincoln Center Education in New York City, where she was trained as a Teaching Artist. An advocate for education, Anna has worked and performed with the Phoenix Symphony Orchestra education department, creating aesthetic and interactive performances. She holds an MM degree from UNCSA, where she served as the flute Teaching Assistant, and was awarded a full music scholarship for her BM degree from the University of Colorado at Boulder. Anna currently resides in New York City, where she teaches and performs.
Jonas Davison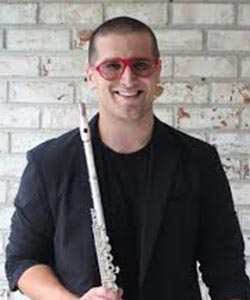 Jonas Davison received a BM in Flute Performance from UNCSA in 2008, and has studied recording technology at Berklee College of Music online. He served in the United States Army Bands from 2010-16, and has performed around the United States and Japan. While stationed in Japan, he began working with Community Arts Tokyo to develop and record new music written by Japanese Christians. In 2018, he received a Master of Arts in Biblical Studies at Reformed Theological Seminary.


Krisztina Dér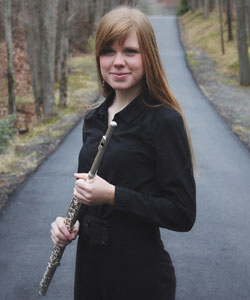 Krisztina Dér was captivated by the flute at a children's performance of Prokofiev's "Peter and the Wolf," and surprised her violinist parents by deciding to be a flutist at the age of three. The second flutist of the Fayetteville Symphony Orchestra and part-time Lecturer of Flute at Guilford College, she is currently pursuing a DMA at UNC Greensboro as an Adeliade Fortune Holderness Fellow and graduate assistant. Hailed by the Washington Post as a musician with "…a clean, full-bodied tone and fleet fingers," she has placed first in the Flute Society of Washington's 2009 Collegiate Competition, performed as a finalist at the 2014 Rosen-Schaffel Competition, premiered works by composer Michael S. Rothkopf and others and soloed twice with orchestra.
Krisztina received her BA in music performance and musicology at the University of Maryland Baltimore County as a Linehan Scholar; and she was awarded her MM in flute performance UNCSA, where she was a teacher's assistant, Nutcracker Scholar and Large Ensemble Librarian.
In 2013, she served as the National Flute Association Assistant Program Chair. Her teachers include Tadeu Coelho, János Bálint, Lisa Cella and Alice Kogan Weinreb.
Grant Develle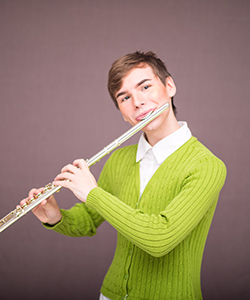 Grant Develle has been playing the flute since he was in sixth grade band. His accomplishments include working as principal chair in the Western Piedmont Youth Symphony, performing with the Eclectic Winds Quartet and traveling to Germany to perform both solo and chamber works for the Altenburg Music Festival. He has also been a part of the orchestra pit for a contemporary opera entitled "La Coeur de La Pucelle," composed in 2018 by Peter Corneliussen.
Tika Douthit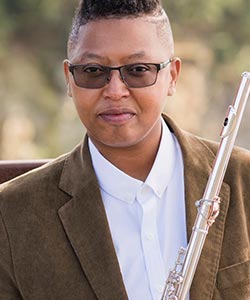 Dr. Tika Douthit is an avid performer and music educator from Winston-Salem, North Carolina. An Assistant Professor of Music at Winston-Salem State University and Adjunct Professor at Forsyth Technical Community College, she serves as Assistant Director of Bands and Conductor of the WSSU Flute Choir. Formerly, she taught in the Winston-Salem/Forsyth County School System for seven years as Director of Bands at Philo Middle School. Her publication, "Fixing Fussy Flute Faux Pas" was the featured article in the October 2017 issue of Teaching Music, and the February 2018 issue of International Journal of Music and Performing Arts. Her research focuses on African-American composers of flute music and flute pedagogical techniques.
Currently, Dr. Douthit is the Principal Flutist of the Piedmont Wind Symphony and also performs with countless ensembles and organizations across North Carolina.
Dr. Douthit completed a BM in Music Education from Appalachian State University, a MM in Flute Performance from UNCSA, and a DMA from UNC Greensboro. She holds memberships in the National Flute Association, NC Music Educators Association, and the National Association for Music Education.
Anne Friend
Anne Friend is a Soldier Musician with the United States Army Bands. She is currently based out of the 101st Airborne Division (Air Assault) in Fort Campbell, Kentucky.
Previously, she was the Education Coordinator and Camp Director at the Workhouse Arts Center in Lorton, Virginia and the Administrative Assistant for the Music in McLean Concert Series. She also was a member of the Capital Wind Symphony flute section and on the board of this organization.
In 2016, she completed the William R. Kenan Jr. Fellowship at Lincoln Center Education (LCE). She also served as a teacher and mentor for the Department of Education and LCE's Middle School Audition Bootcamp at Lincoln Center.
As a chamber musician, Anne Friend was one of the founding members of the Elemental Winds Woodwind Quintet in Blacksburg, Virginia. She has sought out other chamber music opportunities at summer programs such as Virginia's Blue Ridge Music Festival and the Imani Winds Chamber Music Festival. She was also the flutist in the Breezy Winds graduate woodwind quintet at UNCSA.
Anne holds a Master of Music in Flute Performance from UNCSA, where she studied with Tadeu Coelho. She holds a Bachelor of Arts in Music Education and Senior Flute Performance from Virginia Polytechnic and State University.
Dakota Galley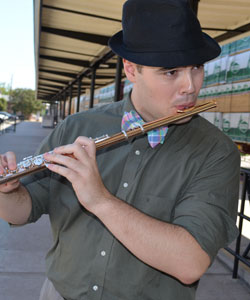 Dakota Galley was born into the military lifestyle, traveling the world from a young age. He picked up the flute in elementary school because he was the only one who could get a sound out of it, and has since taken taken private lessons in multiple states and countries.
Dakota studied with Dr. Coelho from 2013-15 as a high school student, and continued his studies at Berklee College of Music as a Performance Major, then Music Business major.
Norman Gonzales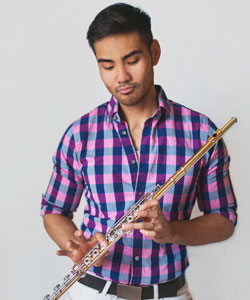 Norman Gonzales, a Filipino-American flutist, joined the Great Falls Symphony of Montana as Principal Flutist in September 2012 and was appointed the same position with Colorado's Fort Collins Symphony in May 2013. Praised for his "…warm, attractive sound" by the Winston-Salem Journal, Gonzales has performed with the Buffalo Philharmonic, the Erie Chamber Orchestra, the American Academy of Conducting Orchestra and the Western Piedmont Symphony, among others. As a soloist, he was awarded top prizes in Young Artist Competitions.
Norman frequently performs as solo flutist of Montana's premier woodwind quintet, the Chinook Winds. He is on faculty at Western Nebraska Community College and maintains a private studio in Montana. He is a founding member of the Montana Flute Association, a non-profit organization whose goal is to cultivate, promote, sponsor, and develop the appreciation of the flute and flute music among its members and the general public.
Born in Macon, Georgia, Norman began studying the flute at the age of 12 and played in a variety of community ensembles. After graduating with a BM from UNCSA, he continued his graduate studies at the Eastman School of Music where he served as a teaching assistant for world renowned flutist and pedagogue, Bonita Boyd. He graduated with a MM and Performer's Certificate in 2010, and completed two years of doctoral work at Eastman.
David Graham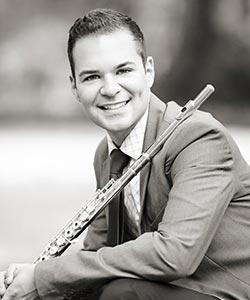 David M. Graham is a flutist and teacher. He has played with ensembles such as the Chautauqua Symphony Orchestra, Pittsburgh Opera Theatre Orchestra, West Virginia Symphony Orchestra, Akron Symphony Orchestra, the Alia Musica New Music Ensemble and is currently Principal flutist of the Erie Chamber Orchestra. As an active proponent of new compositions and chamber music, Dr. Graham has performed for the Pittsburgh Symphony Orchestra Chamber Music Project, and is a founding board member of the Flute New Music Consortium.
Dafne Guevara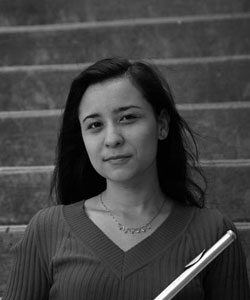 Dafne Guevara began her musical studies in Panama at the Youth Plan of Music, under the tutelage of professor Rommel Charpentier. Later, she became a member of the Elementary Orchestra of the Youth Plan of Music, as well as the Isthmian Youth Orchestra. She has also been involved in music camps conducted by the National Concert Association and has played with the Youth Philharmonic Orchestra of the New England Conservatory, the Quintet Vivace, the Symphony Orchestra and Band of the National Institute of Music of Panama (Conservatory).
She has performed at the Panamanian Double Reeds Festival, the International Flute Festival, the Crescendo Summer Institute in Sharoshpatak and in Tokaj, Hungary, Domaine Forget in Quebec, Canada, and the Consummate Flutist in Pittsburgh. Professionally, she has worked as flute player in the Symphonic Band of the Municipality of Panama and as piccolo player of the National Symphonic Orchestra of Panama. In 2010, Dafne was selected as a Fulbright Student for the years 2011-13. With this scholarship, she was able to receive her MM in Flute Performance at UNCSA. In 2014, she finished her Professional Arts Certificate at UNCSA. She then began a DMA program in Flute Performance at University of Nevada, Las Vegas (UNLV) under Jennifer Grim.
In 2016, Dafne organized the first Encuentro de Flautas de Panamá (Flute Festival of Panama), and is establishing the first Asociación Panameña de Flautistas (Panamanian Flute Association). She has performed as soloist with the Symphonic Orchestra of the University of Panama and participated in the Latinoamerican Flute Festival in Tegucigalpa, Honduras.
Claire Hagedorn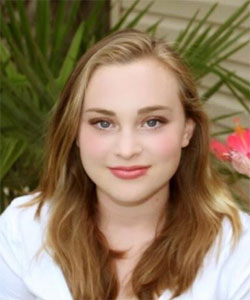 Claire Hagedorn is from Jacksonville, North Carolina. She began her study of the flute in 2014 through independent research and self-instruction. As her desire to perform at a higher level grew, she sought formal instruction with Michael Lopez, studying music theory and flute performance. Her commitment to developing as a musician was rewarded during her eighth grade year, when she was selected as first chair in the concert band's flute section.
Lauded for her hard work and commitment to growth, Claire began high school at Jacksonville High School, where she played in Jacksonville Wind ensemble. She then transferred to the high school program at UNCSA, where she performed with the Flute Ensemble and Wind Ensemble.
Timothy Hagen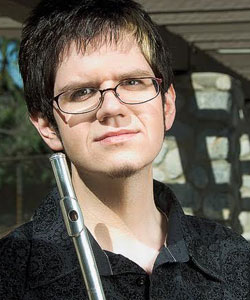 Timothy Hagen is an internationally acclaimed flutist whose "technical virtuosity and musical sensitivity" (NewMusicBox) have garnered prizes from the Australian International Flute Competition, Pasadena Showcase House Instrumental Competition, Léni Fé Bland Foundation and Jack Kent Cooke Foundation.
He is Principal Flute of the Missouri Symphony and has also performed with the Minnesota Orchestra, San Antonio Symphony, Eugene Symphony and Dallas Wind Symphony. Hagen has also held chamber music fellowships at the Atlantic Music Festival and Norfolk Chamber Music Festival. His compositions are performed by flutists around the country, and his research has been published by the journals of the National Flute Association and British Flute Society. Hagen is currently Instructor of Flute at Brookhaven College and maintains a large private studio in Dallas, Texas.
Timothy received his BM from UNCSA, and went on to earn an MM from the University of Southern California, Professional Studies Certificate from The Colburn School and DMA from the University of Texas at Austin.
Dayna Hagstedt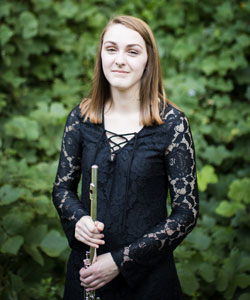 Dayna Hagstedt is from Waxhaw, North Carolina. She began her flute studies at the age of 7 with Erin Moon-Kelly, and began studying at UNCSA as a high school senior. She has performed in numerous ensembles including the UNCSA Wind Ensemble and Jazz Ensemble, Union Symphony Youth Orchestra and Union Jazz, Winston-Salem Symphony Youth Orchestra, NC All State Honors Band, UNCSA Flute Ensemble and UNCSA High School Woodwind Quintet.
In April 2015, she won first place in the SC Flute Society Clinic Artist Competition. In February 2016, she was a finalist in the Harlan Duenow Young Artist Concerto Competition and was awarded third place in the Peter Perret Youth Talent Search. In March 2016, she won the Winston-Salem Youth Symphony Concerto Competition and was awarded second place in the Omega Psi Phi Talent Search. In May 2016, she was chosen to perform as a solo artist in the Rising Stars Piccolo Spoleto Festival in Charleston, South Carolina.
Sarah Hollandsworth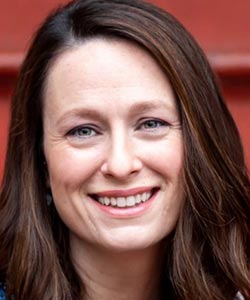 Sarah Hollandsworth is Director of Sales & Marketing at the J.L. Smith Group. She holds a MM in Flute Performance from the University of Miami, Frost School of Music, where she studied under Trudy Kane, and a BM in Flute Performance from UNCSA, where she was a student of Tadeu Coelho and Philip Dunigan. Sarah currently serves on the NFA Board of Directors and is an active member of NAMM.
Kristen Vanderschaaf Holritz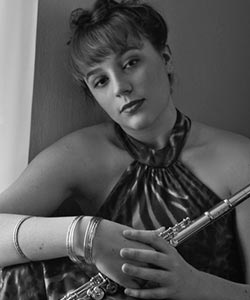 Kristen Holritz makes her home on stage as a remarkably versatile flutist. She made her solo debut with the United States Air Force Band in 2005 as winner of the Colonel George S. Howard Young Artist Competition. In 2008 she soloed with the UNCSA Symphony Orchestra, and in spring of 2013 was featured as a concerto competition winner with the University of Georgia Symphony Orchestra, winner of the Atlanta Flute Club Young Artist Competition and received third prize in the MidSouth Flute Festival Young Artist Competition.
In the fall of 2013 Kristen was pleased to accept the Principal Flute position with the Chattanooga Symphony and Opera. In addition to her orchestral responsibilities, she appears with the Chattanooga Symphony Wind Quintet in schools across Tennessee, Georgia and Alabama in effort to engage and enrich the community through music. She performs extensively with Schaafritz, a duo with her husband violinist Josh Holritz. Schaafritz has performed across the United States and went on tour to Japan twice with musicians from The Juilliard School.
Equally invested as a teacher, Kirsten served as Adjunct Flute Professor at Truett-McConnell College from 2012-14. She currently teaches privately out of her home and is Adjunct Flute Professor at both Lee University and Southern Adventist University. She has been a Faculty Artist for the Bay View Music Festival since 2017.
Kristen Holritz holds a Bachelors Degree in Flute Performance from UNCSA and a Masters Degree in Flute Performance from The Juilliard School. Her primary teachers include Tadeu Coelho, Robert Langevin and Angela Jones-Reus, with additional study with Gretchen Pusch and Carol Wincenc.


Milan Jeremić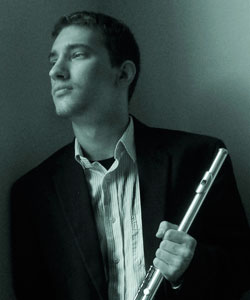 Milan Jeremić, a native of Serbia, began his academic career at Stanković in Belgrade, Serbia, which he completed in 2008 with the flute performance diploma. In 2012, he graduated from UNCSA with highest honors. Milan has taken part in many festival ensembles and orchestras, such as World Youth Wind Symphony (United States), Let's Play Orchestra (Bulgaria), International Orchestral Academy (Croatia), The Spirit of Europe (Austria), Radio Symphony Orchestra Belgrade (Serbia), German Scandinavian Youth Philharmonic (Germany) and the National Theatre in Belgrade.
He is the winner of numerous musical competitions. Milan went on to study at the Hochschule für Musik Nürnberg in Nuremberg, Germany in the class of Marcos Fregnani-Martins, where he obtained his MM in 2015, and where he specialized in contemporary music under the mentorship of Jeremias Schwarzer.
Milan played as an intern at the Nuremberg Symphony Orchestra and Munich Symphony Orchestra and, since 2014, is the solo flutist at the Camerata Franconia in Erlangen, Germany. He is currently an academician at the Nuremberg Philharmonic Orchestra.
Whitney Reagan Kelley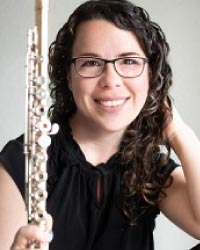 Flutist Whitney Reagan Kelley is praised for her innovative performances and pedagogical methods which have inspired audiences across the country. Acclaimed for her "considerable technique" by the Winston-Salem Journal, she has appeared as soloist in numerous orchestral and recital settings. Whitney currently serves as piccoloist with the Denver Philharmonic and performs as a member of the Airde Ensemble, a woodwind sextet based in Boulder, Colorado. An avid teacher and researcher, her latest research projects have focused on the psychology of music learning, development and teaching and have been received with great interest across the music field both nationally and internationally. Whitney additionally serves as president of the Colorado Flute Association and staffs Summer Institutes and Chapter Affiliates for the Suzuki Association of the Americas. She received her D.M.A. in Flute Performance and Pedagogy from the University of Colorado with Christina Jennings.
Scott Kemsley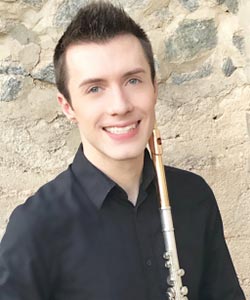 Scott Kemsley joined the New York City Ballet Orchestra in the spring of 2018 as their Principal Flutist. He is a graduate of The Juilliard School and UNCSA.
Before returning to New York, Scott played with various orchestras such as the Florida Grand Opera, New World Symphony, Orchestra Miami and the Palm Beach Symphony.
Equally versed as a soloist, Scott has been a prizewinner at several international and regional competitions. He was the first prize winner of the North Carolina Symphony's Kathleen Price and Joseph M. Bryan Young Artist Competition, which resulted in a concerto performance with the orchestra. Scott made his Carnegie Hall debut in 2011 after being named a first prize winner of the Alexander and Buono International Flute Competition.
Haeun (Helen) Kim
Helen Kim was born in South Korea, but raised in the United States. She is a flutist based in North Carolina, and artistic director of Fayetteville International Youth Symphony. As a young rising artist, she has won several competitions and auditions include Carolina Band Festival, Dallas Symphony Festival, Raleigh-area Flute Association Competitions and the Raleigh Symphony Orchestra Concerto Competition.
Helen participated as a principal flute player in Fayetteville Korean Orchestra and Fayetteville International Youth Symphony. She played solo with Carolina Philharmonic in 2013, and with Raleigh Symphony Orchestra in 2015. She earned a BM in flute performance at UNCSA.
Dr. Virginia Broffitt Kunzer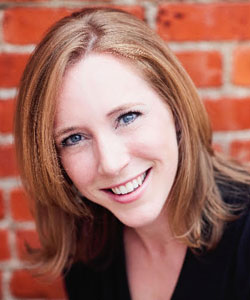 Dr. Virginia Broffitt Kunzer is Associate Professor of Flute at Oklahoma State University, Principal Flute of the Symphony of Northwest Arkansas and a founding member of the Pangaea Chamber Players. A versatile musician, she has established a successful career as a teacher, soloist, orchestral musician and chamber musician. Before her appointment at OSU she served as faculty at Western Illinois University and flutist in the Camerata Woodwind Quintet. She has also held positions in the Fort Wayne Philharmonic and Evansville Philharmonic Orchestra. Among Virginia's notable accomplishments are winning the National Flute Association Young Artist Competition in 2004.
An avid teacher and performer, she has given performance master classes and performed concerts throughout the United States and Europe. Virginia has appeared as a soloist with the Symphony of Northwest Arkansas, Quincy Symphony Orchestra, INTY Ensemble, the OSU Wind Ensemble, OSU Symphony Orchestra, and the WIU Symphony Orchestra. She is an active presence in the National Flute Association, performing at numerous conventions, previously serving as Coordinator of the Young Artist Competition, and currently serving as a board member.
A native of Iowa City, Iowa, she received her BM in flute performance from UNCSA. She went on to receive a MM degree and DMA from the University of Cincinnati College-Conservatory of Music. Her past teachers include Dr. Bradley Garner, Randy Bowman, Dr. Tadeu Coelho and Jack Wellbaum.
Bo Lee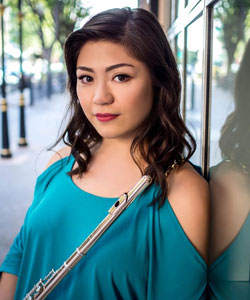 Bo Lee is a freelance flutist and teacher in Augusta, Georgia, and performs with the Rock Hill Symphony Orchestra. Most recently, she was a 2018 Kenan Fellow at Lincol n Center Education (LCE) in New York City. While a Kenan Fellow, Bo collaborated with theater artist> Maggie Gayford to present Magic Pearl: a shadow puppet play with new music by Christopher Vu, which premiered at LCE on December 14, 2018. This project has resulted in the formation of Pinwheel , a collective of musicians and theatre artists. In 2019, Pinwheel created an entirely auditory experience of Magic Pearl and was played as part of the Atlanta Fringe Festival.
Bo studied with Angela Massey and is a graduate of John S. Davidson Fine Arts Magnet School. She holds a BM from UNCSA and a MM from the New England Conservatory of Music, where she studied with Renée Krimsier. Mentored by John Heiss, she has also received additional instruction from Cynthia Meyers, Paula Robison and Elizabeth Rowe.
James Miller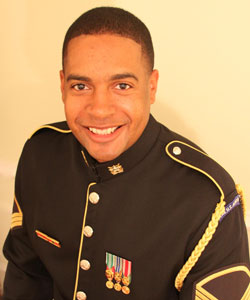 James Miller is a native of Pontiac, Michigan. He joined The United States Army Band, "Pershing's Own," in 2013, which provides musical support for the leadership of the United States, to include all branches of government, and to a wide spectrum of national and international events in support of soldiers and their families, public diplomacy, community and international relations, recruiting initiatives, and music education programs.
James holds a BM from the University of South Carolina, a MM from UNC Greensboro and a Professional Artist Certificate from UNCSA. He has been a prizewinner in numerous flute competitions, including the MTNA Young Artist, SC Flute Society. He was the winner of the Concerto Competition at both the University of South Carolina and UNC Greensboro. He has performed with the Western Piedmont Symphony, Fayetteville Symphony, Winston Salem Symphony and Nova Chamber Orchestra.
Before joining Pershing's Own, James served in the 8th United States Army Band in Seoul, Korea, and in the United States Training and Doctrine Command band at Ft. Eustis, Virginia. James is in active soloist, chamber musician and clinician in the DC-Maryland-Virginia region.
Sarah Mitchener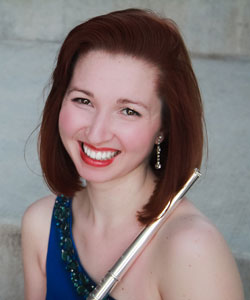 Sarah Mitchener was born and raised just outside of Memphis, Tennessee. She received a BM flute performance at UNCSA. Musically active and competitive, Sarah was the winner of the 2013 Memphis Beethoven Club Young Artists Solo competition. In the spring of 2016, she was a finalist in the UNCSA Concerto Competition. A participant of multiple orchestras in the Memphis area, she was the principal of the Balmoral Chamber Orchestra and active participant of the Memphis Repertory Orchestra. She was a soloist with the Balmoral Chamber Orchestra from 2012-14.
Sarah has participated in acclaimed music festivals such as the Boston University Tanglewood Institute, Sewanee Summer Music Festival and Credo Music. In the summer of 2016, she attended the Master Players Chamber Music Festival at the University of Delaware.
In 2015, she was a winner of the Raleigh Symphony Concerto Competition and soloed with the orchestra in March 2015. Sarah has also worked alongside renowned teachers and performers such as Michel Debost, Kathleen Chastain, Trevor Wye, Tara Helen O'Connor, Bonnita Boyd and Linda Toote.
Catherine Monczewski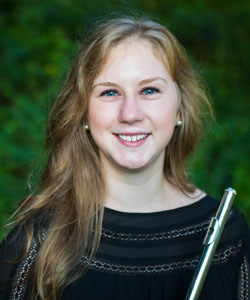 Catherine Monczewski graduated with a BM in music education from Bob Jones University in Greenville, South Carolina. During her undergraduate studies, she was principal flutist for the University Symphony Orchestra and the University Symphonic Wind Band. In 2014, Catherine placed co-first chair in the prestigious South Carolina Collegiate Honor Band. In 2015 at the South Carolina Flute Society's Spring Convention, Catherine won the opportunity to play in a masterclass with Paula Robison, and she also performed for the South Carolina Flute Society's masterclass in 2016 for Jill Felber.
Throughout her years of playing flute, she has studied with Amanda Barrett, Julianna Nickel, Pam Daniels, Sharie Stegeman and Robin Monczewski. Her mom was her first flute teacher and taught her not only the fundamentals of playing the flute, but also inspired a love for music. She enjoys sharing her music with others in both casual and formal settings. Catherine earned a MM from UNCSA.
Kirkland Moranos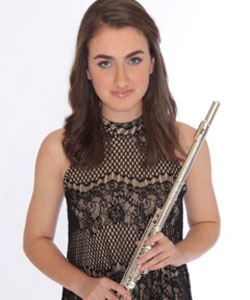 Kirkland Moranos studied in the high school flute program at UNCSA. Her playing has been praised as "remarkably fine" and "musically exquisite…exciting and enjoyable" (Free Times and Dr. Benjamin Woods). She has held chairs with the South Carolina Philharmonic Youth Orchestras, the South Carolina Youth Wind Symphony, The Curtis Institute of Music Summerfest Orchestra and the Lake Murray Symphony Orchestra.
In February 2014 and 2016, she performed alongside the South Carolina Philharmonic under the direction of Morihiko Nakahara. Locally, she performs extensively as a soloist and chamber musician. In the past, she has studied with Mimi Stillman, Christina Smith and Teri Forscher-Milter.
Kirkland attended the Curtis Institute of Music's Young Artist Summer Program, where she was coached and directed by some of today's most prolific musicians. She has received numerous scholarships and awards, including the Margaret Beckley Upton Brevard Music Scholarship. In 2014, the Piccolo Spoleto selected Kirkland as a Rising Star soloist. She has played in masterclasses for Jeffrey Khaner, Jasmine Choi, and Virginia Crabtree.
Performing is a true passion of Kirkland's; she feels privileged to communicate the power and joy of music to others. In her free time, Kirkland enjoys reading and painting.
Laura Kaufman Mowry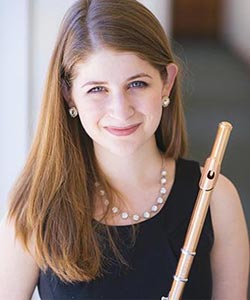 Dr. Laura Kaufman Mowry is a soloist, orchestral, and chamber musician who has been hailed by the Washington Post for "absolutely gorgeous flute-playing."
Laura has performed with a variety of renowned ensembles, including the National Symphony, Baltimore Symphony, Smithsonian Chamber Players, Fairfax Symphony, Alexandria Symphony, DC Public Opera, Peacherine Ragtime Orchestra, Buffalo Philharmonic and New World Symphony. Laura performs in District5, a DC-based wind quintet dedicated to innovative ways of presenting classical music.
Laura is dedicated to fostering the talents of young musicians. She maintains a private flute studio, and has coached wind players at the University of Maryland at Baltimore County, American Youth Philharmonic, and the University of Maryland High School Academy. She is also the Director of the American Youth Philharmonic Flute Ensemble.
Laura has received national recognition from prize-winning performances at the National Flute Association's Young Artist Competition, National Society of Arts and Letters Wind Competition, New York Flute Club Competition, Flute Society of Washington Young Artist Competition, Pasadena Showcase Instrumental Competition, among others. Her experiences have inspired her to assist other musicians with competition preparation and overcoming performance anxiety.
Laura holds degrees in Flute Performance from Eastman School of Music, The Colburn School, the University of Maryland, and UNCSA.
Marco Núñez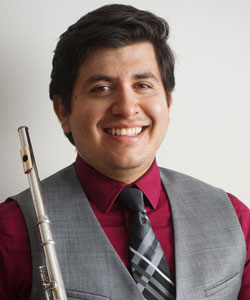 Marco Núñez graduated from the Jacobs School of Music at Indiana University with a MM degree. Prior to attending the Jacobs School of Music, he received his BM at UNCSA.
In 2015, Marco won the Rosen-Schaffel Competition for Young and Emerging Artists and the Jacobs School of Music Woodwind Concerto Competition. He also won the 2014 James and Helen Pellerite Orchestral Excerpts Competition at the Jacobs School of Music, UNCSA's 2013 Fall Concerto Competition, received second prize at the 2011 Rubén Islas Flute Competition, first prize at the 2011 Raleigh Area Flute Association Review and Contest and was one of the winners of the South Carolina Flute Society Masterclass Competition. Marco is currently continuing his studies with Professor Thomas Robertello pursuing an Artist Diploma.
Zack Osinski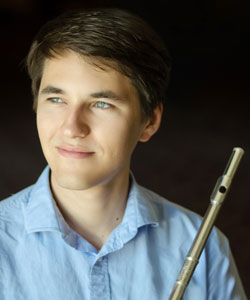 Zack Osinski, a native of North Carolina, studied at UNCSA before pursuing a BM in flute performance at the Eastman School of Music, studying with renowned flute pedagogue Bonita Boyd. In the spring of 2016 he was a recipient of Eastman's coveted Performer's Certificate for his performance of the Jolivet Flute Concerto. Zack was an invited performer to the New York City Electroacoustic Music Festival, and a performer at the 2016 Semper Music International Festival in Italy. He has also served as a fellow for the 2015 Hot Springs Music Festival, where he apprenticed to Dr. Virginia Broffitt.
An active supporter of new music, Zack has performed with Eastman ensembles OSSIA New Music and Musica Nova, and has worked with composers such as Jo Kondo, Georg Friedrich Hass and Robert Morris. Zack also performs regularly with the Eastman Wind Ensemble. Additionally, Zack enjoys driving to Lake Ontario, running, collecting socks and coffee mugs, and never leaves home without his waffle iron.
Savannah Ridley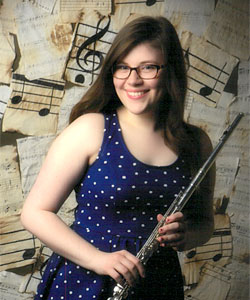 Savannah Ridley performed in various chamber groups and the wind ensemble during her time at UNCSA earning a BM degree.
She has performed with the CSOYO, NFA High School Flute Choir, Cadek Flute Choir, and in masterclasses for Linda Chesis, Nicolas Duchamp, Goran Marcusson, April Clayton and Stephen Preston. The highlight of her flute experience thus far has been performing at The Salle Cortot in Paris, France.
Julian Rose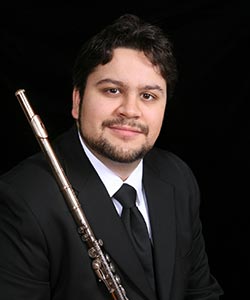 Julian Rose has developed a reputation for dazzling audiences with his "captivating sound and flawless technique." He is an active teacher, performer, and freelancer in New York City, and he was a 2012-13 William R. Kenan, Jr. Performing Arts Fellow at Lincoln Center. Currently, Julian is a "Miyazawa Artist" and the Artist in Residence at the Flute Center of New York.
Julian's success in many recent competitions has catapulted him into the elite ranks of young flutists. He has won first prize in many competitions, including the Flute Society of Greater Philadelphia 2015 Young Artist Competition, 2014 New York Flute Club Competition, the Second Annual Rosen-Schaffel Young Artist Competition (2012), and the 2013 First Annual Seattle Flute Society Young Artist Competition, among others.
Julian has performed as soloist across North America and Europe, and he made his Orchestral-Soloist debut in 2013 at the Eastern Music Festival and the Appalachian Summer Festival performing under Gerald Schwartz. He completed his MM at UNCSA with Dr. Tadeu Coelho, and his BM at Virginia Commonwealth University. Julian also spent a year at the prestigious Université de Paris IV: La Sorbonne in Paris, France.
Theresa Rose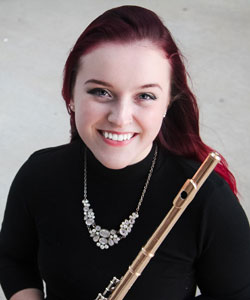 Theresa Rose is a native of the D.C. Metropolitan area. She earned a BM in flute performance from UNCSA. She has performed around the country, both as a soloist and as a member of the Chesapeake Youth Symphony Orchestra, the Chesapeake Flute Consort, the UNCSA Wind Ensemble and Orchestra and as principal flutist of the Southern Montgomery County Orchestra. Recently, she has enjoyed performing in venues such as the White House in Washington, D.C., and L'église de la Madeleine in Paris, France.
Theresa also enjoys orchestral work for musical theater and opera, recently playing flute and piccolo in "Les Contes d'Hoffman," "Guys and Dolls," "The Drowsy Chaperone" and, most recently, "Il capello di paglia di Firenze." Working as a woodwind doubler earned her the St. Genesius Most Valuable Musician award for her playing in "The Secret Garden," where she played seven instruments. Outside of classical music, Theresa has also won awards for her jazz improvisation, including an award from the 2012 Festival Disney for Best Jazz Soloist.
Lidiya Selikhov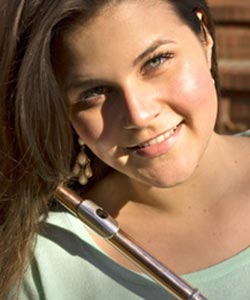 Lidiya Selikhov is a graduate of UNCSA, where she received a BM in Flute Performance with Dr. Tadeu Coelho. While at UNCSA, Lidiya played in the Wind Ensemble, Symphony Orchestra and in the pit for the musical " She Loves Me." In the summer of 2013, Lidiya attended Eastern Music Festival for a second year and was invited by Sir James and Lady Galway to the Galway Flute Festival in Weggis, Switzerland, where she was both an active participant in the Masterclass and assistant to Sir James Galway.

Lidiya has attended New England Music Camp, Interlochen Arts Camp, and the Julius Baker Flute Master Class. She won 1st place in the Raleigh Area Flute Association Competition in October 2011. In April 2013, Lidiya was nominated for the highest distinction at UNCSA, the Sarah Graham Kenan Scholarship for Excellence , a full tuition scholarship for a rising senior at UNCSA that demonstrates outstanding talent and artistic achievement, outstanding qualities of leadership and citizenship, and excellence in academic performance.
Peter Shanahan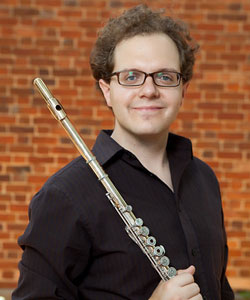 Peter Shanahan is the instructor of flute at Radford University and the Virginia Governor's School for the Arts. He serves as the Principal Piccolo in the Western Piedmont Symphony and is a frequent performer with the Winston-Salem Symphony, Asheville Symphony, Greensboro Symphony, Piedmont Opera, Charleston Symphony, Southwest Florida Symphony, Salisbury Symphony and Long Leaf Opera. He previously held a one-year piccolo position in the Winston-Salem Symphony.
Along with his wife, Lissie Shanahan, Peter founded the Winston-Salem Flute Academy—one of the largest and most successful flute studios in North Carolina. He previously served as the instructor of flute at Guilford College, Piedmont International University and the Music Academy of North Carolina, where he was honored by the rank of Associate Master Instructor and received a Teaching Excellence Award. A passionate advocate for arts-integrated education, Peter serves as a Fellow in the North Carolina Arts Council's nationally recognized A+ Schools Program, an arts-based whole school reform model. In this capacity, he conducts professional development for K-12 teachers throughout the country, using arts integration as a powerful means to enhance education.
Peter holds a MM from Indiana University (Bloomington) and a BM from UNCSA. His teachers include Tadeu Coelho, Philip Dunigan, Beth Larsen, Ervin Monroe and Thomas Robertello.
Danica Southerland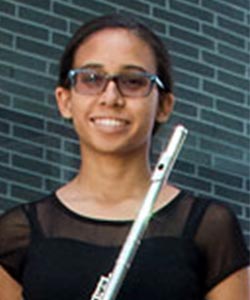 Danica Southerland first started playing the flute in sixth grade, when she joined Concert Band. She fell in love with the gorgeous melody the flute possessed. Since then, she has been involved in many music-related camps and events. She has attended the UNCG Summer Music Camp and was accepted into the UNCG Honor Band Clinic and Festival in February 2016.
Danica has been a part of many different school performances and musicals, including the YMCA Leader's Club and different volunteer projects. She has fostered dogs with Independent Animal Rescue for over three years, has been a volunteer at the SPCA of Wake County for four years, and was on the Auction Committee for the SPCA's annual Fur Ball.
Danica's future aspirations involve traveling around the world, learning to fluently speak at least two foreign languages, continued work with animals, and improving her abilities as a flautist.
Laura Stevens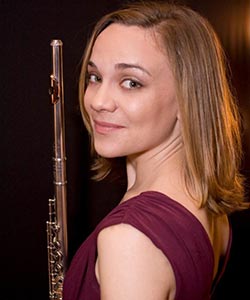 Dr. Laura Stevens is the Lecturer of Flute at UNC Chapel Hill and a member of the Carolina Wind Quintet, UNC's longest continuously active faculty ensemble in the department's history. She has served as the principal flutist of the Western Piedmont Symphony since 2002 and has been a member of the Salisbury Symphony since 2000.
Stevens was a featured guest artist with the Western Piedmont Symphony, performing Carl Neilsen's Concerto for Flute and Orchestra. She currently performs with Elektra Winds and was a founding member of the Relevents Wind Quintet who made their critically acclaimed debut tour through Southern Germany in April 2009. She also traveled to Venezuela, South America with the Archipelago Project to teach and perform through El Sistema — a publicly financed, voluntary sector music education program.
A native of Christiansburg, Virginia, Stevens received a DMA in Flute Performance at UNC Greensboro, a MM UNCSA, and a BM from Salem College.
Thomas Swanson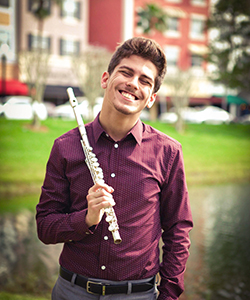 Thomas Swanson is a graduate of the University of Central Florida, where he studied with Dr. Nora Lee Garcia and received a BM. Thomas has been recognized in many state competitions, including being the winner of the Advanced Masterclass at the Florida Flute Convention with Paula Robison and Leone Buyse, the Texas Flute Festival Masterclass Competition with Gary Schocker, the Wisconsin Flute Festival Masterclass competition with Marianne Gedigian and receiving 2nd Prize in the High School Young Artists' Competition and the College Young Artists' Competition at the Florida Flute Association.
Thomas has the opportunity of participating in camps such as Boston University Tanglewood Institute Young Artists' Orchestra, the Orford Academy with Paula Robison, Academie Internationale d'ete Nice with Philippe Bernold and the Engaged Flutist with Timothy Hagen and Marianne Gedigian.
During his undergraduate studies, Thomas performed with the Flute Knights at the National Flute Convention and did a tour in Guatemala. Thanks to the Flute@UCF series, he has had the opportunity to perform for flutists such as Robert Dick, Bernard Goldberg, Bonita Boyd, Bart Feller, Mark Sparks, Philippe Bernold and William Bennett.
Thomas started his MM degree in flute performance at UNCSA with Dr. Tadeu Coelho. Guided and encouraged by Dr. Coelho, Tommy discovered his real love was for music therapy. He is now pursuing his music therapy studies in Chicago.
Sarah VanSkike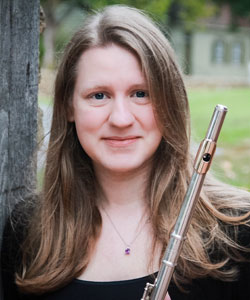 Sarah VanSkike is a flutist in North Carolina who regularly performs in the Hickory and Winston-Salem areas. She earned a MM degree at UNCSA, where she performed with the UNCSA Wind Ensemble, Orchestra, and Flute Ensemble, in addition to her duties through ArtistCorps.
Sarah received her BA in flute performance from Lenoir-Rhyne University. There, she studied with Lissie Shanahan and performed with the LR Concert Band, Flute Ensemble, the LR Athletic Band and as a pit orchestra musician for their production of the musical "Ragtime!"
Additionally, she collaborated with the Lenoir-Rhyne A Capella Choir, the Lenoir-Rhyne Youth Chorus and Hickory Choral Society. Her campus performances also included efforts to promote both traditional genres of music and newly composed music through the annual festivities of Bach Week and the Lenoir-Rhyne Komposers Kammermusikkonzert.
Sarah remains established in the Hickory community through her involvement in local churches and the Eclectic Winds Trio, which she joined in 2014. Eclectic Winds, founded and managed by Lutz Keller, performs at many venues, often as a tool for outreach.
Esther Waite
Esther Waite, woodwind program director at Bob Jones University, teaches flute lessons and related woodwind courses and directs the University Flute Choir. She completed a Bachelor of Science degree in Music Education (Bob Jones University, 2004) and a Master of Music degree in Flute Performance (UNCSA, 2006). In May 2013, she received the Doctor of Musical Arts degree in Flute Performance from Louisiana State University, where she served for three years as a doctoral teaching assistant in the flute studio. Her primary teachers have been Katherine Kemler, Tadeu Coelho, and Amanda Barrett. Esther's interest in Russian composers led to her doctoral dissertation topic of the 1960 flute sonata by the Soviet composer Edison Denisov.
Dr. Waite is principal flutist of the Hendersonville (NC) Symphony Orchestra. Recent solo performances have taken her to Panama, Romania, and NYC's Carnegie Hall. Dr. Waite has coached chamber music and given workshops on extended techniques at several summer music programs, including Musica Piccola (Winston-Salem, NC), LSU Honors Chamber Winds Camp (Baton Rouge, LA), and Inspiration and Praise Flute Masterclass (Greenville, SC). She holds membership in the National Flute Association and previously served as president of the South Carolina Flute Society.
Sean Worcester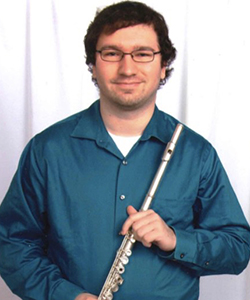 Sean Worcester earned a MM degree through the UNCSA Flute Studio. He graduated from the University of Wisconsin-Milwaukee after completing a double major in Music Education and Flute Performance.
Sean's primary instructors include Tadeu Coelho, Jennifer Clippert and Kortney James. Sean also has a special interest in new music, and has pushed his desire to play this music by performing with groups such as Present Music in Milwaukee, Wisconsin.


Jessica Yang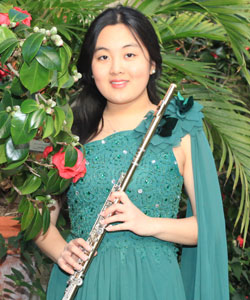 Jessica Yang is praised for her "artistry, musicality and tonal beauty." As a rising soloist, she was invited and performed Mozart's Flute and Harp Concerto with the Music in the Mountains Festival Orchestra in June 2016 in Nevada City, California. She also won the Carnegie Mellon School of Music Baroque Ensemble Concerto Competition in 2014, and was featured as a concerto soloist with the ensemble in 2015.
As an orchestral musician, Jessica has regularly performed with the Carnegie Mellon Philharmonic, Baroque Ensemble and Wind Ensemble. She has also performed with the Eastern Music Festival Orchestra and the Bowdoin International Music Festival Orchestra. She received her BM in flute performance along with a minor in business administration from Carnegie Mellon University, where she studied under the tutelage of Alberto Almarza and Jeanne Baxtresser, as a Carnegie Scholarship recipient. Prior to Carnegie Mellon, she studied flute performance in the high school program at UNCSA.
Aside from her passion and achievements in flute performance, Jessica is also interested in performing arts administration. She served as the Marketing Coordinator at Brevard Music Center and as the Direct Marketing Manager for the Carnegie Mellon School of Music. Jessica is wholly indebted to her teachers Alberto Almarza, Jeanne Baxtresser, Tadeu Coelho and Ruth Mayhew.
Hyunsu Yoon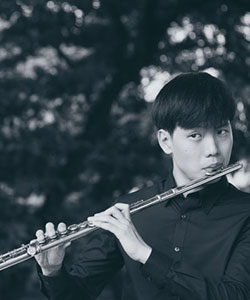 Hyunsu Yoon is a flutist currently enrolled in the doctoral program at the University of North Texas. Hyunsu was a finalist in several competitions, including the Young Texas Artist competition in 2020 and 2019, UNCSA Fall Concerti Competition in 2017, Rafa Artist Competition in 2016, Raleigh Symphony Orchestra competition in 2016 and SEMFA Young Artist Competition in 2013. Hyunsu is currently working with Dr. Mary Karen Clardy at UNT. His previous teachers are Amy Porter, Tadeu Coelho, Erika Boysen and Hiroshi Matsushima.
Hyunsu has attended many masterclasses from world-renowned flautists such as William Bennett, Lady Galway, Kate Hill, Renate Greiss-Armin, Yossi Arnheim, Conor Nelson, Julien Beaudiment, Lee Jiyoung, and Jeffrey Khaner. Hyunsu has a post graduate Professional Artistic Certificate from the University of North Carolina School of the Arts where he was an active member with the Chrysalis Chamber Music Institute Ensemble, a master's degree in flute performance from the University of North Carolina at Greensboro, and a bachelor's degree from the University of Michigan.
---
Past UNCSA Flute Studios
2019-20
Thomas Barkal
Erika Bradley
Emma Broberg
Grant Davelle
Ricardo Gil
Jack King
Emily Osborne
Will O'Donoghue
Madelyn Sealey
Thomas Swanson
Sean Worcester
2018-19
Abigail Bohanan
Thomas Barkal
Erika Bradley
Emma Broberg
Grant Davelle
Donavan Laughlin
Emily Osborne
Juanita Paz Chalacha
Savannah Ridley
Danica Southerland
Skyler Stone
Sean Worcester
2017-18
Claire Hagedorn
Donavan Laughlin
Sarah Mitchener
Catherine Monczewski
Kirkland Moranos
Savannah Ridley
Theresa Rose
Danica Southerland
Lydia Wu
Hyunsu Yoon
2016-17
Sami Eudy
Claire Hagedorn
Dayna Hagstedt
Helen Kim
Donavan Laughlin
Sarah Mitchener
Catherine Monczewski
Kirkland Moranos
Savannnah Ridley
Theresa Rose
Danica Southerland
Sarah VanSkike
2015-16
Rianna Cohen
Sami Eudy
Anne Friend
Dayna Hagstedt
Natalie Jefferson
Helen Kim
Sarah Mitchener
Idris Rasheed
Savannah Ridley
Theresa Rose
Sarah Vanskike
2014-15
Brittany Bindon
Rianna Cohen
Daniel Eng
Anne Friend
Dakota Galley
Dayna Hagstedt
Natalie Jefferson
Helen Haeun Kim
Bo Lee
Sarah Mitchener
Idris Rasheed
Theresa Rose
Sarah Vitullo
2013-14
Katie Barbo
Krisztina Dér
Daniel Eng
Dakota Galley
Natalie Jefferson
Balgeum Lee
Bo Lee
Dafne Guevara
Talina Hammonds
Marco Nuñes
Theresa Rose
Lidiya Selikhov
Iris Chong
2012-13
Katie Barbo
Cain-Oscar Bergeron
Krisztina Dér
Taryn Fulkerson
Dafne Guevara
Talina Hammonds
Natalie Jefferson
Balgeum Lee
MaryRose Niemann
Marco Nuñes
Zachary Osinski
Jenna Rice
Lidiya Selikhov
2011-12
Katie Barbo
Cain-Oscar Bergeron
Anna Conigliari
Taryn Fulkerson
Calen Gayle
Dafne Guevara
Taylor James
Milan Jeremič
Bo Lee
MaryRose Niemann
Marco Nuñes
Zachary Osinski
Julian Rose
Lidiya Selikhov
Jessie Yang
2010-11
Katie Barbo
Rebecca Bell
Cain-Oscar Bergeron
Anna Conigliari
Calen Gayle
Bryan Garcia
Milan Jeremič
James Miller
Sara Newman
Zachary Osinski
Caroline Rohm
Julian Rose
Lidiya Selikhov
Alex So
Felipe Tristan
Jessie Yang
2009-10
Rebecca Bell
Erika Boysen
Angela Bullard
Bryan Garcia
Courtney Jacobs
Milan Jeremič
James Miller
Sara Newman
Julia Price
Caroline Rohm
Megan Szymanski
Felipe Tristan
2008-09
Erika Boysen
Abi Clark
Lauren Fay Good
Jenna Hunter
Milan Jeremic
Scott Kemsley
Megan Szymanski
Kristen Vanderschaaf
2007-08
Erika Boysen
Abi Clark
Jonas Davison
Norman Gonzales
Lauren Fay Good
Michael Hoover
Scott Kemsley
Jonas Pologe
Whitney Reagan
Catherine Tsao
Kristen Vanderschaaf
2006-07
Erika Boysen
Abi Coffer
Jonas Davison
Norman Gonzales
Lauren Fay Good
Laura Kaufman
Jonas Pologe
Whitney Reagan
Catherine Tsao
Kristen Vanderchaaf
2005-06
Rebekah Carr
Juliana Daugherty
Jonas Davison
David Graham
Anne Gregory
Norman Gonzales
Heather Harz
Erin Kao
Laura Kaufman
Kristen Vanderschaaf
Esther Waite
2004-05
Rebekah Carr
Laura Dangerfield
Jonas Davison
Norman Gonzales
David Graham
Erin Kao
Philip Kim
Ariana Nesbit
Erica Rios
Esther Waite
2003-04
David Graham
Daniel Buscher
Laura Dangerfield
Jonas Davison
Sarah Hollandsworth
Philip Kim
Erica Rios
Peter Shanahan
Carmen Smith
Jinsil Song
2002-03
Leah Arsenaut
Ginny Broffitt
Jonas Davison
Tika Douthit
David Graham
Timothy Hagan
Sarah Hollandsworth
Bora Min
Kaci Slate
Peter Shanahan
Jinsil Song