Flute Studio Alumni
Flute Studio Alumni
Alumni of the UNCSA Flute Studio have gone on to win orchestral jobs, to teach at the collegiate level as renowned pedagogues, and to pursue successful careers as advocates for the arts.
Cain-Oscar Bergeron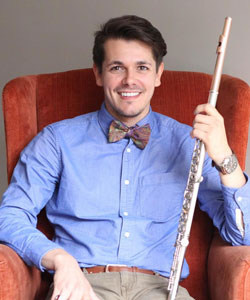 Cain is a multifaceted performer and educator in Atlanta, Georgia. In January 2014, Cain made his Lincoln Center debut with a recital entitled "Chez Nous Autres." He recently completed the Kenan Fellowship at Lincoln Center Education where he worked alongside some of the most talented Teaching Artists in New York City, such as his mentor Lisa Kozenko. While in NYC, Cain performed with The Metropolitan Four, an NYC-based flute quartet, and with pianist and baritone Scott Wesley Hawley. Cain gained invaluable experience in the realm of aesthetic education and plans to augment his talents as a performing artist with a career as a teaching artist trained in LCE's imaginative learning capacities.
Cain is a graduate of the Master of Music program at UNCSA, where he studied with Dr. Tadeu Coelho for the duration of his training. He also completed a Professional Artist Certificate concentrating in Orchestral Flute Performance.
Originally from the small Cajun French town of Cottonport in Louisiana, Cain grew up inspired by Cajun folk music from an early age. Before leaving his home state, he earned a Bachelor of Music degree from Northwestern State University in Natchitoches, Louisiana, where he studied flute with Dr. Dennett Derby McDermott. Cain enjoyed a diverse education at NSU, where he minored in Vocal Performance and French Studies and was a founding member and president of the Natchitoches-Northwestern Flute Guild. He was principal flute in the Natchitoches-Northwestern Symphony Orchestra under the baton of Douglas Bakenhus and also in the Wind Symphony conducted by Bill Brent.
---
Dr. Virginia Broffitt Kunzer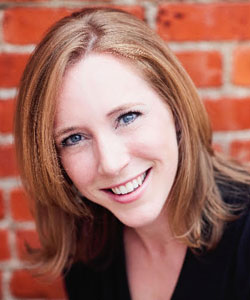 Virginia is Associate Professor of Flute at Oklahoma State University, Principal Flute of the Symphony of Northwest Arkansas, and a founding member of the Pangaea Chamber Players. A versatile musician, she has established a successful career as a teacher, soloist, orchestral musician, and chamber musician. Before her appointment at OSU she served as faculty at Western Illinois University and flutist in the Camerata Woodwind Quintet. She has also held positions in the Fort Wayne Philharmonic and Evansville Philharmonic Orchestra. Among Virginia's notable accomplishments are winning the National Flute Association's Young Artist Competition in 2004.
An avid teacher and performer, she has given performance master classes and performed concerts throughout the United States and Europe. Virginia has appeared as a soloist with the Symphony of Northwest Arkansas, Quincy Symphony Orchestra, INTY Ensemble, the OSU Wind Ensemble, OSU Symphony Orchestra, and the WIU Symphony Orchestra. She is an active presence in the National Flute Association, performing at numerous conventions, previously serving as Coordinator of the Young Artist Competition, and currently serving as a board member.
A native of Iowa City, Iowa, she received her Bachelor of Music degree in flute performance from UNCSA. She went on to receive a Master of Music degree and Doctor of Musical Arts from the University of Cincinnati College-Conservatory of Music. Her past teachers include Dr. Bradley Garner, Randy Bowman, Dr. Tadeu Coelho, and Jack Wellbaum. Virginia is a Miyazawa Performing Artist.
---
Krisztina Dér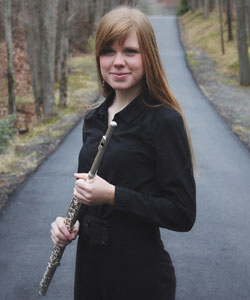 Captivated by the flute at a children's performance of Prokofiev Peter and the Wolf, Krisztina surprised her violinist parents by deciding to be a flutist at the age of three. The second flutist of the Fayetteville Symphony Orchestra and part-time Lecturer of Flute at Guilford College, she is currently pursuing a Doctorate of Musical Arts at UNC Greensboro as an Adeliade Fortune Holderness Fellow and graduate assistant. Hailed by the Washington Post as a musician with "…a clean, full-bodied tone and fleet fingers," she has placed first in the Flute Society of Washington's 2009 Collegiate Competition, performed as a finalist at the 2014 Rosen-Schaffel Competition, premiered works by composer Michael S. Rothkopf and others, and soloed twice with orchestra.
Krisztina received her Bachelor of Arts in music performance and musicology with the academic honors Summa cum Laude at the University of Maryland Baltimore County as a Linehan Scholar; and she was awarded her Master of Music in flute performance UNCSA, where she was a teacher's assistant, Nutcracker Scholar, and Large Ensemble Librarian.
In 2013, she served as the National Flute Association Assistant Program Chair. Her teachers include Tadeu Coelho, János Bálint, Lisa Cella, and Alice Kogan Weinreb.
---
Dakota Galley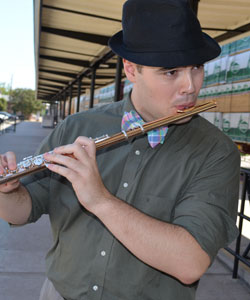 Dakota was born into the military lifestyle, traveling the world from a young age. He picked up the flute in elementary school because he was the only one who could get a sound out of it, and since then he has taken private lessons in multiple states and two different countries.
Dakota studied with Dr. Coelho from 2013-15 as a high school student, and has gone on to study at Berklee College of Music as a Performance Major. There he takes lessons with Mia Olson, Lance Van Lenten, and Fernando Brandao.
During the school year, Dakota plays in the Boston area with student led ensembles, but he performs and teaches lessons in Carthage, North Carolina during the summers.
---
Norman Gonzales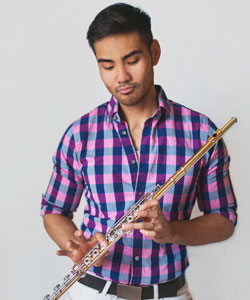 Norman, a Filipino-American flutist, joined the Great Falls Symphony of Montana as Principal Flutist in September 2012 and was appointed the same position with Colorado's Fort Collins Symphony in May 2013. Praised for his "…warm, attractive sound" by the Winston-Salem Journal, Gonzales has performed with the Buffalo Philharmonic in New York, the Erie Chamber Orchestra in Pennsylvania, the American Academy of Conducting Orchestra at the Aspen Music Festival, and the Western Piedmont Symphony in North Carolina, among others. As a soloist, he was awarded top prizes in Young Artist Competitions sponsored by the Atlanta, Central Ohio, Pittsburgh and Rochester Flute Associations.
Norman frequently performs as solo flutist of Montana's premier woodwind quintet, the Chinook Winds. He is on faculty at Western Nebraska Community College and maintains a private studio in Montana and is a founding member of the Montana Flute Association, a non-profit organization whose goal is to cultivate, promote, sponsor, and develop the appreciation of the flute and flute music among its members and the general public.
Born in Macon, Georgia, Norman began studying the flute at the age of 12 and played in a variety of community ensembles. After graduating with a Bachelor of Music from UNCSA, he continued his graduate studies at the Eastman School of Music where he served as a teaching assistant for world renowned flutist and pedagogue, Bonita Boyd. He graduated with a Master of Music and Performer's Certificate in 2010 and completed two years of doctoral work at Eastman.
---
Dafne Guevara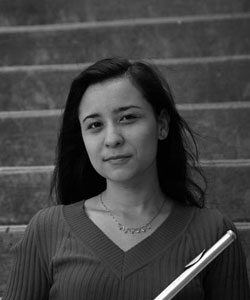 Dafne began her musical studies in Panama at the Youth Plan of Music under the tutelage of professor Rommel Charpentier. Later, she became a member of the Elementary Orchestra of the Youth Plan of Music, known today as Children´s Symphony Orchestra of Panama, as well as the Isthmian Youth Orchestra. She has also been involved in the music camps conducted by the National Concert Association and has played with the Youth Philharmonic Orchestra of the New England Conservatory, the Quintet Vivace, the Symphony Orchestra and Band of the National Institute of Music of Panama (Conservatory).
She has performed at the Panamanian Double Reeds Festival, the International Flute Festival organized by the Costa Rican Flute Association (ACOFLA), the Crescendo Summer Institute in Sharoshpatak and in Tokaj, Hungary, Domaine Forget in Quebec, Canada, and the Consummate Flutist in Pittsburgh. Professionally, she has worked as flute player in the Symphonic Band of the Municipality of Panama and as piccolo player of the National Symphonic Orchestra of Panama. In 2010, Dafne was selected as a Fulbright Student for the years 2011-13. With this scholarship, she was able to receive her Masters in Flute Performance at UNCSA and in 2014, she finished her Professional Arts Certificate at UNCSA. In fall 2014, she began a DMA program in Flute Performance at University of Nevada, Las Vegas (UNLV) under Jennifer Grim, where she is a graduate assistant and conducts the UNLV Flute Ensemble.
In 2016, Dafne organized the first Encuentro de Flautas de Panamá (Flute Festival of Panama), and is establishing the first Asociación Panameña de Flautistas (Panamanian Flute Association). She has performed as soloist with the Symphonic Orchestra of the University of Panama and participated in the Latinoamerican Flute Festival in Tegucigalpa, Honduras.
---
Timothy Hagen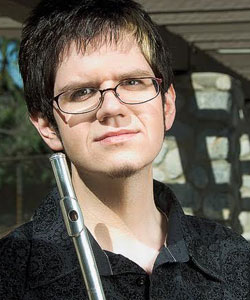 Timothy is an internationally acclaimed flutist whose "technical virtuosity and musical sensitivity" (NewMusicBox) have garnered prizes from the Australian International Flute Competition, Pasadena Showcase House Instrumental Competition, Léni Fé Bland Foundation, and Jack Kent Cooke Foundation.
He is Principal Flute of the Missouri Symphony and has also performed with the Minnesota Orchestra, San Antonio Symphony, Eugene Symphony, and Dallas Wind Symphony. Hagen has also held chamber music fellowships at the Atlantic Music Festival and Norfolk Chamber Music Festival. His compositions are performed by flutists around the country, and his research has been published by the journals of the National Flute Association and British Flute Society. Hagen is currently Instructor of Flute at Brookhaven College and maintains a large private studio in Dallas, Texas.
Timothy received his Bachelor of Music degree from UNCSA and went on to earn an MM from the University of Southern California, Professional Studies Certificate from The Colburn School and DMA from the University of Texas at Austin.
---
Milan Jeremić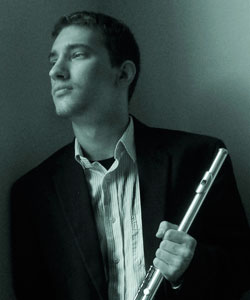 Milan, a native of Serbia, began his academic career at the Music High School "Stanković" in Belgrade, Serbia, which he completed in 2008 with the flute performance diploma. In 2012 he graduated from UNCSA with highest honors. Milan has taken part in many festival ensembles and orchestras, such as World Youth Wind Symphony (United States), Let's Play Orchestra (Bulgaria), International Orchestral Academy (Croatia), The Spirit of Europe (Austria), Radio Symphony Orchestra Belgrade (Serbia), German Scandinavian Youth Philharmonic (Germany) and the National Theatre in Belgrade.
He is the winner of numerous musical competitions and received artistic and musical impulses in master classes by Carol Wincenc, Kersten McCall, Leone Buyse, Mario Caroli, and Karl-Heinz Schütz, among others. Milan went on to study at the Hochschule für Musik Nürnberg in Nuremberg, Germany in the class of Marcos Fregnani-Martins, where he obtained his Master of Music in 2015, and where he currently specializes in contemporary music under the mentorship of Jeremias Schwarzer.
Milan played as an intern at the Nuremberg Symphony Orchestra and Munich Symphony Orchestra and, since 2014, is the solo flutist at the Camerata Franconia in Erlangen, Germany. He is currently an academician at the Nuremberg Philharmonic Orchestra.
---
Bo Lee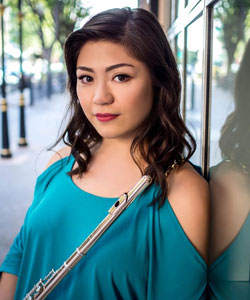 Bo received her Bachelor of Music degree in 2015 from UNCSA. She is currently pursuing the Master of Music degree at the New England Conservatory. She has performed in masterclasses for flutists such as Jeanne Baxtresser, Sir James Galway, Michael Hasel, Lorna McGhee, Emmanuel Pahud, Gary Schocker, Mimi Stillman, and Keith Underwood, among others. She has attended festivals such as Brevard Music Center, Vianden International Music Festival and School in Vianden, Luxembourg, Le Domaine Forget Music Academy, and Apple Hill Center for Chamber Music.
Bo was a finalist in the 2015 UNCSA Concerto Competition and has given performances in Madrid as part of the Spain Tour International Study Program. In her free time, Bo enjoys the art of cross-stitch, watching the ducks in the Boston Public Garden, and is a new appreciator of comic books.
---
James Miller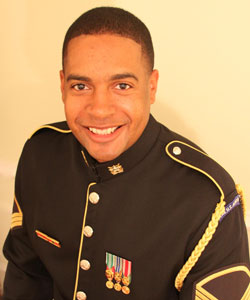 James is a native of Pontiac, MI. He joined The United States Army Band, "Pershing's Own", in 2013, which provides musical support for the leadership of the United States, to include all branches of government, and to a wide spectrum of national and international events in support of soldiers and their families, public diplomacy, community and international relations, recruiting initiatives, and music education programs.
James holds a bachelor's degree from the University of South Carolina, a master's degree from the University of North Carolina at Greensboro, where he was a graduate assistant, and a Professional Artist Certificate from UNCSA. He has been a prizewinner in numerous flute competitions including the MTNA Young Artist, SC Flute Society. He was the winner of the Concerto Competition at both the University of South Carolina and UNC-Greensboro. He has performed with the Western Piedmont Symphony, Fayetteville Symphony, Winston Salem Symphony, and Nova Chamber Orchestra.
James has performed at the Mid-Atlantic Flute Faire and The National Flute Association. He has also been a featured soloist at the Piccolo Spoleto Festival in Charleston, SC, the London International Poetry Festival and with The U.S Army Strings and Concert BanFd. James joined the Army in July 2011. Before joining Pershing's Own he served in the 8th United States Army Band in Seoul, Korea and The United States Training and Doctrine Command band at Ft. Eustis, Va. James is in active soloist, chamber musician and clinician in the DC-Maryland-Virginia region.
---
Marco Núñez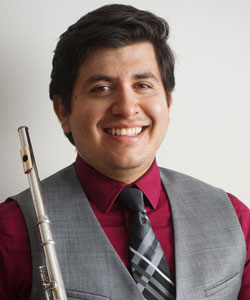 Marco recently graduated from the Jacobs School of Music at Indiana University with a Master of Music degree. Prior to attending the Jacobs School of Music, he received his Bachelor of Music at UNCSA.
He has played in master classes for world-renowned flutists including Sir James Galway, Emmanuel Pahud, Michael Hasel, András Adorján, Carol Wincenc, Leone Buyse, Gary Schocker, Robert Dick, Susan Hoeppner, among others. In 2015, Marco won the Rosen-Schaffel Competition for Young and Emerging Artists and the Jacobs School of Music Woodwind Concerto Competition. He also won the 2014 James and Helen Pellerite Orchestral Excerpts Competition at the Jacobs School of Music, UNCSA's 2013 Fall Concerto Competition, received second prize at the 2011 Rubén Islas Flute Competition, first prize at the 2011 Raleigh Area Flute Association Review and Contest, and was one of the winners of the South Carolina Flute Society Masterclass Competition. Marco is currently continuing his studies with Professor Thomas Robertello pursuing an Artist Diploma.
---
Zack Osinski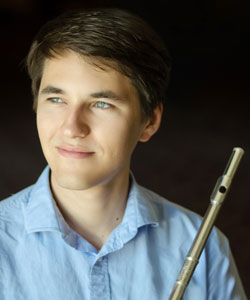 Zack, a native of North Carolina, is currently pursuing a bachelor's degree in flute performance at the Eastman School of Music, studying with renowned flute pedagogue Bonita Boyd. In the spring of 2016 he was a recipient of Eastman's coveted Performer's Certificate for his performance of the Jolivet Flute Concerto. During the summer of 2016, Zack was an invited performer to the New York City Electroacoustic Music Festival, and a performer at the 2016 Semper Music International Festival in Italy. Zack has also served as a fellow for the 2015 Hot Springs Music Festival where he apprenticed to Dr. Virginia Broffitt.
An active supporter of new music, Zack regularly performs with Eastman ensembles OSSIA New Music and Musica Nova, and has worked with composers such as Jo Kondo, Georg Friedrich Hass, and Robert Morris. Zack also performs regularly with the Eastman Wind Ensemble (recently sharing the stage with banjo virtuoso Bela Fleck) and will be heard on the ensemble's upcoming release of works by Jeff Tyzik. Additionally, Zack engages his love for early music by performing in Eastman's student run Bach Cantata series. When he's not in school, Zack enjoys driving to Lake Ontario, running, collecting socks and coffee mugs, and never leaves home without his waffle iron.
---
Peter Shanahan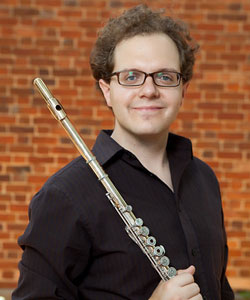 Peter is the instructor of flute at Radford University and the Virginia Governor's School for the Arts. He serves as the Principal Piccolo in the Western Piedmont Symphony and is a frequent performer with the Winston-Salem Symphony, Asheville Symphony, Greensboro Symphony, Piedmont Opera, Charleston Symphony, Southwest Florida Symphony, Salisbury Symphony, and Long Leaf Opera. He previously held a one-year piccolo position in the Winston-Salem Symphony.
Along with his wife, Lissie Shanahan, Peter founded the Winston-Salem Flute Academy, one of the largest and most successful flute studios in North Carolina. He previously served as the instructor of flute at Guilford College, Piedmont International University, and the Music Academy of North Carolina, where he was honored by the rank of Associate Master Instructor and received the 2012-13 Teaching Excellence Award. A passionate advocate for arts-integrated education, Peter serves as a Fellow in the North Carolina Arts Council's nationally recognized A+ Schools Program, an arts-based whole school reform model. In this capacity, he conducts professional development for K-12 teachers throughout the country, using arts integration as a powerful means to enhance education.
As a performer and teaching artist in the Open Dream Ensemble, Peter performed in partnership with NASA's Jet Propulsion Lab for one national and three regional tours, reaching tens of thousands of children. In this role, he performed on stage as both a musician and actor and appeared in the first educational web series for children. He directed dozens of arts integration residencies as a member and tour manager of the Open Dream Ensemble.
Peter holds a Master of Music from Indiana University (Bloomington) and a Bachelor of Music from the UNCSA. His teachers include Tadeu Coelho, Philip Dunigan, Beth Larsen, Ervin Monroe, and Thomas Robertello.
---
Jessica Yang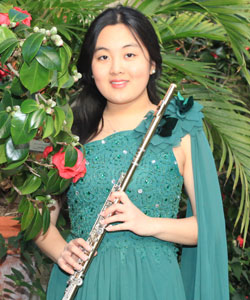 Jessica is praised for her "artistry, musicality and tonal beauty." As a rising soloist, she was invited and performed Mozart's Flute and Harp Concerto with the Music in the Mountains Festival Orchestra in June 2016 in Nevada City, Calif. She also won the Carnegie Mellon School of Music Baroque Ensemble Concerto Competition in 2014, and was featured as a concerto soloist with the ensemble in 2015.
As an orchestral musician, Jessica has regularly performed with the Carnegie Mellon Philharmonic, Baroque Ensemble, and Wind Ensemble in the past four years. She has also performed with the Eastern Music Festival Orchestra and the Bowdoin International Music Festival Orchestra. She recently received her bachelor's degree in flute performance along with a minor in business administration from Carnegie Mellon University where she studied under the tutelage of Alberto Almarza and Jeanne Baxtresser, as a Carnegie Scholarship recipient. She graduated with both College and University Honors in May 2016. Prior to Carnegie Mellon, she studied flute performance in the high school program at UNCSA.
Aside from her passion and achievements in flute performance, Jessica is also interested in performing arts administration. She is currently in the highly selective Accelerated Master of Arts Management Program in the Graduate School of Public Policy and Management at Carnegie Mellon, and will graduate with her master's degree in May 2017. She served as the Marketing Coordinator at Brevard Music Center (summer 2015 and 2016) and as the Direct Marketing Manager for the Carnegie Mellon School of Music (2015-16). Jessica is wholly indebted to her teachers, Alberto Almarza, Jeanne Baxtresser, Tadeu Coelho, and Ruth Mayhew.
---
Past UNCSA Flute Studios
2015-16
Rianna Cohen
Sami Eudy
Anne Friend
Dayna Hagstedt
Natalie Jefferson
Helen Kim
Sarah Mitchener
Idris Rasheed
Savannah Ridley
Theresa Rose
Sarah Vanskike
2014-15
Brittany Bindon
Rianna Cohen
Daniel Eng
Anne Friend
Dakota Galley
Dayna Hagstedt
Natalie Jefferson
Helen Haeun Kim
Bo Lee
Sarah Mitchener
Idris Rasheed
Theresa Rose
Sarah Vitullo
2013-14
Katie Barbo
Krisztina Dér
Daniel Eng
Dakota Galley
Natalie Jefferson
Balgeum Lee
Bo Lee
Dafne Guevara
Talina Hammonds
Marco Nuñes
Theresa Rose
Lidiya Selihkov
Iris Chong
2012-13
Katie Barbo
Cain-Oscar Bergeron
Krisztina Dér
Taryn Fulkerson
Dafne Guevara
Talina Hammonds
Natalie Jefferson
Balgeum Lee
MaryRose Niemann
Marco Nuñes
Zachary Osinski
Jenna Rice
Lidiya Selihkov
2011-12
Katie Barbo
Cain-Oscar Bergeron
Anna Conigliari
Taryn Fulkerson
Calen Gayle
Dafne Guevara
Taylor James
Milan Jeremič
Bo Lee
MaryRose Niemann
Marco Nuñes
Zachary Osinski
Julian Rose
Lidiya Selihkov
Jessie Yang
2010-11
Katie Barbo
Rebecca Bell
Cain-Oscar Bergeron
Anna Conigliari
Calen Gayle
Bryan Garcia
Milan Jeremič
James Miller
Sara Newman
Zachary Osinski
Caroline Rohm
Julian Rose
Lidiya Selihkov
Alex So
Felipe Tristan
Jessie Yang
2009-10
Rebecca Bell
Erika Boysen
Angela Bullard
Bryan Garcia
Courtney Jacobs
Milan Jeremič
James Miller
Sara Newman
Julia Price
Caroline Rohm
Megan Szymanski
Felipe Tristan
2008-09
Erika Boysen
Abi Clark
Lauren Fay Good
Jenna Hunter
Milan Jeremic
Scott Kemsley
Megan Szymanski
Kristen Vanderschaaf
2007-08
Erika Boysen
Abi Clark
Jonas Davison
Norman Gonzales
Lauren Fay Good
Michael Hoover
Scott Kemsley
Jonas Pologe
Whitney Reagan
Catherine Tsao
Kristen Vanderschaaf
2006-07
Erika Boysen
Abi Coffer
Jonas Davison
Norman Gonzales
Lauren Fay Good
Laura Kaufman
Jonas Pologe
Whitney Reagan
Catherine Tsao
Kristen Vanderchaf
2005-06
Rebekah Carr
Juliana Daugherty
Jonas Davison
David Graham
Anne Gregory
Norman Gonzales
Heather Harz
Erin Kao
Laura Kaufman
Kristen Vanderschaaf
Esther Waite
2004-05
Rebekah Carr
Laura Dangerfield
Jonas Davison
Norman Gonzales
David Graham
Erin Kao
Philip Kim
Ariana Nesbit
Erica Rios
Esther Waite
2003-04
David Graham
Daniel Buscher
Laura Dangerfield
Jonas Davison
Sarah Hollandsworth
Philip Kim
Erica Rios
Peter Shanahan
Carmen Smith
Jinsil Song
2002-03
Leah Arsenaut
Ginny Broffitt
Jonas Davison
Tika Douthit
David Graham
Timothy Hagan
Sarah Hollandsworth
Bora Min
Kaci Slate
Peter Shanahan
Jinsil Song