ArtistCorps ArtsEngage Position Description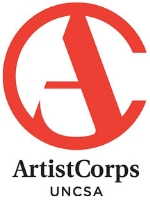 Location: Winston-Salem, North Carolina
Timeframe: August 20, 2020 – May 14, 2021
ArtistCorps ArtsEngage is seeking UNCSA student artists and recent graduates who are interested in serving the community through the arts.
NOTE: At this time, applications are no longer being accepted for ArtistCorps 2020-21 as we navigate what service will entail this fall. Please check back later for updates.
ArtistCorps ArtsEngage seeks creative and / or performing artists who have a desire to use their talents to serve local communities. ArtistCorps members will use their existing skills in the arts and will develop skills in instruction, planning and implementing engagement activities, administration, communication, and other responsibilities as determined in conjunction with service locations.
ArtistCorps serves nonprofits, Title 1 public schools, after-school centers, and other community-based institutions in the Forsyth County, North Carolina area. It is a project of the University of North Carolina School of the Arts.
ArtistCorps ArtsEngage members will commit to 200, 300, 400, or 500 hours of service over the course of August 20, 2020 through May 14, 2021. There will be mandatory trainings in addition to the service hours. ArtistCorps members will be paid $15 an hour.
Service will include:
Developing and implementing arts instruction and engagement activities.
Spearheading arts and service related projects at service locations.
Recruiting, training, and tracking artist volunteers.
Working as a team with other ArtistCorps members and service location employees.
Developing and utilizing good communication and administrative skills.

Assisting with program assessment and evaluation.
Qualifications and characteristics of ArtistCorps members:
An interest in arts-based community service and a deep proficiency in one or more area(s) of the performing, visual, and motion-picture arts.
Must be reliable.
Strong work ethic and excellent organization skills.
The ability to work independently and in groups.
Commitment to working with diverse individuals and communities, especially youth, children, and senior citizens.

Ability to meet goals and deadlines.

Good written and spoken communication skills.
Capacity to maintain service portfolio, monthly blog posts, and other social media posts on behalf of ArtistCorps.

A desire to grow as an artist and person.
Flexibility and adaptability.
All members must be in good standing at UNCSA.

UNCSA students must be C3, C4 or graduate level students.

Members must be US citizens or have a valid Employment Authorization Document (EAD).
The 2020-21 UNCSA ArtistCorps ArtsEngage program is contingent on receiving funding.
If you have questions, contact Debby Pyatt at pyattd@uncsa.edu or Rebecca Nussbaum at nussbaumr@uncsa.edu.