ArtsEngage Members

Andrea Izzy Anthony
Andrea Izzy Anthony believes in the power of story to create authentic connection in personal and professional enterprises. In addition to being a SAG-AFTRA actor, filmmaker and content creator, Izzy has worked across a variety of industries, including as an award-winning retail real estate, in wellness coaching and human resources. She loves turning ideas into digestible stories with tangible actions for empowerment.
A native of North Carolina, Izzy spent over a decade and a half in New York City. Her training includes the Maggie Flanigan Studio, UNC-G B.F.A. in Theatre, Upright Citizens Brigade and Kimball Studios. She is currently pursuing her M.F.A. in Screenwriting at the UNCSA School of Filmmaking.
She has an insatiable love of Jim Henson Creations, is known to geek out about history, is a painter and photographer, and LOVES a great rock concert.
---
Lakaysha Barnes
Lakaysha is an Alabama native. She studies screenwriting as a graduate student in the UNCSA School of Filmmaking. Prior to college she was active in multiple non-profit organizations including, but not limited to, AmeriCorps and ArtPlay.
Lakaysha has 18 years of experience in the entertainment industry. She has been an invaluable cast/crew member of several theater, television, film and commercial productions. She has also written several indie projects that are slated to go into production within the next two years.
Lakaysha grew up in a low socio-economic status home, which drives her passion for giving back to high-need communities. She takes pride in helping others find their voice and tell their stories through the creative arts. She is very enthusiastic about serving the community.
---

Arianna Bohning
Arianna Bohning is currently a first-year graduate student at UNCSA pursuing a M.M. in Collaborative Piano. Arriving from the Midwest, Arianna was born and raised in a small town in Nebraska. While she grew up chanting "Go Big Red", she also grew up with a love for art and music. She started taking piano lessons at the age of seven and picked up oboe in 6th grade. At Iowa State University, Arianna earned her Bachelor of Arts degree in Music and International Studies in 2017. There she was an active multi-instrumentalist, performing oboe in a variety of ensembles and accompanying on piano for her peers and choirs in the local community.
Upon graduation she worked as a piano teacher, collaborative pianist, free-lance oboist, and accompanist for a public middle school in Lincoln, Neb. Having worked with students from many different backgrounds, Arianna is passionate about community-arts engagement, public education, and equal access of music education to all populations of students.
---

Emma Broberg
Emma Jane Broberg began playing the flute at the age of five when her mother enrolled her in a group flute class at the local community center. Over the past 20 years of flute playing, she has had opportunity to perform around the country and around the world in Australia, Germany, the Czech Republic, DR Congo and the Philippines.

In addition to performing in orchestras and other chamber ensembles, Emma enjoys helping students discover their own love of music. She believes music adds happiness and beauty to life.
Emma is a recent graduate of Brigham Young University in Provo, Utah, where she earned a Bachelor of Music in Flute Performance. Her love of music has led her to continue her studies as a graduate student of Dr. Tadeu Coelho at UNCSA.
---
Laurence Brooke
Uprooted from the mountains of southwest Virginia, Laurence Brooke has been pursuing music for over 15 years. A versatile violinist, Laurence has performed music from all over the genre spectrum from new music to bluegrass, with a special love for quartet collaborations. Study of music began at the age of seven, first with lessons in piano and then in classical violin and bluegrass fiddle a few years later. Laurence began studies with Mike Mitchell of the Floyd Music School in 2007 before then going on to study under Benedict Goodfriend. A recent graduate of the Frost School of Music at the University of Miami, Laurence studied under Charles Castleman, and had the privilege of attending the Castleman Quartet Program in both Fredonia, N.Y., and Linfield, Ore.
Currently, they are pursuing a M.M. in Violin Performance with Ida Bieler and Janet Orenstein at the University of North Carolina School of the Arts.
---
Aliyah Bryant
Aliyah Bryant is a filmmaker, storyteller, and visual artist. She is currently a fourth-year undergraduate Filmmaking student at UNCSA in the editing program. She is passionate about the arts, especially filmmaking, photography, writing, and drawing. She is a New Jersey Native but has lived in North Carolina for 10 years.
Aliyah has always enjoyed working with children, first as a YMCA camp counselor, then working as a nanny through a local agency, and now as an ArtistCorps member. Her passion and knowledge of childcare and the arts are able to harmonize through her service at ArtistCorps. She is passionate about her work with children and the ability to make a difference in her community through art.
---

Mikaela Byrd
Mikaela Byrd is a first-year screenwriting graduate student at the UNCSA School of Filmmaking. She received her B.F.A. in Technical Theatre at North Carolina A&T State University. During those four years, she spent summers interning and apprenticing at theatres and opera houses, such as Blumenthal Performing Arts Center and Wolf Trap's Barns Theatre. Mikaela has a continuously growing love for writing and hopes that her art can inspire others to think beyond their wildest dreams. Her mission is to use her words carefully to state opinions and start dialogues. She believes that film has a way of creating a common sense of empathy that brings different types of people together. Mikaela will continue to use storytelling so that everyone can catch a glimpse of themselves on screen.
---

J. Gino Cyrus
J. Gino Cyrus graduated a semester early from Bethune-Cookman University with a B.A. in Mass Communications and with an emphasis in Public Relations and Advertising (Fall 2018).
Growing up in Orlando, Fla., Gino was introduced to the arts relatively young. His parents enrolled him in performing arts school and encouraged his participation in arts-based extracurricular activities. This laid the foundation for Gino's interests.
When he's not writing screenplays or stage plays, he enjoys watching films and plays, creating graphics, and doing extensive research for his upcoming projects. Mr. Cyrus is just as ecstatic to join ArtistCorps as he is to be pursuing a M.F.A. in Screenwriting at UNCSA.
---
Amanda Goodwin
Ms. Goodwin is a graduate of James Madison University (JMU) where she received her B.M. in String Performance. During her time at JMU, she studied the violin under Diana LeGrand and Dina Nesterenko. Additionally, she has had the opportunity to study under Rictor Noren, professor of violin and viola at the New England Conservatory, and members of the Philadelphia Orchestra at the Philadelphia International Music Festival (PIMF). PIMF orchestra rehearsals were conducted by renowned conductor Cristian Macelaru and chamber coachings were led by violist Renard Edwards. She completed her M.M. in Violin Performance at UNCSA in May 2019 and is currently pursuing her Professional Artist Certificate in the studio of Kevin Lawrence. In addition to her studies, she is also serving with ArtistCorps, an outreach program dedicated to exposing the arts to children of low-income families, and teaching private violin lessons at Separk Music in Lewisville, N.C. Goodwin hopes to become a private teacher at the collegiate level.
---

Josephine Greenwald
Josephine Greenwald, 20, is a cellist from Scottsdale, Ariz. She is pursuing a bachelor's degree in cello performance at the University of North Carolina School of the Arts (UNCSA), as a student of Brooks Whitehouse. She was a recipient of the Kenan Excellence Scholarship and has performed in many UNCSA productions, including Tchaikovsky's "The Nutcracker", Bernstein's "MASS", and Collage. Josephine is also an avid chamber musician; she has attended the Green Mountain Chamber Music Festival in Burlington, Vt. and the International Music Festival of the Adriatic in Duino, Italy, and performed in chamber recitals at both festivals. In addition to performing, Josephine is passionate about music education. She currently teaches at Jackson's Music in Winston-Salem, North Carolina, and previously taught at Tetra String Quartet's Chamber Music Workshop in Scottsdale, Ariz. and worked at Interlochen Arts Camp.
---

Charlie Herndon
Charlie Herndon, born in Charlotte, N.C., is a third year student at UNCSA, majoring in Screenwriting in the School of Filmmaking and minoring in arts entrepreneurship. He got his start as the Arts and Entertainment contributor for his school newspaper and wants to work as a professional writer. His goal as an ArtistCorps member is to combat injustice by tapping into people's imagination and intellect. He encourages young people to think critically about the world around them, and to ask questions.
---

Jacob Hinson
Hinson's music has been described as "complex yet tuneful...his willingness to write for different mediums and genres is so much fun! I think he can write for anything!" Jennifer Duerkoop of the U.S. Army Band says, "The music he composes and brings to the audience is pure, raw, powerful emotion, meant to evoke images and scenes in the mind, and feelings in the depths of your soul. If you close your eyes, his music will take you on a journey...everyone will have a different one, but still, a journey. Sit back and enjoy the ride and experience."
Hinson, from Wingate, N.C., began the formal study of music at at the age of 11 and started composing works for a myriad of ensembles shortly after. In 2016 he received his Bachelor's of Music from the University of North Carolina at Greensboro. While at UNCG, Hinson studied Trombone with Randy Kohlenberg, and conducting with Kevin Geraldi and John R. Locke.
Notable upcoming projects include a piece for the Winston-Salem Symphony, the Akropolis Reed Quintet, and a piece for UNCSA's Faculty Brass Quintet. Hinson currently resides in Winston-Salem, N.C., studying composition at the University of North Carolina School of the Arts under the tutelage of Dr. Lawrence Dillon.
---

Sarah Kissinger
Sarah Kissinger recently graduated from Macalester College with a Bachelor's of Arts in Music, where she studied violin with Mary Budd Horozaniecki. At Macalester College, she was concertmaster of the Macalester Symphony Orchestra and a winner of the 2017 Macalester Concerto Competition, performing the first movement of the Mendelssohn Concerto with the Macalester Symphony Orchestra. She has attended festivals including the Green Mountain Chamber Music Festival and performed in master classes with Osmo Vänskä, Philip Setzer, Paul Watkins, Chad Hoopes and Harumi Rhodes.
Currently, Sarah is pursuing a Master's of Music in Violin Performance at the University of North Carolina School of the Arts under the tutelage of Professor Kevin Lawrence. Passionate about sharing her love of music, Sarah maintains a private teaching studio at Separk Music in Lewisville, N.C., and is a member of ArtistCorps.
---

Jane Koelsch
Jane Koelsch is a 4th year undergraduate student in the clarinet studio at UNCSA and studies with with Dr. Oskar Espina-Ruiz. Koelsch has been playing the clarinet for nearly 12 years, and loves playing in wind ensembles, the UNCSA student orchestra, and numerous chamber groups.
Koelsch is also a member of the newly founded Twin City Reed Quintet and enjoys performing contemporary music.
Koelsch is passionate about sharing music with her community and is continually looking for ways to collaborate with artists around her.
---
Scott Lee
Scott Lee is a bass-baritone from Statesville, N.C. He is a recent graduate of UNCSA where he studied voice with Marion Pratnicki. Lee has maintained an active performance schedule, including appearances with The Princeton Festival, the Opera Theater of the Rockies, Piedmont Opera, the UNCSA Cantata Singers and the AJ Fletcher Opera Institute. His most recent credit includes Rossini's "La Cenerentola," where he was described as exhibiting "…substance and a velvety bass voice in the role of Alidoro" by the Winston-Salem Journal. Lee is a section leader and soloist at St. Paul's Episcopal Church, where he participated in the premiere performance and recording of Dan Locklair's "Requiem" in 2016 and sang the role of Jesus in Bob Chilcott's "St. John Passion." In addition to singing, Lee is passionate about vocal pedagogy and music education, and hopes to be able to empower future generations of singers in the same way that his first teacher and mentor, Dan Pardue, empowered him.
---

Emma Lin
A native of Lawrenceville, Georgia, Emma enjoys a colorful career as a chamber musician. As a recent graduate of the University of North Carolina School of the Arts (M.M. in Collaborative Piano 2018), she has had a diverse career collaborating with performers at a variety of institutions including UNCSA, the University of Georgia, SongFest, Brevard Music Festival and Musikhochschule Köln, among others. Her primary mentors include Dr. Allison Gagnon, Dr. Richard Zimdars, and Dr. Liza Stepanova. Aside from her active performing career, Ms. Lin teaches a full studio of young pianists at Upbeat Music Company in Lewisville, N.C., and Kernersville Music Academy in Kernersville, N.C. When she's not performing or teaching, she loves to talk about food and animals.
---

Jonathan McClay
Jonathan McClay was born in Forest City, N.C., and is a graduate student at the University of North Carolina School of the Arts where he is working on a Master of Music in Trumpet Performance under the direction of Dave Dash. McClay earned his B.M. in Music and Music Business from Gardner-Webb University in December 2014. There he studied under the direction of world-class trumpeter, Tim Hudson, and took lessons and masterclasses from Charles Schlueter, James Ackley and Eric Berlin.
During his time at Gardner Webb University, McClay was active in campus ensembles playing in symphonic band, orchestra, marching and pep band, brass quinters, trumpet ensemble, and the jazz collective and attended the National Trumpet Competition in 2014 to participate in the Small Ensemble Division.
McClay works as a freelance trumpet player and teacher in the Winston-Salem area and is currently preparing for military band auditions. After completing his graduate studies at the University of North Carolina School of the Arts, he hopes to pursue a career in military bands before transitioning into a career as a professional trumpet player in a major orchestra and as a professor of trumpet at a university.
---
Miles McKeller-Smith
Miles has been involved in the arts since he was a young boy. Born in Brooklyn, N.Y., his first artistic experience came in the form of music. He learned how to play the flute and continued throughout college where he first discovered his interest in storytelling. Miles is a 2016 alumnus of Wake Forest University, where he majored in Communications, and he is currently enrolled in UNCSA's graduate Creative Producing program in the School of Filmmaking. His experiences working with youth range from coaching at a local branch of "The First Tee" to mentoring Forsyth County students. In his spare time, Miles enjoys spending time with family and friends, making music, golfing and catching up on shows and movies.
---

Morgan Ochs
Morgan Ochs grew up in Drexel Hill, Pa., before relocating to North Carolina to study in the School of Design and Production at UNCSA. She began participating in local theatre at a young age and quickly fell in love with the behind-the-scene magic. She completed her B.F.A. in Stage Properties at UNCSA and is now in her second year of graduate studies in the Production and Project Management M.F.A. program.
Morgan is excited to combine her love of creativity and imagination with education while serving on the ArtistCorps team.
---

Brandon Rochester
Brandon is a visual artist, born and raised on Connecticut's Long Island Sound. He earned his bachelor's degree in Art History at the University of Connecticut and is trained in studio arts, graphic design and art history. Currently pursuing a M.F.A. in Scenic Design at UNCSA, Brandon has a passion for traditional and ancient art, ancient history and cultural heritage. Brandon is excited to be of use to the next generation of artists and help feed their creativity in whatever ways they need.
---
Mayra Rodas
Mayra was born in Venezuela, where she developed a passion for the world of art. She began ballet, flamenco and folklore at the age of seven. She also expanded her interests in music during those years. At the age of 15, Mayra moved to the United States. She attended high school in New York, where she was able to obtain a career and technical education certificate in Corporate Communications/ Digital Imaging. Through this program, she received training in animation, the composition of visual images and video production, among other things.
She fell in love with video editing and storytelling. After one and a half years studying television and radio production at Mercy College, she realized that her heart was in film editing, so she is currently a student at UNCSA with a concentration in film editing.
Mayra wishes to inspire young students through art and diversity. She believes that giving youth the opportunity to explore their creativity will have a positive impact they will carry through the years to come, just as it did for her.
---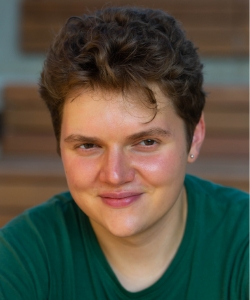 Sam Sherman
Sam Sherman is an actor and spoken-word poet. He is currently enrolled at UNCSA as a senior undergraduate student working towards his Acting B.F.A. in the School of Drama. Born and raised in Washington, D.C., Sam developed a profound understanding of how the theater can serve as a conduit for social change while attending the Duke Ellington School of the Arts, the District's premier arts high school. His experiences there taught him much about the intersection between the arts, politics, culture, and the spiritual roots of storytelling.
Sam is invested in using his creative platform to promote critical thinking among audiences and artists alike, as well as develop theatrical work that allows for real-time problem solving as a means of addressing various socio-political issues. His past work as a drama class instructor, camp counselor, and volunteer tutor has enabled him to understand how the arts can be used to enhance education. He hopes to bring the whole of his training and passions to his work with ArtistCorps and is grateful for the opportunity to serve the Winston-Salem community, which has given him so much.
---
Julian Smart
Julian Smart is a native of the high country in North Carolina, growing up in the mountainous communities of Banner Elk and Boone until he entered the high school program at UNCSA in 2011 as a freshman. Julian is currently a fourth-year undergraduate music student who uniquely studies two instruments at UNCSA. His concentration of study is violin under Ida Bieler and Janet Orenstein and his secondary instrument of study is viola under Ulrich Eichenauer. Julian is grateful to UNCSA for providing him with valuable opportunities to branch out as a musician. Julian began playing violin at age three through the Suzuki method and currently teaches violin to pre-K students in the Winston Salem community with the Vivaldi Project. Julian enjoys photography, hiking and working with plants.
---
Nicholas Smentkowski
Nicholas Smentkowski is a recent graduate of Southeast Missouri State University (SEMO) where he received bass instruction from Dr. Sara Edgerton and chamber music coaching from Dr. Brandon Christensen and Dr. Sophia Han. While pursuing his Bachelor's of Music degree, Nick worked as an engagement volunteer for the Cape Girardeau public school district and as cello/bass faculty for the SEMO Music Academy. Nick is currently working towards an M.M. in Bass Performance at UNCSA.
His passion for performance has taken him as far as Italy, performing in the chamber music festival "Suoni d'Abruzzo" where he worked with many wonderful musicians including: Matteo Gaspari (Quatar Philharmonic), Frieder Berthold (Amadeus Ensemble) and Andrea Massimo Grassi (Accademia Teatro alla Scala). He has also performed with Southern Illinois University Carbondale's summer orchestral music festival "SIFest."
---
Sarah Smith
Sarah was born and raised in North Carolina and has lived all across the state. She has always loved music and began playing the violin in third grade. In sixth grade, she switched to trumpet; and in seventh grade, she discovered her love for the french horn. In eighth grade, Sarah decided to focus on french horn and auditioned for UNCSA's high school program. She has enjoyed playing with a variety of UNCSA ensembles, her favorite being the UNCSA opera pit orchestra. Sarah has performed in master classes taught by Fergus McWilliam, Stephan Jezerski, Radavon Vlatovic, Dr. Joseph Falvey, Rebekah Daley, and Abigail Pack. She was selected to perform with the collegiate horn choir at the 2017 Southeastern Horn Workshop , and recently attended the 2018 Wintergreen Summer Music Festival for chamber winds. Sarah is currently a fourth-year undergraduate at UNCSA and is working towards her Bachelor's of Music. Her primary teachers include David Jolley and Dr. Maria Serkin. After graduation, she wants to attend instrument repair school to work towards becoming a repair technician.
In her spare time, Sarah enjoys being a part of the new student organization, Grace Notes, which collects gently used instruments, refurbishes them and gives them to students who cannot afford to purchase an instrument. This year she is the director of the organization while still maintaining focus on repairing instruments. Currently, she is interning at B&F repairs in Greensboro to learn how to repair instruments.
---
Kayana Joelle Waller
Kayana is a filmmaker, born in New Jersey and raised in Charlotte, N.C. She is currently pursuing a B.F.A. in Filmmaking at UNCSA. She comes from a family mixed with educators, social servants, businesspeople and artists. This has had a strong influence on her desire to be educated, be a trailblazer and always give back. Kayana is active in her hometown community and hopes to put her artistic experience to use in Forsyth County.
---
Rebecca Walters
Rebecca Walters, born and raised in Mullica Hill, New Jersey, is currently studying film direction as an undergraduate student at UNCSA. Prior to college she was an active volunteer for non-profit organizations; acting as a peer model for children with special needs in Sports Outreach programs for six years, and assisting with the iCAN Shine Bike camp, which taught children with disabilities how to ride a two-wheeled bicycle. She has 16 years of dance experience (15 non-competitive and one competitive) with eight years of theatre experience. In the past, Rebecca has performed in productions such as "The Addams Family," "Beauty and the Beast," "Grease," "Aladdin," "Little Shop of Horrors," "HSM" and "Shrek the Musical." Rebecca has also choreographed two short films, three theatrical productions and several other dance performances.
These experiences have helped her appreciate the importance of educating youth in art, empathy, versatility and an ever-changing society. Looking beyond age, disability and education level has helped her become a better collaborator.
Rebecca prides herself in determining each individual's strength when working on a film set and organizing those strengths for the greatest good of the story her team hopes to tell.
She looks forward to collaborating with her fellow artists, and is excited to serve the individuals of Forsyth County.
---
Artist Fellows
Marta Djorovic
Marta Djorovic was born in Belgrade, Serbia. She chose to study the violin at the age of 6 and is still enchanted by it. After completing high school in her hometown, she University of Music and Performing Arts Graz in Austria. She was then awarded the Kenan Excellence Scholarship and began her studies in Violin Performance at UNCSA in August 2018, studying with Ida Bieler.
Before coming to the US, she played in a variety of orchestras and chamber music ensembles all over Serbia and Europe (Austria, Netherlands, Portugal, Slovenia, Montenegro).
Marta took part in volunteer and community service both in Serbia and Austria. She is currently an Artist Fellow with the Vivaldi Project, a program aimed at providing quality music education opportunities for preschool children.
---

Ana Evans
Ana is an actor and theatre maker hailing from Minneapolis, Minn. She started performing around the age of eight and has since found her interests expand into writing, adapting, directing, teaching and creating her own definition of theatre. She is now a fourth year undergraduate student pursuing her B.F.A. in Acting at UNCSA, as well as serving as drama Senior Class President.
During her time at UNCSA she directed two adaptations of children's literature for the stage and toured them to various elementary schools in N.C. She loves the imaginative challenge of creating theatre that can be performed in all kinds of spaces - whether it be a gymnasium, a cafeteria, outside, or a 500-seat theatre.
Ana began performing at various children's theaters in Minneapolis and since being at UNCSA, has realized she fell in love with acting and working with kids at the same time. She is thrilled to serve as an Artist Fellow as she leads a passionate group of UNCSA drama students in a new residency program, working with elementary school students teaching story structure through body, mind, and imagination. Ana is so grateful that UNCSA Artist Corps has given her opportunities to combine her passions of educating, community engagement, creating, and performing.
---

Nicole Foo
Nicole Song En Foo is a pianist from Malaysia. Currently, she's pursuing a Professional Artist Certificate in Collaborative Piano at the University of North Carolina School of the Arts under the guidance of Dr. Dmitri Vorobiev and Dr. Allison Gagnon. Ms. Foo earned her M.M. in Music at the University North Carolina School of Arts in 2019 and B.A. in Music from the University of Northern Iowa in 2017.
She has traveled to Ireland for international performances with the UNI Women's Chorus and throughout Central Iowa and Nebraska with the UNI Singers in spring of 2016 and 2017. She also earned piano and violin certificates at LTCL (Licentiate Trinity College of London) and ATCL (Associate Trinity College of London) in 2017 and 2012.
Her experiences before studying in the United States included joining the Derma's Youth Chamber Orchestra and the New Symphony in her secondary school year. She also had the honor to perform for the Perlis State King and the Governor. Nicole has participated in a masterclass by the Eighth Black Bird and has worked for the School of Drama at UNCSA.
Nicole has been giving violin lessons since the age of 13 in the family-owned business through the Yamaha franchise. Her students range in age from 5 to 58 years old. She hopes to have more opportunities to collaborate with other artists in the future.
---

Raphael Papo
Born in England, Raphael started playing the violin at the age of 10 when his family moved to Israel. After four years they returned to England and Raphael was admitted to Wells Cathedral School with a full scholarship. There he became very passionate about chamber music which inspired him to pursue music as a profession.
Raphael will be continuing his B.M. in violin as a sophomore at UNCSA under the tutelage of Ida Bieler and Janet Orenstein, and as an Artist Fellow with the Vivaldi Project.
---

Grace Pfleger
Grace Renée Pfleger is a third-year School of Music voice student who studies under Glenn Siebert. She found her passion in music from spending mornings with her mother and brother, Mark, singing and playing songs during their car rides to school.
Grace is a determined artist, who has her sights set on an international opera career. She was named a 1st round finalist in The Classical Singer Magazine Vocal Competition and was awarded 1st place at the Virginia National Association of Teachers of Singing competition. At the age of 17, Grace was chosen as one of the first Junior Apprentices of Opera Roanoke where she sang in masterclass for Steven White of the Metropolitan Opera. This past summer, she completed an internship with the Pittsburgh Opera.
---

Kate Pittard
Born and raised in Lynchburg, Va., by the Blue Ridge Mountains, Kate Pittard is a fourth-year actor pursuing a B.F.A. in Drama at the University of North Carolina School of the Arts. She finds joy and purpose in working with kids, particularly when the work pertains to theatre. Along with being a "very cool" babysitter and a published poet, she is a founding member and producer of both The Lost Boys and Mended Wing Theatre Company, groups that, respectively, devise theatre from childrens' books and tour Shakespeare in schools across the South.
In previous summers, Kate was an artistic fellow for Cygnet Theatre Company as well as an improv/movement teacher at the Acting Out summer camp at UNCSA. She is enthused by many things in the world, including but not limited to: acting, singing, bike-riding, guitar-playing, comedy, and the size of the blue whale. She is beyond thrilled to join her passion for children's theatre with her love for poetry in the Lost Boy's upcoming teaching artist series, and finally, she is grateful for her friend, Ana Evans, whose partnership, leadership, and enthusiasm have steered them both to this exciting new year working with ArtistCorps.
---

Tanner Poff
Tanner Poff is a young writer/director studying filmmaking at UNCSA. Having worked on projects in places like Berlin, his hometown in Pennsylvania, and here in Winston-Salem, he sees filmmaking as a device to explore more of the world and help represent overlooked communities.
While movies are his area of study, Tanner's interests span far beyond - to music, psychology, anthropology, and journalism - and he's constantly figuring out how to combine these fields. He's excited to explore the opportunity ArtistCorp has given him, allowing him to fuse his love for music and documentary filmmaking while working with local senior citizens.
After graduation, Tanner plans to shift his focus from narrative to more documentary/experimental work with an emphasis on music and anthropology. His dream is to travel the world and document musical traditions from cultures across the globe.
---
Elena Rang
Born in Germany, Elena Rang is an enthusiastic violinist who enjoys performing and teaching. She earned a Bachelor of Music in Music Education at the University of Music Cologne in Germany. Elena then decided to dedicate her life to the performing arts of music and come to UNCSA to study with Ida Bieler.
An important inspiration to her musical and pedagogical life was the volunteer service that Elena did in Peru. She spent six months teaching violin to children in the project "Casa de la Cultura," which she still supports regularly. During her time in Peru, Elena learned Spanish fluently and explored the roots of Peruvian culture. Elena is deeply interested in learning the cultures of different countries, their music, and making interpersonal connections. She also spent one year abroad in Spain, where she studied violin with Iturriagagoitia in the school of Musikene, concentrating on chamber music.
Elena is looking forward to teaching violin as a Vivaldi Project Artist Fellow and inspiring young people through the language of music. Her desire is to give others the ability to communicate through music, and by doing so, connect cultures and people.
---

Delphine Skene
Born in Canada, Delphine Skene first encountered the violin at the age of 10, and began her formal studies at 14. She has participated in masterclasses at the Music Mundi Chamber Music Festival in Belgium, Schleswig-Holstein Festival in Germany, and the Academie du Domaine Forget in Canada, among others. Recently, Delphine was awarded first prizes at the  Euterpe Scholarship Competition in Greensboro, the NC-ASTA Competition,  the  MANC Strings competition and a third prize at the Rosen-Schaffel Competition
Delphine is pursuing her master's degree at the University of North Carolina School of the Arts, under the tutelage of Ida Bieler and Janet Orenstein. Along with being a  Vivaldi Project Artist Fellow at UNCSA, she  is  studio assistant to Ms. Bieler and Ms. Orenstein.
---
Carlos Torres
Carlos is a violinist born and raised in Colombia. He started his studies in violin at age 9. In 2010, he joined UNAB Symphony Orchestra, where he was a member for eight years.
He has attended several music festivals at the regional and national level in Colombia as well as the Music Festival of Santa Catarina in Jaraguá do Sul, Brazil in 2017. He participated in the Second Festival of String Quartets in Bogotá, Colombia, where he received master classes with Avalon Quartet, who broadened his insight into chamber music.
He received a bachelor's degree in music with an emphasis in violin at Universidad Autónoma de Bucaramanga, where he studied under the guidance of Iryna Litvin. At the end of his undergraduate studies, he was granted the magna cum laude distinction for excellent academic performance.
Currently, he is pursuing a Master of Music in Violin Performance at UNCSA in the studio of Ida Bieler and is a Vivaldi Project teaching fellow.