Community
ArtsEngage Members
Emma Broberg
Emma Jane Broberg began playing the flute at the age of five when her mother enrolled her in a group flute class at the local community center. Over the past 20 years of flute playing, she has had opportunity to perform around the country and around the world in Australia, Germany, the Czech Republic, DR Congo and the Philippines.

In addition to performing in orchestras and other chamber ensembles, Emma enjoys helping students discover their own love of music. She believes music adds happiness and beauty to life.
Emma is a recent graduate of Brigham Young University in Provo, Utah, where she earned a Bachelor of Music in Flute Performance. Her love of music has led her to continue her studies as a graduate student of Dr. Tadeu Coelho at UNCSA.
---
Aliyah Bryant
Aliyah Bryant is a filmmaker, storyteller, and visual artist. She is currently a third-year undergraduate Filmmaking student at UNCSA in the editing program. She is passionate about the arts, especially filmmaking, photography, writing, and drawing. She is a New Jersey Native but has lived in North Carolina for 10 years.
Aliyah has always enjoyed working with children, first as a YMCA camp counselor, then working as a nanny through a local agency, and now as an ArtistCorps member. Her passion and knowledge of childcare and the arts are able to harmonize through her service at ArtistCorps. She is passionate about her work with children and the ability to make a difference in her community through art.
---
Daniel Bukin
Daniel Bukin currently serves as the Conducting Fellow for the Winston-Salem Symphony, as well as the MusicDirector and Conductor for the Triad Area Medical Orchestra, a community ensemble comprised primarily of medical professiona ls and medical students. He has previously served as Assistant Conductor with the UNCSA Symphony Orchestra as well as the A.J. Fletcher Opera Institute.
Bukin received his M.M. in Orchestral Conducting at UNCSA in Winston-Salem, studying with Christopher James Lees; and his B.M. in Theory/Composition from Appalachian State University in Boone, studying with Scott Meister & Ben Hjertmann.
---
Rebekah Chae
Rebekah Chae is a pianist who is actively performing and teaching in Raleigh and Winston-Salem. She has been a recipient of the Semans Art Fund and has won multiple competitions in the Piedmont Triad Area including Young Artist Piano Competition and NCMTA in 2012. She has attended music festivals including InterHarmony Festival in Germany, Green Mountain Chamber Music Festival in Vermont, Boston University Tanglewood Institute and International Summer Music Academy of Kiev, Ukraine. Rebekah is pursuing her B.M. in Piano under the tutelage of Dr. Dmitri Shteinberg.
---
Peyton Clifford
Peyton Clifford is a composer, singer-songwriter and multi-instrumentalist. He is currently a fourth-year undergraduate student at UNCSA where he studies composition. Clifford is a firm believer in music as both a socio-political vehicle and a basic human necessity. This belief has led him to take part in the Artist As Citizen conferences with the non-profit Artists Striving To End Poverty at the Juilliard school and UNCSA. He is interested in exploring new sounds, integrating experimental music with traditional style and collaborating with artists from other fields. Clifford grew up in Charlotte, N.C., where he performed as a member of several bands in spaces including the Blumenthal Center for Performing Art and the now-demolished Charlotte landmarks Amos' Southend and Tremont Music Center. While in high school, he took an interest in classical and jazz composition but continued to work as a singer and songwriter, performing with artists such as Ethan Bortnick and Caroline Jones. Clifford has written music for film, dance, theatre and multi-disciplinary performance art, as well as a large catalog of concert music. When he's not making music, Peyton's interests include playing soccer, cooking and dancing poorly to Bruce Springsteen songs.
---
Cynthia Cukiernik
Cynthia is a local artist and educator from Pfafftown, N.C. She is serving her second term as an ArtistCorps member. She is also a partner at Art Connections gallery and serves on the board of Gateway Nature Preserve. Cynthia has been a teaching artist with Peppercorn Theatre at Kaleideum, and is an alumna of the UNCSA Visual Arts Program. She has a B.A. in Cultural Anthropology from UNC Greensboro.


---
Michael Culberston
A native of Washington, D.C., Michael received his undergraduate degree in Psychology at UNC-Greensboro in 2017. He is now pursuing a M.F.A. in Screenwriting at UNCSA.
Michael believes that everyone is a great storyteller, and believes storytelling can be a great outlet for creative energy. Since a young child, he's had a fascination with poetry, films and television, and always fixated on how the story was told through a visual medium.
Before attending UNCSA, he assisted in writing screenplays for indie short films produced by his colleagues at UNC-Chapel Hill and knew that he wanted to make a career of it. Michael believes that his extensive knowledge in the field of psychology, paired with his passion for filmmaking, will help him dive deep into his characters and strive to bring magic onto the screen for audiences to love or relate to.
---
Malik Dowdy
Malik Dowdy studies cinematography at UNCSA. Hailing from Atlanta, Ga., Malik grew up absorbing much artistic inspiration from his family and environment, traveling the country for sports and music. Dowdy has worked in film all across the country, including places like Los Angeles and New York City, working for companies such as Netflix, ESPN and Interscope Records. Dowdy has lensed a multitude of films, ranging in genre. While Dowdy specializes in narrative filmmaking, he also has experience with commercial and music video work. Along with filmmaking, Malik is passionate about his non-profit, The Dreamcatchers Arthouse, that he's working to get off the ground. Malik hopes to bring hope and love to the communities he witnessed growing up, using his talents to uplift a generation that has felt they couldn't have a voice.
---
Christian Flowers
Christian Flowers was born to a Navy family in 1997 and moved around the East Coast and Midwest before settling down again where he was born. A storyteller from a young age, he transitioned from poetry in elementary school to short stories in middle school to developing a novel in early high school. He is currently a fourth year screenwriter at UNCSA. Christian has worked with K-12 students in theater environments, and middle school wilderness and summer camps. Christian has assisted, revised and co-written with many of his classmates and is a passionate and dedicated storyteller.
---
Amanda Goodwin
Ms. Goodwin is a graduate of James Madison University (JMU) where she received her B.M. in String Performance. During her time at JMU, she studied the violin under Diana LeGrand and Dina Nesterenko. Additionally, she has had the opportunity to study under Rictor Noren, professor of violin and viola at the New England Conservatory, and members of the Philadelphia Orchestra at the Philadelphia International Music Festival (PIMF). PIMF orchestra rehearsals were conducted by renowned conductor Cristian Macelaru and chamber coachings were led by violist Renard Edwards. Currently she is pursuing a M.M. in Violin Performance at UNCSA in the studio of Kevin Lawrence. In addition to her studies, she is also serving with ArtistCorps, an outreach program dedicated to exposing the arts to children of low-income families, and teaching private violin lessons at Separk Music in Lewisville, N.C. Goodwin hopes to become a private teacher at the collegiate level.
---

Jacob Hinson
Hinson's music has been described as "complex yet tuneful…his willingness to write for different mediums and genres is so much fun! I think he can write for anything!" Jennifer Duerkoop of the U.S. Army Band says, "The music he composes and brings to the audience is pure, raw, powerful emotion, meant to evoke images and scenes in the mind, and feelings in the depths of your soul. If you close your eyes, his music will take you on a journey…everyone will have a different one, but still, a journey. Sit back and enjoy the ride and experience."
Hinson, from Wingate, N.C., began the formal study of music at at the age of eleven and started composing works for a myriad of ensembles shortly after. In 2016 he received his Bachelor of Music from the University of North Carolina at Greensboro. While at UNCG, Hinson studied Trombone with Randy Kohlenberg, and conducting with Kevin Geraldi and John R. Locke.
Notable upcoming projects include String Quartet No. 1 for the Attacca String Quartet, a piece for wind ensemble, The Fuchsia Dragon, to be premiered by the UNCSA Wind Ensemble, and Enigma, for the UNCSA Symphony Orchestra. Hinson currently resides in Winston-Salem, NC, studying composition at the University of North Carolina School of the Arts under the tutelage of Dr. Lawrence Dillon.
---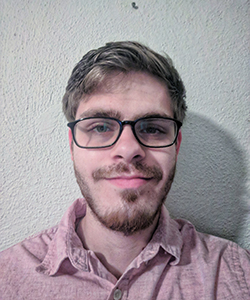 Daniel Kane
Daniel Kane was born and raised in Matthews, N.C. He began playing trombone at the age of eight through an after school program at the Matthews Playhouse. Kane started playing in the Charlotte Symphony Youth Orchestra at age 10 and continued until he graduated high school. Throughout his primary schooling, Daniel was involved in numerous ensembles both in school and out of school, including: jazz bands/combos, Charlotte Youth Wind Ensemble, Community School of the Arts ensembles and bands with his friends. Before beginning at UNCSA, Kane studied with Tom Burge of the Charlotte Symphony and Chair of the Brass Department at the Canberra School of Music at the Australian National University. Kane began studying with John Ilika at UNCSA in Winston-Salem in 2014. He completed his B.M. in Music Performance in May of 2018 and is now pursuing a M.M. at UNCSA. Kane is a self-proclaimed audiophile and when he isn't practicing he can typically be found perusing the bins of local record stores.
---
Anthony Lacivita
Anthony Lacivita is a freelance trumpet player and graduate student UNCSA, studying under the direction of Dave Dash, former member of the President's Own Marine Core Band. Anthony received a B.F.A. from Gardner-Webb University, where he studied under the world-famous orchestral trumpet player, Tim Hudson. Anthony received annual masterclasses from the former principal trumpet of the Boston Symphony, Charles Schlueter. In addition to pursuing a master's degree in trumpet performance, he teaches privately at Separk Music and performs as a local musician in the Triad area, playing at various churches, retirement homes and special events. He is preparing for professional orchestral and military band auditions.
---
Joohyun Lee
Violinist Joohyun Lee is recognized as an emerging artist of "fine collaborative intuition" and "a deep passion and curiosity for music." Lee made her Carnegie Hall recital debut in 2013, after winning prizes in the American Fine Arts and American Protégé concerto competitions. She was also the second prize winner of the Northern Dutchess Symphony Orchestra competition in 2010. Lee has been playing in string quartets for 10 years. In 2015, she began the WAM10 Project with the Rumi String Quartet, performing the ten celebrated string quartets by Wolfgang Amadeus Mozart for patients at the Sylvester Comprehensive Cancer Center in Miami, Fla. Equally at home in the standard violin literature and modern and contemporary repertoire, Lee has won praise for her performances of Harrison Birtwistle's "Tree of Strings" (2008), Martin Bresnick's solo violin piece "Josephine the Singer" (2013) and Dana Kaufman's solo violin piece "Scratch the Surface" (2015). Lee holds degrees from Ithaca College and the Frost School of Music at the University of Miami, where she studied with Susan Waterbury and Charles Castleman, respectively. She is continuing her studies at UNCSA under the tutelage of Ida Bieler and Janet Orenstein. Lee has been a member of ArtistCorps since 2017.
---
Scott Lee
Scott Lee is a bass-baritone from Statesville, N.C. He is a recent graduate of UNCSA where he studied voice with Marion Pratnicki. Lee has maintained an active performance schedule, including appearances with The Princeton Festival, the Opera Theater of the Rockies, Piedmont Opera, the UNCSA Cantata Singers and the AJ Fletcher Opera Institute. His most recent credit includes Rossini's "La Cenerentola," where he was described as exhibiting "…substance and a velvety bass voice in the role of Alidoro" by the Winston-Salem Journal. Lee is a section leader and soloist at St. Paul's Episcopal Church, where he participated in the premiere performance and recording of Dan Locklair's "Requiem" in 2016 and sang the role of Jesus in Bob Chilcott's "St. John Passion." In addition to singing, Lee is passionate about vocal pedagogy and music education, and hopes to be able to empower future generations of singers in the same way that his first teacher and mentor, Dan Pardue, empowered him.
---
Peyton Marion
Hailing from the North Carolina Foothills, soprano Peyton Marion enjoys a multi-faceted career as a performer and educator. Marion holds a B.M. in Voice from UNCSA, where she served as a tutor and teaching assistant for music history and German courses. She has recently been seen in productions of "Pelléas et Mélisande," "Ariadne auf Naxos" and "Florencia en el Amazonas" with the A.J. Fletcher Opera Institute. She has also performed with the Magnolia Baroque Ensemble, the UNCSA Cantata Singers and the Winston-Salem Symphony. She currently serves as the soprano section leader at St. Anne's Episcopal Church. In addition to her work as a classical musician, Marion performs in a dynamic and versatile musical duo, "The Marionettes," with Texas based singer-songwriter Will Southern (who also happens to be her big brother). The two have performed internationally, thrilling crowds from Canada to Cuba. Miss Marion is continuing her vocal studies with Professor Glenn Siebert. She hopes to obtain her master's and doctoral degrees in voice and to someday teach on the university level.
---
Miles McKeller-Smith
Miles has been involved in the arts since he was a young boy. Born in Brooklyn, N.Y., his first artistic experience came in the form of music. He learned how to play the flute and continued throughout college where he first discovered his interest in storytelling. Miles is a 2016 alumnus of Wake Forest University, where he majored in Communications, and he is currently enrolled in UNCSA's graduate Creative Producing program in the School of Filmmaking. His experiences working with youth range from coaching at a local branch of "The First Tee" to mentoring Forsyth County students. In his spare time, Miles enjoys spending time with family and friends, making music, golfing and catching up on shows and movies.
---
Madeline Milligan
Born and raised in Southern California, Madeline developed an interest in acting at the age of 12. She went to a performing arts high school and received further training in acting during this time. She is now in her fourth year at UNCSA receiving a B.F.A. in Acting. Milligan is interested in all aspects of theatrical storytelling, including playwriting, dramaturgy and theater management. She has helped run a student-led artistic retreat for the last three summers in Walpole, Maine, called The Aris Project, which specifically focuses on the development of original work.
Milligan is interested in sharing a love for the arts with young children. She believes that approaching learning through theater allows children to learn the importance of communication, community, and self-confidence.
---
Alexander Nelson
Alexander Nelson is currently an undergraduate student at the UNCSA, studying classical guitar under Joseph Pecoraro. He has performed for UNCSA as a soloist and as a member of group performances. Ensemble credits include the UNCSA Guitar Ensemble and the Camel City Guitar Quartet, as well as various jazz ensembles for the UNCSA School of Drama. These include Intensive Arts scenes, the UNCSA Project Love Benefit Concert and independent collaborations with students. Working in the capacity of performer, arranger, lead teacher and band leader, Nelson's experiences with contemporary music have reached outside of academia. He's served as assistant director of music at Clapping Hands Farm, a summer camp dedicated to visual and performing arts, where he worked with at-risk youth, aged 11 to 17. There he teaches how to improvise, sing and compose original music across a variety of styles and instruments, from jazz ukulele to Afro-Cuban drum circles. When he is not practicing Bach, he finds time to compose new music of his own, and is currently recording an EP of original songs with fellow students. Additionally, while studying under UNCSA's composition faculty Kenneth Frazelle, he has composed works for solo and ensemble guitars. One such work, "keep going," was commissioned by UNCSA alumnus Drake Duffer as part of a master's recital featuring new music for the Yale School of Music.
---
Yzela Palma
Yzela Palma was born in Elizabeth, N.J. She completed her bachelor's degree at Liberty University and her master's degree at UNCSA and is currently pursuing her Professional Artist Certificate in Clarinet Performance. Palma is passionate about performing, teaching, learning and reaching her community.
---
Emmanuel Patterson
Emmanuel Patterson was born in Arbutus, M.d. and moved to Clinton, N.C. in 2010. Before deciding to pursue a career in the fine arts, he aspired to be a gymnast. Mr. Patterson trained and competed in gymnastics until the age of thirteen. Mr. Patterson started his dance training at age seventeen under the direction of Ms. Rita McIver at Gotta Dance Fine Arts Center. While under the directorship of Ms. McIver, Emmanuel learned tap, jazz and acrobatics and competed at regional and national level dance competitions.
Currently a senior at UNCSA, Emmanuel will be graduating from the School of Dance in the spring of 2019 with a B.F.A. in Classical Ballet. Emmanuel has performed in works by Merce Cunningham, Alexei Kremnev, Ethan Stiefel, Elizabeth Sullivan, Kelly Maxner and Aszure Barton. He is very excited to start this new journey with Artist Corps.
---
Mayra Rodas
Mayra was born in Venezuela, where she developed a passion for the world of art. She began ballet, flamenco and folklore at the age of seven. She also expanded her interests in music during those years. At the age of 15, Mayra moved to the United States. She attended high school in New York, where she was able to obtain a career and technical education certificate in Corporate Communications/ Digital Imaging. Through this program, she received training in animation, the composition of visual images and video production, among other things.
She fell in love with video editing and storytelling. After one and a half years studying television and radio production at Mercy College, she realized that her heart was in film editing, so she is currently a student at UNCSA with a concentration in film editing.
Mayra wishes to inspire young students through art and diversity. She believes that giving youth the opportunity to explore their creativity will have a positive impact they will carry through the years to come, just as it did for her.
---
Eugene Ryoo
Eugene is a saxophonist from Texas, where he received his Bachelor of Music from The University of Texas at Austin, where he studied with Dr. Stephen C. Page. He is currently attending UNCSA pursuing his M.M. in Saxophone and serves as Graduate Teaching Assistant in the saxophone studio.
During his time at The University of Texas, he has performed with a number of ensembles including the University of Texas Saxophone Ensemble, Wind Ensemble, Wind Symphony, Lab Orchestra and Density 512. Eugene has also competed in saxophone and solo competitions internationally in Thailand such as the 5th Jean-Marie Londeix Competition and has received prizes and recognition in the Young Texas Artist Competition.
---
Dylan Scroggins
Dylan Scroggins graduated from the University of Southern Mississippi in 2017 with his bachelor's in music education. Dylan's diverse performance experiences include numerous performances in a multiplicity of styles from the repertoire of Weber, Poulenc, and Debussy to Mozart, Carter, and Tomasi.
Currently, Mr. Scroggins is pursuing his Master of Music in clarinet performance with Dr. Oskar Espina-Ruiz at the University of North Carolina School of the Arts. In the past, Dylan has studied with Dr. Jackie McIlwain and Dr. Jonathan Holden at the University of Southern Mississippi and Dr. Michael Rowlett of the University of Mississippi during his high school career.
Aside from his performing career, Mr. Scroggins prides himself on clarinet pedagogy and classroom music education. As an educator, he believes his primary responsibility is to give his students the best tools to make their world a better place for themselves and the future. Education is the most critical mechanism a country can provide to its citizens to ensure each's prosperity to life, freedom, and happiness. Every student has the right to be educated regardless of talent, skill level, or background. Any student can learn music. If enough time and dedication are devoted to the students from the teachers and parents, students will be successful.
---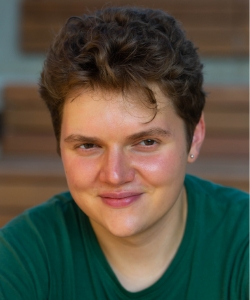 Sam Sherman
Sam Sherman is an actor and spoken-word poet. He is currently enrolled at UNCSA as a 3rd-year undergraduate student working towards his Acting BFA in the School of Drama. Born and raised in Washington, D.C., Sam developed a profound understanding of how the theater can serve as a conduit for social change while attending the Duke Ellington School of the Arts, the District's premier arts high school. His experiences there taught him much about the intersection between the arts, politics, culture, and the spiritual roots of storytelling. He would also discover his love of poetry through the words of Maya Angelou, Pablo Neruda, William Shakespeare, and James Baldwin, along with rappers such as Lauryn Hill and Tupac Shakur.
Sam is invested in using his artistic voice to explore the facets of his Jewish identity, promote critical thinking among audiences, and create theatrical work that allows for real-time problem solving as a means of addressing various socio-political issues. His past work as a drama class instructor, camp counselor, and volunteer tutor has enabled him to understand how the arts can be used to enhance education. He hopes to bring the whole of his training and his passions to his work with ArtistCorps and is grateful for the opportunity to serve the Winston-Salem community, which has given him so much.
---
Julian Smart
Julian Smart is a native of the high country in North Carolina, growing up in the mountainous communities of Banner Elk and Boone until he entered the high school program at UNCSA in 2011 as a freshman. Julian is currently a third-year undergraduate music student who uniquely studies two instruments at UNCSA. His concentration of study is violin under Ida Bieler and Janet Orenstein and his secondary instrument of study is viola under Ulrich Eichenauer. Julian is grateful to UNCSA for providing him with valuable opportunities to branch out as a musician. Julian began playing violin at age three through the Suzuki method and currently teaches violin to pre-K students in the Winston Salem community with the Vivaldi Project. Julian enjoys photography, hiking and working with plants.
---
Nicholas Smentkowski
Nicholas Smentkowski is a recent graduate of Southeast Missouri State University (SEMO) where he received bass instruction from Dr. Sara Edgerton and chamber music coaching from Dr. Brandon Christensen and Dr. Sophia Han. While pursuing his Bachelor's of Music degree, Nick worked as an engagement volunteer for the Cape Girardeau public school district and as cello/bass faculty for the SEMO Music Academy. Nick is currently working towards an M.M. in Bass Performance at UNCSA.
His passion for performance has taken him as far as Italy, performing in the chamber music festival "Suoni d'Abruzzo" where he worked with many wonderful musicians including: Matteo Gaspari (Quatar Philharmonic), Frieder Berthold (Amadeus Ensemble) and Andrea Massimo Grassi (Accademia Teatro alla Scala). He has also performed with Southern Illinois University Carbondale's summer orchestral music festival "SIFest."
---
Sarah Smith
Sarah was born and raised in North Carolina and has lived all across the state. She has always loved music and began playing the violin in third grade. In sixth grade she switched to trumpet; and in seventh grade she discovered her love for the french horn. In eighth grade Sarah decided to focus on french horn and auditioned for UNCSA's high school program. She has enjoyed playing with a variety of UNCSA ensembles, her favorite being the UNCSA opera pit orchestra. Sarah has performed in master classes taught by Fergus McWilliam, Stephan Jezerski, Radavon Vlatovic, Dr. Joseph Falvey, Rebekah Daley, and Abigail Pack. She was selected to perform with the collegiate horn choir at the 2017 Southeastern Horn Workshop , and recently attended the 2018 Wintergreen Summer Music Festival for chamber winds. Sarah is currently a third year in college working towards her B.M. Her primary teachers include David Jolley and Dr. Maria Serkin.
In her spare time, Sarah enjoys being a part of the new student organization Grace Notes where she focuses on repairing instruments. Currently, she is interning at B&F repairs in Greensboro to learn how to repair instruments.
---
Brittany Thomas
Born in North Carolina, Brittany received her Master's of Music degree from UNCSA, and will complete a Professional Arts Certificate at UNCSA in Spring 2019. Brittany is a seasoned horn player with experience in symphony orchestra, opera, theatre orchestra, wind ensemble and chamber ensembles. Favorite recent performances include The Nutcracker and Tchaikovsky's Symphony No. 4. Brittany has performed in master classes taught by Stefan Jezerski, Radovan Vlatkovic, Zohar Schondorf, JD Shaw, Abel Pereira and Michelle Baker. Her primary teachers included Bob Campbell, David Jolley, and Dr. Maria Serkin.

She has served within the Winston-Salem/Forsyth County school system as a member of the ArtistCorps program for the last 2 years. She is passionate about serving the community through the arts as an educator and activist. Brittany is also director of the Cross The Line Project at UNCSA, whose goal is to bridge the gap between classical music and audience through activities and performances in unconventional spaces. In April 2018, Brittany started Grace Notes, a student organization at UNCSA that collects and repairs instruments for economically disadvantaged students in the Winston-Salem area.
---
Kayana Joelle Waller
Kayana is a filmmaker, born in New Jersey and raised in Charlotte, N.C. She is currently pursuing a B.F.A. in Filmmaking at UNCSA. She comes from a family mixed with educators, social servants, businesspeople and artists. This has had a strong influence on her desire to be educated, be a trailblazer and always give back. Kayana is active in her hometown community and hopes to put her artistic experience to use in Forsyth County.
---
Rebecca Walters
Rebecca Walters, born and raised in Mullica Hill, New Jersey, is currently studying film direction as an undergraduate student at UNCSA. Prior to college she was an active volunteer for non-profit organizations; acting as a peer model for children with special needs in Sports Outreach programs for six years, and assisting with the iCAN Shine Bike camp, which taught children with disabilities how to ride a two-wheeled bicycle. She has 16 years of dance experience (15 non-competitive and one competitive) with eight years of theatre experience. In the past, Rebecca has performed in productions such as "The Addams Family," "Beauty and the Beast," "Grease," "Aladdin," "Little Shop of Horrors," "HSM" and "Shrek the Musical." Rebecca has also choreographed two short films, three theatrical productions and several other dance performances.
These experiences have helped her appreciate the importance of educating youth in art, empathy, versatility and an ever-changing society. Looking beyond age, disability and education level has helped her become a better collaborator.
Rebecca prides herself in determining each individual's strength when working on a film set and organizing those strengths for the greatest good of the story her team hopes to tell.
She looks forward to collaborating with her fellow artists, and is excited to serve the individuals of Forsyth County.
---
Clare Yu
Clare Yu, born in Raleigh, North Carolina, began studying violin at age of seven in South Korea. She had several teachers in South Korea until she came to the U. S. in 2010 and graduated from the UNCSA high school program studying with Prof. Sarah Johnson. Clare is currently pursuing her Bachelor of Music at UNCSA with professors Ida Bieler and Janet Orenstein.
She has given multiple performances in Seoul and Gyeonggi Province in South Korea, as well as North Carolina, Virginia and Vermont. She has participated in masterclasses with Joseph Lin, Arnaud Sussmann, Ida Bieler, Paul Neubauer and David Finckel. Clare has competed in or won several competitions, including the National Youth Music Competition in South Korea and the MTNA string competition.
She had the opportunity to attend the Korean Chamber Orchestra Summer Music Festival, Green Mountain Chamber Music Festival and UNCSA's summer strings workshop. Clare is currently involved in the Vivaldi project to teach pre-kindergarten children at Diggs-Latham Elementary School in Winston-Salem.
---
Artist Fellows
Marta Djorovic
Marta Djorovic was born in Belgrade, Serbia. She chose to study the violin at the age of 6 and is still enchanted by it. After completing high school in her hometown, she University of Music and Performing Arts Graz in Austria. She was then awarded the Kenan Excellence Scholarship and began her studies at UNCSA in August 2018, studying with Ida Bieler.
Before coming to the US, she played in a variety of orchestras and chamber music ensembles all over Serbia and Europe (Austria, Netherlands, Portugal, Slovenia, Montenegro).
Marta took part in volunteer and community service both in Serbia and Austria. She is currently an Artist Fellow with the Vivaldi Project, a program aimed at providing quality music education opportunities for preschool children.
---
Sarah Harrigan
Sarah Harrigan began her violin studies at the age of 6 in New Brunswick, Canada. She pursued her undergraduate studies at Dalhousie University with Philippe, and at the Royal Academy of Music with Richard Ireland. Performances have taken her across Canada and abroad to venues such as the Hall and Royal Albert Hall, among others. Sarah has performed and participated in summer festivals such as the Domaine Forget Academy, Academy, the NAC Young Artist Program (Canada), Music Festival (Hungary), Zephyr Chamber Music Festival (Italy), and spent two summers touring with the National Youth Orchestra of Canada. She has collaborated with artists such as Murray Perahia and Ida Bieler, and has worked with some of the world's leading conductors, most notably, Marin Alsop, Bychkov, Mark Elder, Emmanuel Vuillaume and Jane Glover.
Sarah is currently pursuing her studies at UNCSA under the tutelage of Ida Bieler and Janet Orenstein, where she is a member of the Chrysalis Chamber Music Institute and Artist Fellow with with the Vivaldi Project.
---
Grace Pfleger
Grace Renee Pfleger is a second-year School of Music student with a concentration in voice who studies under Glenn Siebert. She has been studying classical voice since the age of nine. She found her passion for music from her mother singing and playing music for her every day on the way to school.
Grace has always felt a connection with the elderly. She looks forward to using her time as an ArtsEngage Artist Fellow as a platform to help serve the community's elders with her music.
In her spare time, Grace enjoys exercising, spending time with her family, watching Netflix, and having intellectual conversations.
---
Elena Rang
Born in Germany, Elena Rang is an enthusiastic violinist who enjoys performing and teaching. She earned a Bachelor of Music in Music Education at the University of Music Cologne in Germany. Elena then decided to dedicate her life to the performing arts of music and come to
UNCSA to study with Ida Bieler.
An important inspiration to her musical and pedagogical life was the volunteer service that Elena did in Peru. She spent six months teaching violin to children in the project "Casa de la Cultura," which she still supports regularly. During her time in Peru, Elena learned Spanish fluently and explored the roots of Peruvian culture. Elena is deeply interested in learning the cultures of different countries, their music, and making interpersonal connections. She also spent one year abroad in Spain, where she studied violin with Iturriagagoitia in the school of Musikene, concentrating on chamber music.
Elena is looking forward to teaching violin as a Vivaldi Project Artist Fellow and inspiring young people through the language of music. Her desire is to give others the ability to communicate through music, and by doing so, connect cultures and people.
---
Delphine Skene
Born in Canada, Delphine Skene first encountered the violin at the age of 10, and began her formal studies at 14. She has participated in masterclasses at the Music Mundi Chamber Music Festival in Belgium, Schleswig-Holstein Festival in Germany, and the Academie du Domaine Forget in Canada, among others. Recently, Delphine was awarded first prizes at the  Euterpe Scholarship Competition in Greensboro, the NC-ASTA Competition,  the  MANC Strings competition and a third prize at the Rosen-Schaffel Competition
Delphine is pursuing her master's degree at the University of North Carolina School of the Arts, under the tutelage of Ida Bieler and Janet Orenstein. Along with being a  Vivaldi Project Artist Fellow at UNCSA, she  is  studio assistant to Ms. Bieler and Ms. Orenstein.
---
Carlos Torres
Carlos is a violinist born and raised in Colombia. He started his studies in violin at age 9. In 2010, he joined UNAB Symphony Orchestra, where he was a member for eight years.
He has attended several music festivals at the regional and national level in Colombia as well as the Music Festival of Santa Catarina in Jaraguá do Sul, Brazil in 2017. He participated in the Second Festival of String Quartets in Bogotá, Colombia, where he received master classes with Avalon Quartet, who broadened his insight into chamber music.
He received a bachelor's degree in music with an emphasis in violin at Universidad Autónoma de Bucaramanga, where he studied under the guidance of Iryna Litvin. At the end of his undergraduate studies, he was granted the magna cum laude distinction for excellent academic performance.
Currently, he is pursuing a Master of Music in Violin Performance at UNCSA in the studio of Ida Bieler and is a Vivaldi Project teaching fellow.