Percussion & Drums Faculty
Percussion & Drums Faculty
Devin Wayne Forkel
D.W. Forkel has been a working musician for the last nine years. His background, which is based in improvisational Jazz, R&B and Indie/Experimental style, was developed while studying at Pfeiffer University under Composer Ed Kiefer and the late Dr. David Kirby. During his undergraduate studies, he worked with a handful of private students focusing on marching percussion, introductory music theory, chamber ensemble studies in percussion, arrangement and drum set style.
Since graduating in 2013, D.W. has gained local and regional success with his Indie/Americana group, The Genuine. Performing throughout NC and across the midwest and southeast, The Genuine has been featured in multiple Forsyth County Arts Council events as well as repeat appearances at Phuzz Phest. Regulars at the summer series, "Second Sundays on Fourth," The Genuine has also had a number or radio and studio performances with organizations including Our State Magazine and WFDD, NPR affiliate for the Triad.
"What I love about teaching students is the reciprocity that happens; the musical conversation. I feel that with a focus on technique, fundamental elements and a healthy work ethic, my students will establish and reach personal and musical goals while having a blast in the process!"
---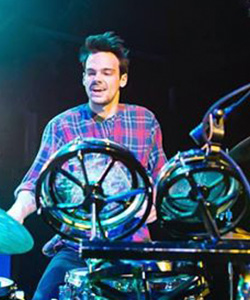 Timothy Joel Austin
Timothy Joel, Drum instructor and current member of the touring folk pop group, The Collection, has been on something of a journey in the world of rock and pop music since learning to play at a young age. He has traveled on multiple tours in the United States and Canada, completed recording sessions and television and radio performances and performed at the historic Troubadour venue in Hollywood, California.
"I love helping my students grow in music and in confidence. It's my joy to guide and encourage them through the learning process."
---
Jared Steward
Jared Steward has taught percussion for more than 10 years. He has served as a regular coach for the percussion section of the Winston-Salem Youth Philharmonic and has been awarded an Arts in Education grant from The Arts Council of Winston-Salem & Forsyth County to teach percussion clinics and master classes in middle and high schools. While a student at Tennessee Technological University, he was on the Arts Cumberland faculty of TTU's Extended Education Department. He also taught elementary through high school students as a private teacher and marching band drumline coach in the Middle Tennessee and greater Boston areas. He is currently writing beginning snare drum and mallet percussion method books in order to help brand new students learn how to read and play music appropriate to the learning style and comprehension of middle school-aged children.
Jared has performed with many orchestras including the Winston-Salem Symphony, Western Piedmont Symphony, St. Louis Philharmonic, York Symphony Orchestra and several orchestras in the New England states. He was a member of the Bryan Symphony Orchestra as well as the West African drumming and dance ensemble ABUSUA for four years. He received a Master of Music degree in 2010 at UNCSA, where he studied with John Beck. He studied percussion with the late Joseph Rasmussen at Tennessee Technological University and received a Bachelor of Music degree in 1999.
---
Douglas Rowe
Classical Percussion
As an up and coming artist, Douglas Rowe has made an impact in music and education over the last several years. In addition to being a performer, Mr. Rowe has served as an instructor, arranger, composer, and clinician throughout North Carolina.
In 2016, Mr. Rowe completed his bachelor's degree in Music Education at Wingate University, where he studied percussion under Mr. David Markgraf. He is currently pursuing his Master of Music degree in Percussion Performance under the direction of Mr. John R. Beck.
Throughout out his time in college, Doug taught many marching percussion sections at Piedmont High School as well as Cuthbertson High School. Both groups are highly performing marching bands. He also served as the Percussion Instructor for Cuthbertson Middle School while completing his student teaching with the Cuthbertson bands. Because of his persistence in the music education field, Doug was recognized as the Outstanding Music Educator among his graduation class at Wingate University.
Doug is an active performer in many professional groups. He has served as a regular substitute percussionist in the Union Symphony Orchestra for the past three years. Doug has also been featured several times in a professional steel drum band called Panjive. He is a founding member of his jazz combo Real Deal Jazz.