Piano and Organ Faculty
Community Music School
Piano and Organ Faculty
Piano and organ faculty within the Community School at UNCSA are accomplished musicians who aim to bring their professional experience to you, helping you develop your own musical styles and skills.
Jordyn Burton

Jordyn Burton has been studying piano actively since the age of 5 and has made music performance a central part of her life for as long as she can remember. Growing up, Jordyn was active in various choirs and musical theater productions while furthering her education in piano with private lessons and local competitions. Jordyn is currently in her second year at University of North Carolina School of the Arts pursuing a Master of Music in Piano under the instruction of Dr. Dmitri Shteinberg. She received her Bachelor of Music in Piano Performance at Virginia Commonwealth University studying with Dr. Yin Zheng.
Jordyn serves as Dr. Shteinberg's studio teaching assistant at UNCSA and has several years of teaching experience in Richmond, Virginia. She was the Vice President of Virginia Commonwealth University's Collegiate Chapter of the Music Teacher's National Association and received the Richmond Music Teacher's Association Collegiate Scholarship Award in 2016.
Through her training, Jordyn has developed a passion for performing as well as music theory and she strives to convey the importance of both to her students. She believes that performing and education go hand in hand with clear, honest communication at the heart of both. Jordyn feels that music is an incredible blessing in her life and she would not be the person she is today without it. She loves teaching students of all ages and levels in the hopes that they might also experience the joy a love of music can bring.
---
Justin Nelson
Justin Nelson is a pianist born in Gainesville, Florida. He began studying the saxophone at age 12 and ever since has had an intense passion for music. He received his A.A. from Florida State University, with an emphasis in jazz saxophone performance and philosophy. During his time there he had the pleasure of learning from great musicians such as Chick Corea, Rufus Reid, Bill Peterson, Bill Kennedy, Leon Anderson Jr., Rodney Jordan, Scotty Barnhart, Doron Kima and Marcus Roberts.
Upon deciding to switch instruments to the piano, he then transferred to the University of Florida (UF) to pursue a degree in English. During this time Justin began studying the piano seriously and realized it was what he wanted to do with his life. He has had the pleasure of working with Gordon Goodwin and his Big Phat Band, including but not limited to: Wayne Bergeron, Eric Marienthal, Andy Martin, Sal Lozano, Bernie Dresel and Brian Bromberg. He has also had the pleasure of performing internationally in Paris and Prague. He stands on the shoulders of giants and recognizes the humble nature that is intrinsic to becoming great in the field of music.
Upon his graduation from UF, Justin then attended and graduated from a groundbreaking course in piano music-making and technique, entitled "Injury-Preventive Keyboard Technique," created by world-renowned musician Barbara Lister-Sink. The three-year program helped him to free himself from physical limitations at the piano in order to allow his artistic ideas to flow freely. He is a certified teacher of the Lister-Sink Method and a fervent proponent of its principles.
He is currently the musical director at Carolina's Vineyards and Hops, where he can be found performing every Saturday night from 8-11 p.m. with his trio. He also can be found every Sunday at Foothills Brewing in downtown Winston-Salem from 5-8 p.m., as well as at various venues and vineyards around the state.
---
Dmitri Shteinberg
In his current faculty position at UNCSA, Dmitri Shteinberg teaches applied piano and chamber music to students, ages 14 to 25. He previously worked as head of the piano area at the Virginia Commonwealth University in Richmond, and served on the faculty of the Piano School of New York City and the Harlem School of Music, where he had a full studio of beginner students.
Through his teachings, Dmitri continues the traditions of the Russian piano school, which emphasizes proper hand position, technique, balanced repertoire and sound production. His former students have been awarded scholarships at the Manhattan School of Music, Oberlin, Eastman, the Cleveland Institute and others, and have won numerous local and regional competitions. Dmitri has a doctorate in piano from the Manhattan School of Music.
Dmitri's solo performances include the Richmond, Baton Rouge, Charlottesville, Manassas, Salisbury and Danville symphonies. As a chamber musician, he has performed in every major hall in New York, including Carnegie Hall main stage, and at the Kennedy Center in Washington, the Kimmel Center in Philadelphia and others. He can be heard on the Summit and Sono Luminus labels, with another CD due on Fleur de son Classics. Dmitri also performed live on Chicago and New York public radio and on Good Morning America. He was featured in a documentary on Israeli television. Internationally, he has performed in England, Germany, France, Italy, Portugal, Canada, Russia and Bulgaria.
---
Deborah Ellis Suárez
Deborah Ellis Suárez has taught piano and voice since 1979, and at the Community Music School since 2000. She currently teaches piano, music theory and music composition. Deborah is a published composer with piano pieces published by Willis Music Company and distributed by Hal Leonard Corporation.
She has a Master of Music degree in Music Composition from Ball State University in Muncie, Indiana, where she was a graduate assistant, teaching in the Music Theory department and also in the Music Engineering Technology Studios. She then took a year of Film Music Composition at the graduate level at UNCSA. Her undergraduate Bachelor of Fine Arts degree was from Faith Baptist Bible College and Seminary in Ankeny, Iowa, where she studied piano, voice, choral conducting and music composition.
Recent projects include a commission from a Hungarian orchestra to write several pieces and composing vocal music in Hungarian. She is also currently studying the healing frequencies with a cymatherapist to find applications within musical context. In her teaching, Debbie uses music technology to give her students a 21st century music education. She attempts to tailor the instruction to the individual student's learning style and goals.
---
Kevin Timmons
Kevin Timmons grew up in Winston-Salem and began playing the piano at age 8. After several years of classical training, he began to study jazz and improvisational music with accomplished performer and educator, Federico Pivetta. During this time, Kevin attended the Jamey Aebersold summer jazz workshop at the University of Louisville and became active among the local music scene of Winston-Salem, performing in various styles and settings, including private events, local nightlife venues and seated theaters. As a sophomore in high school, he was selected as the pianist for the North Carolina School of the Arts Jazz Ensemble.
After high school Kevin earned a music scholarship to the University of North Carolina at Chapel Hill, where he double majored in Jazz Studies and Psychology. There, he played in big bands and small groups, composed music, and received instruction under faculty members Jim Ketch, Ed Paolantonio, Chip Crawford, John Brown, Dr. Scott Warner, Wally West, Thomas Taylor and many esteemed guest artists and educators including the great Barry Harris.
At the piano, Kevin is adept at many styles of music including jazz, classical, blues, rock, pop and free-form improvisation. He works prolifically as a freelance musician, has toured extensively around the United States, and worked with many local and national artists including six-time Grammy nominee Nnenna Freelon and comedienne Sandra Bernhard.
While the piano is Kevin's primary instrument, he is also proficient in guitar, bass, and drums, as well as songwriting, electronic music, sound design, and music production. All of these facets inform his broad and holistic approach to playing and teaching music.
Kevin has 12 years of experience as a teacher, which have included positions at the Music Academy of North Carolina in Greensboro, N.C.; Creative Music Studios in Carrboro, N.C; Russell Lacy Music in Durham, N.C.; Summit School in Winston-Salem, N.C. and the UNCSA Community Music School, as well as private instruction from his home studio. He has taught students of all ages and skill levels from casual learners to dedicated musicians and believes in using an organic process to uncover the innate musicality of each of his students.
---
Bruce W. Tippette
Bruce W. Tippette is a composer, performer and educator. He holds a Master of Music from UNCSA in music composition and a Bachelor of Music in music composition/theory and music education from Appalachian State University. His compositions have been performed across the United States, and he actively receives commissions for both choral and instrumental ensembles.
In addition to his concert works, he has composed original compositions for choreographers, film and has co-composed music for a children's musical. Bruce's work "Unconquered," written for orchestra, won the 2012 Mary Starling Composition Competition, and the Winston-Salem Symphony performed it four subsequent times. Additionally, he was chosen in 2012, 2013 and 2014 to compose five new works as part of an experimental collaboration with Cirque du Soleil and UNCSA. Alfred Music, C. Alan Publications, TrevCo Music Publishing, BRS Music and Brass Chamber Music Press currently publish his compositions.
He is the recipient of many awards, including the North Carolina Teaching Fellows Scholarship and the Lynn Freeman Olson Composition Award for his piano solo, "Dance of Fire." As an educator, he teaches music composition, theory, piano and voice at the Community Music School and he is the Youth Music and Handbell Director at Augsburg Lutheran Church. He resides in Winston-Salem with his wife, Elizabeth, and their son.
---
Joshua Waldron
Joshua Waldron began his formal musical training on the piano at the age of 15. Soon thereafter he began his studies at UNCSA, where he earned his high school diploma as well as a B.M. in Piano Performance. His principal teachers at UNCSA included Eric Larsen in piano and Kenneth Frazelle in Orchestration and Counterpoint.
In addition to his studies at UNCSA, he attended summer courses at Interlochen Center for the Arts, Boston Conservatory and Meadowmount School of Music. In 2008-2009 he attended courses at Salem College under professor Barbara Lister-Sink, focusing on Injury-Preventative Keyboard Technique. During this time, Josh also began to turn his attention to electroacoustic music composition, leading him to pursue courses in Sonology at the Royal Conservatoire of The Hague, Netherlands. He remains active in studying the piano repertoire as well as composing.
---
Alek Wasserman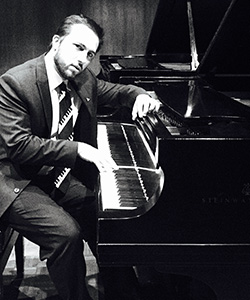 Born in Milwaukee, Wisconsin, Alek Wasserman is a pianist and music educator, specializing in primary school strings, general music and piano pedagogy. Alek enjoys performing music of diverse styles and has premiered new works for solo piano and contemporary chamber groups. Additionally, he has performed music in the klezmer idiom. While he has performed in Wisconsin, Iowa, Minnesota, Ohio, New York and Wales, he prides himself most on cultivating his students' musicality. He has held positions with the Lawrence Academy of Music, Northern Ohio Youth Orchestra and the Oberlin Community Music School.
Alek is a graduate of the Lawrence University Conservatory of Music, where he received his Bachelor of Music in piano performance with an emphasis in pedagogy. He also holds the Master of Music Teaching with an instrumental track from the Oberlin Conservatory of Music and is currently pursuing the Professional Artist Certificate in piano at UNCSA.