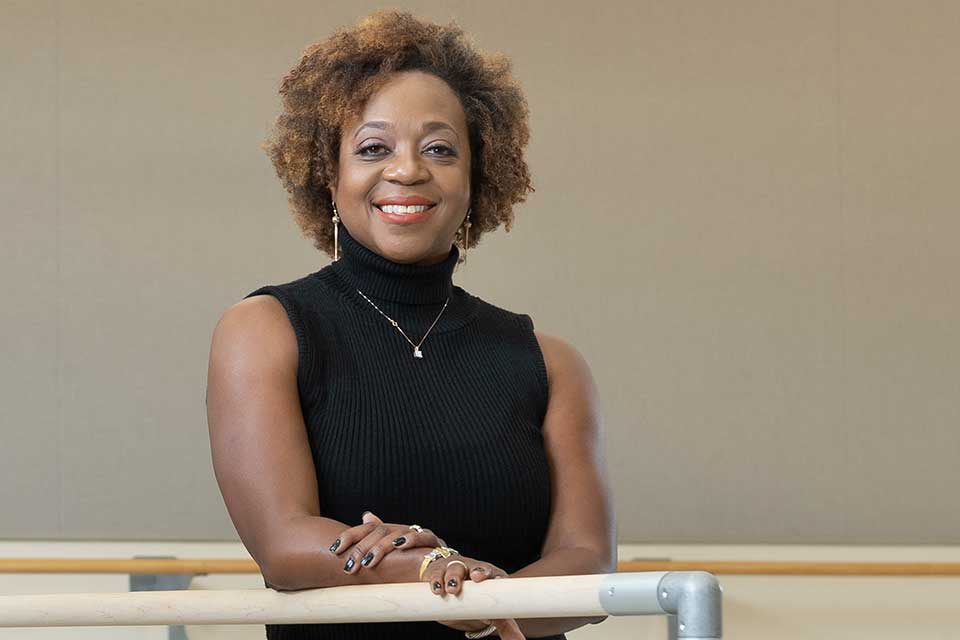 Dancer, choreographer, and educator Endalyn T. Outlaw (née Taylor) is the dean of the School of Dance at UNCSA. She has held the positions of director of Dance Theatre of Harlem (DTH) School in New York — a company she joined in 1984, becoming a principal dancer in 1993 — and director of the Cambridge Summer Art Institute in Massachusetts. Her extensive administrative, artistic and academic career is steeped in ballet pedagogy and she has created an eclectic body of choreographic works.
With more than 25 years of teaching experience, I have built an arsenal of pedagogic tools and core values that cultivate artistry, mentoring and versatility, and celebrate inclusionary ideals, policies and systems.

Endalyn T. Outlaw
Outlaw excels at restaging ballets, having performed many of the classics and having worked with luminaries in the field including DTH founder Arthur Mitchell, British-American ballet dancer and choreographer Frederick Franklin, director and choreographer of LINES Ballet Alonzo King, American dancer and choreographer Agnes de Mille, and director and choreographer of Garth Fagan Dance and "The Lion King," Garth Fagan. She has performed on Broadway and stages all over the world, including as an original cast member of Tony Award-winning Broadway productions of "The Lion King," "Aida," and "Carousel."
Prior to joining UNCSA, she served six years at the University of Illinois, Urbana-Champaign where she taught ballet and musical theater as an associate professor of Dance. In 2020 she was appointed the Dean's Fellow for Black Arts Research.