UNCSA students, faculty and alumni helped create children's storybook fantasy land on White House lawn
This year, Halloween provided more than an opportunity to dress up for students at the University of North Carolina School of the Arts. It also provided a once-in-a-lifetime educational opportunity and experience.
UNCSA's School of Design and Production (D&P) returned to the White House last month to help create a themed Halloween experience hosted by President Barack Obama and First Lady Michelle Obama. The annual party for children of military-affiliated families was held Halloween afternoon on the South Lawn of 1600 Pennsylvania Ave. in Washington, D.C.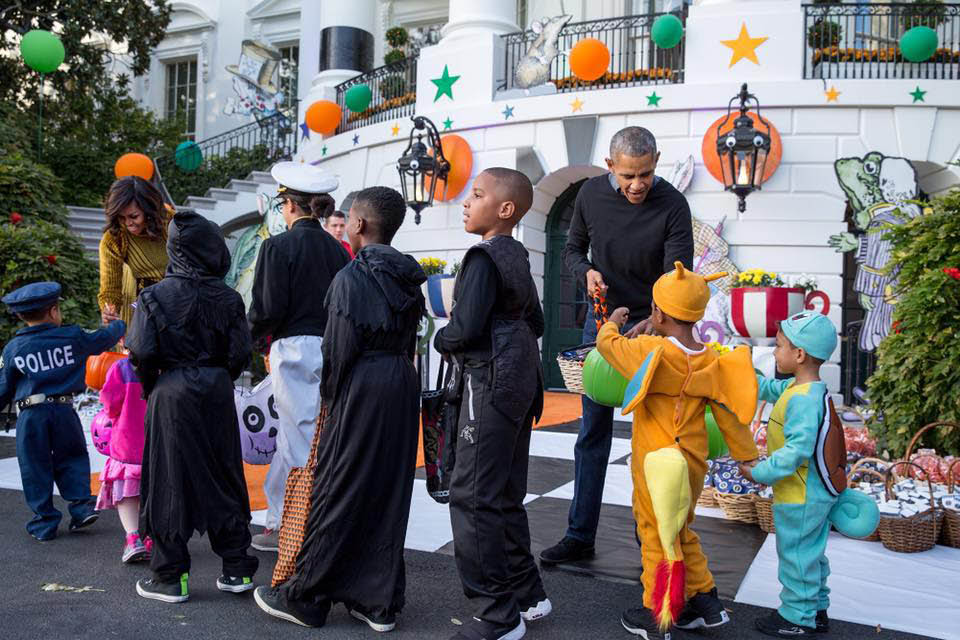 Fourteen students, a handful of faculty members, and about a half-dozen alumni volunteered to travel to Washington on Friday, Oct. 28, to help set up the event, which consisted of 13 vignettes created around the theme of children's storybooks, with decorations, life-sized puppets, trampoline and aerial performers, and other entertainment. At the center of the path, the South Portico of the White House – where the President and First Lady greeted their guests and passed out treats – was decorated in an Alice in Wonderland theme.
This year's party was a return engagement for D&P, who helped stage the party last year with lighting and projection.
"Our volunteer contribution was much greater this year," said Dean Michael J. Kelley. "We developed the narrative concept from top to bottom, and we transformed the South Lawn of the White House into a literary fantasy land using scenery and props, lighting, costumes, wigs and makeup, and sound tracks. Just about all the disciplines taught in the School of Design and Production were involved."
Kelley said the experience was great training for the students. "More and more, our graduates are finding meaningful and well-paid employment in themed entertainment venues and special events," he said. "That's why I say we are more than a theatre training school. We are preparing students for a wide variety of careers in the arts and entertainment industry."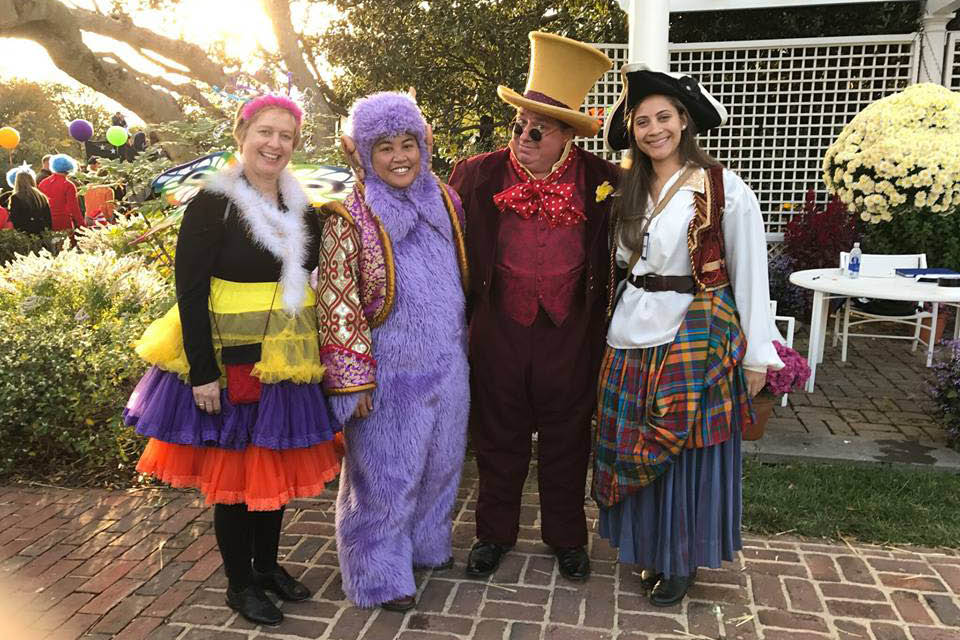 Kelley himself parlayed his D&P education into a fulfilling career in themed entertainment. A 1987 graduate in Scenic Design, he worked for 11 years with Walt Disney Imagineering -- the planning, creative development, research and creative design entity of the Walt Disney Company and its affiliates. His experience includes stage productions, film, and television. He is a two-time Emmy Award winner, earning one as an assistant art director for HBO's "Deadwood" and another as a set decorator for Children's Television Network's "Sesame Street."
"My education at the School of the Arts provided me with more than technical and design skills," he said. "I developed a strong work ethic and learned how to work collaboratively to solve problems. The White House has provided that kind of learning experience for our students."
Kim Ross, a 2011 graduate of D&P's Stage Properties program, was project manager for UNCSA's part of the White House Halloween. She said the school had artistic contribution on almost every production element.
Since earning her degree, Ross has worked as a freelance prop fabricator on Broadway shows including Something Rotten and Big Fish. As a freelance scenic artist with TAIT Towers, she contributed to Cirque du Soleil's "Toruk: The First Flight," rock and roll productions like the Rolling Stones '14 on Fire' tour, and theatrical entertainment pieces such as Frozen at Disneyland's California Adventures. She was introduced to event production by a fellow alumna, and has developed a portfolio that includes media conglomerate Viacom and fashion icons Marc Jacobs, Coach, and Givenchy.
Ross said the logistics of planning and designing in Winston-Salem and then transporting the elements to Washington was an incredible educational opportunity for the students. "Working off-site has its own issues. You can't just run back to the shop if you forget something," Ross said. "Working an event is very different from working in a theatre, where you have a confined and determined space."
"The impact from this experience is immeasurable, and all of our lives have been changed because of it. It was an absolute honor and privilege to have worked on this with students, faculty, and my fellow alumni," she said.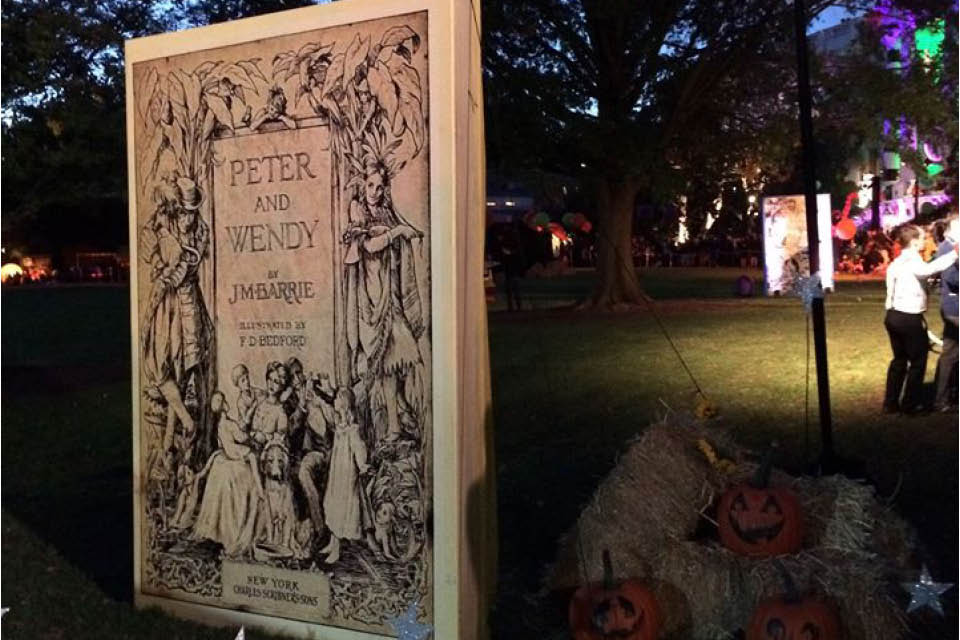 In addition to the South Portico vignette, other stations along the path included Mother Goose with Baa Baa Black Sheep, Little Miss Muffet, Old King Cole and live music by Fiddlers Three, a folk string trio; Hans Christian Andersen with Frost Giant puppets, Snow Queen and Snow Princess characters, King Neptune levitation and a family of soap bubble performers; Peter Pan, with Peter, Wendy, Pirates, Lost Boys, Hook and Tinkerbell characters performing on a trampoline; Toby Tyler with tightwire and other circus performers, an aerial carousel and music by the Marine Band Brass Ensemble; and the Wizard of Oz with Glinda encased in a bubble and kettle corn as treats.
The opportunity to work with the Hans Christian Andersen vignette gave UNCSA student volunteers hands-on training and experience with large puppets. "This is another skill they can take with them into their professional careers," Kelley said.
Design and Production faculty members who volunteered for the project include: Howard Jones, director of Scenic Art and the Scene Painting Program, who designed the scenic elements; Norman Coates, director of the Lighting Program, who designed special lighting for the portico vignette; Jason Romney of the Sound Design Department, who developed the vignettes' sound tracks; Jamie Call Blankinship, director of the Stage Management Program, who worked on UNCSA scheduling and logistics for the event; and Associate Dean Bland Wade and Kris Julio of the Stage Properties Department, who were part of the creative team.
In addition to Ross, several other alumni helped create elements for the event. They include: B.F.A. scene painting alumna Jessica Holcombe; and M.F.A. graduates in sound Patrick Calhoun, Jon Fredette, Justin Schmitz and Jason Waggoner.
Call to Adventure / Moonlight Hall / Hero Down
by Kevin MacLeod (incompetech.com)
Licensed under Creative Commons: By Attribution 3.0 License
November 17, 2016