RiverRun International Film Festival teems with work by UNCSA students and alumni
North Carolina's premier arts conservatory will be well represented at one of the most prominent film festivals in the southeastern United States. Work by several students and alumni of the University of North Carolina School of the Arts will be screened at RiverRun International Film Festival in Winston-Salem from March 30 to April 9.
Alumna Celia Weston is one of two recipients of RiverRun's Master of Cinema Awards. A renowned actress of stage and screen, Weston's film roles include "Dead Man Walking," for which she earned an Independent Spirit nomination as best supporting female actor. She appeared alongside Sissy Spacek, Marisa Tomei and Tom Wilkinson in "In the Bedroom," sharing a Screen Actors Guild nomination for outstanding cast.
Weston has appeared on Broadway in True West, Summer and Smoke, The Lady from Dubuque, Loose Ends, and The Last Night of Ballyhoo, for which she earned an Outer Circle Critics Award as best featured actress and was nominated for a Tony Award and a Drama Desk Award.
On television, Weston has a recurring role as Barb Tucker in "Modern Family." She also appears as Mrs. Libby in "Vice Principals." Additional television appearances include "The Blacklist," "American Horror Story," "Under the Dome" and "Memphis Beat."
She also appeared in the films "The Talented Mr. Ripley," "Observe and Report," and "Goodbye to All That."
Weston appears with Michael Abbot Jr., a fellow alumnus of the UNCSA School of Drama, in "In the Radiant City," which will screen at RiverRun. Film alumnus Jeff Nichols is executive producer of the film. She will receive the award during a moderated conversation at 3 p.m. on Sunday, April 2, in the Mountcastle Black Box at Milton Rhodes Center for the Arts. The event is free.
Abbott, who also produced "In the Radiant City," has appeared in alumnus Jeff Nichols' films "Loving" and "Mud," and in the television series "The Blacklist" and "Daredevil."
Actress Jane Alexander is the second recipient of the 2017 Master of Cinema Award.
RiverRun will screen several films by alumni of the School of Filmmaking. They include:
"The Hero," written and directed by Brett Haley, who also wrote and directed the 2015 indy hit "I'll See You in my Dreams." "The Hero" was nominated for the Grand Jury Prize at Sundance. Other alumni who worked on the film include Rob Givens, cinematographer; Alex Bickel, color correction; and Matt Verschelde, key grip. Drama alumna Linda Lee McBride was in the cast.
"44 Pages," a documentary directed by Tony Shaff, and produced by Shaff and Rebecca Green. Previously, Shaff directed 16 episodes of TV's "16 and Pregnant." He was also an associate producer for several episodes of the show. Green has produced "And Then I Go," "I'll See You in my Dreams," and "It Follows." She was nominated for the 2016 producer's award from the Independent Spirit Awards.
"Dayveon," a coming-of-age drama produced by former faculty member Lisa Muskat along with David Gordon Green, Jody Hill and Danny McBride, with Callie Martin as assistant production coordinator. Green, Hill and McBride are partners in Rough House Pictures, the production company behind the films "Manglehorn" and "Camp XRay" and the television series "Eastbound and Down" and "Vice Principals." Martin is known for her work on "Pitch Perfect," "Escape Plan," and "The Magnificent Seven."
Four UNCSA student films—"Chester," "Looking Good," "Parchment Wings," and "Splash"—will be screened at RiverRun.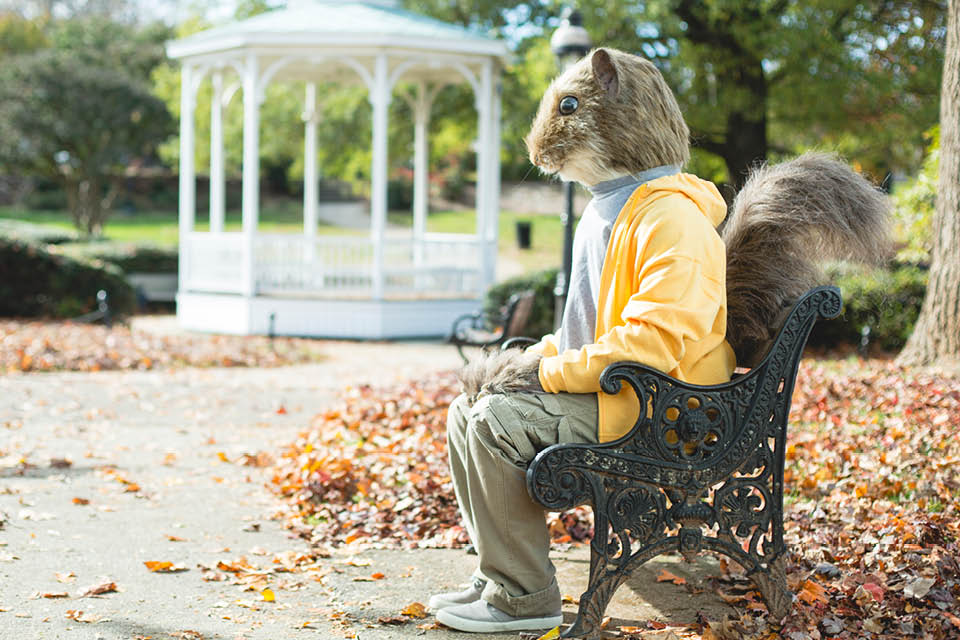 A scene from fourth-year film "Chester"
"Chester" is a 2016 fourth-year film written by Dalton Price, directed by Shaun Swift and produced by Matt Kenney.
"Looking Good," written by Neil Soffer and Santiago Marcos, directed by Soffer and produced by Marcos, is a 2016 fourth-year film.
Written by Noelle Aleman, "Parchment Wings" is a 2016 fourth-year film directed by Fernando Medina and produced by Sofia Thomasson.
"Splash," written and directed by Gavin Lankford and produced by Aleman, is a 2016 third-year film.
Drama alumna Anna Camp appears in "Brave New Jersey," which will be screened at RiverRun. She is known for her roles the films "Pitch Perfect" and "The Help," and television appearances including "Mad Men," "The Good Wife," "Unbreakable Kimmy Schmidt" and "Good Girls Revolt."
Eight UNCSA Film students are RiverRun Festival Ambassadors, promoting events on social media before and during the festival. They are Julie Chernesky, Gabby Crawford-Johnston, Noa McCormich, Riley Patterson, Ruby Scharf, Addison Sharp, Dorian Thomas and Thatcher Weldon.
In addition, Chancellor Lindsay Bierman and Film student Riley Fitchpatrick serve on the festival's board of directors.