Two high school seniors at UNCSA win National YoungArts Awards; one is nominated as U.S. Presidential Scholar in the Arts and U.S. Presidential Scholar
Two high school seniors at the University of North Carolina School of the Arts (UNCSA) were recognized by the National YoungArts Foundation in its annual competition.
Jace Weyant of Clemmons was a finalist in the dance category, and has been nominated as both a Presidential Scholar in the Arts and a Presidential Scholar, as announced Wednesday. He is one of four students nationwide to achieve the dual nomination.
Soprano Clara Reeves of Greenville, N.C., received a YoungArts merit award in the voice category.
The National YoungArts Foundation identifies and nurtures the most accomplished young artists in the visual, literary, design and performing arts. Selected by blind adjudication process conducted by an independent panel of highly accomplished artists, the 2018 winners represent only 10 percent of applicants.
Weyant is one of 60 finalists who were nominated by YoungArts as Presidential Scholars in the Arts, one of the nation's highest honors for high school students. The candidate applications will be reviewed by the White House Commission on Presidential Scholars, which will ultimately select 20 high school seniors who exemplify academic and artistic accomplishments, demonstrated leadership, community service and outreach initiatives, and overall creativity. In June, the 20 arts scholars will join the other 141 U.S. Presidential Scholars from across the country in Washington, D.C. for the National Recognition Program.
The 2018 U.S. Presidential Scholars in the Arts will present their work at the John F. Kennedy Center for the Performing Arts through a special exhibition curated by YoungArts.
Weyant attended National YoungArts Week in Miami Jan. 7-14, an opportunity open only to the 171 finalists.
In this year's Fall Dance concert, he performed in "No Trace," choreographed by UNCSA School of Dance faculty member Ming-Lung Yang. During Winter Dance (Feb. 22-25) he will perform in Larry Keigwin's "Kingdom."
A student who excels in both arts and academics, in September he published a video proposing a "non-cartesian proof of a geometric concept" applied to his original choreography.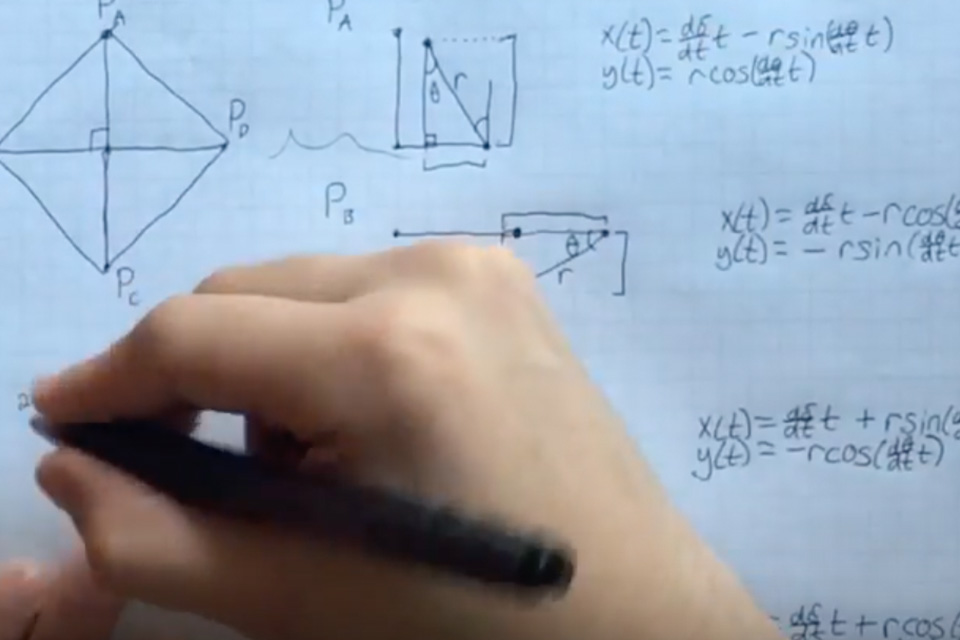 Watch Weyant incorporate his love of dance into his mathematical studies.
He joins award-winning Camille A. Brown on the list of choreographers trained at UNCSA who have been selected as YoungArts finalists. Brown is a four-time Princess Grace Award winner and a Bessie Award nominee who has received many grants and fellowships for her groundbreaking work.
"It's surreal knowing that I have received the same recognition she once received," Weyant said. "I can't compare myself to Ms. Brown, but I hope to follow in her footsteps as a choreographer making important work."
As a merit award winner, Reeves will receive an expense-paid trip to Miami Feb. 21-25, where she will take masterclasses and workshops with renowned teachers and will participate in a multidisciplinary performance with other YoungArts winners at the Miami Theater Center. She performs with UNCSA's Cantata Singers, with an upcoming concert on April 4, and her senior recital on April 27.
Students from all of UNCSA's high school programs – Dance, Music, Visual Arts and Drama – have been recognized by YoungArts in recent years.
YoungArts winners gain access to one of the most comprehensive programs for emerging artists in the United States, offering financial, professional and artistic development opportunities over the course of their careers.
YoungArts alumni who have gone on to become leaders in their fields include actresses Viola Davis, Anna Gunn, Zuzanna Szadkowski and Kerry Washington; Broadway stars Raúl Esparza, Billy Porter, Andrew Rannells and Tony Yazbeck; recording artists Josh Groban, Judith Hill and Chris Young; Metropolitan Opera star Eric Owens; musicians Terence Blanchard, Gerald Clayton and Jennifer Koh; choreographers Camille A. Brown (an alumna of UNCSA) and Desmond Richardson; visual artists Daniel Arsham and Hernan Bas; internationally acclaimed multimedia artist Doug Aitken; television writer, producer, and director Jenji Kohan; New York Times bestselling author Sam Lipsyte; and Academy Award-winning filmmaker Doug Blush.