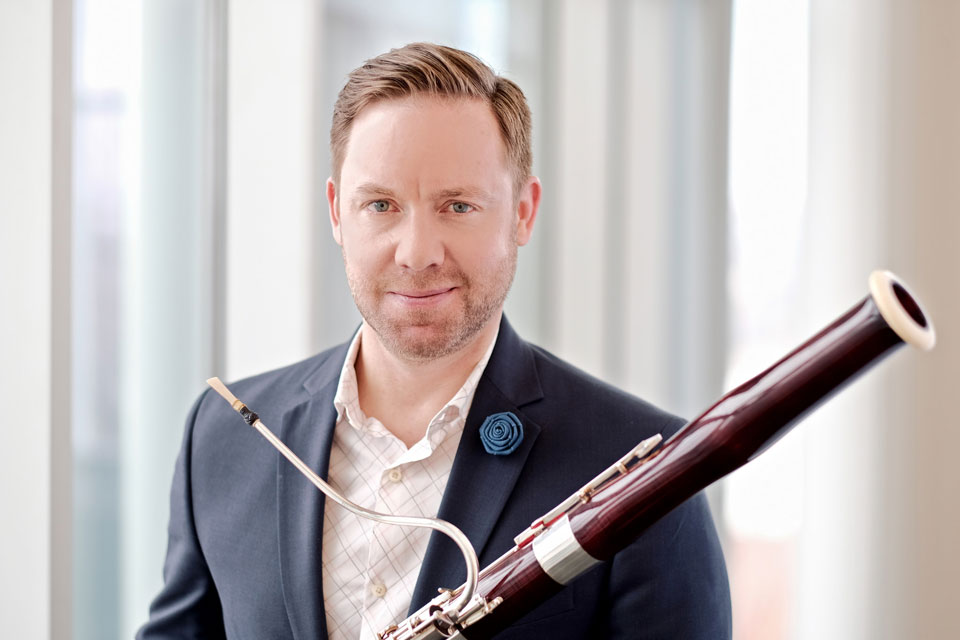 Saxton Rose is Associate Professor of Bassoon and director of the contemporary music ensemble, nu ensemble. In 2008 he became only the second bassoon professor in the 50-year history of the UNCSA School of Music following Mark Popkin's distinguished tenure. Rose is one of America's most recognized bassoon soloists and chamber musicians.
I strive to create an atmosphere of variety, intellectual curiosity, and well-rounded musical activity to stimulate and challenge students.
Credentials
Performed as a concerto soloist throughout the world with the National Symphony of Colombia in Bogotá, National Symphony of Panamá, West Point Band at the Skirball Center in New York City, and in North Carolina with Fayetteville Symphony Orchestra and Winston-Salem Symphony, among others.

Performed as a recitalist during the 2016 season in Japan, Argentina, Mexico and China; in Belgium at the Concertgebouw in Brugges; in The Netherlands at the Korzo Theater in The Hague and at the Ostadetheater in Amsterdam.
Principal bassonist of the Puerto Rico Symphony Orchestra, 2003-08
Has taught masterclasses

throughout Europe, Latin America, Asia, and in the US at the finest music schools and conservatories.
Career Highlights
Performance as featured artist as concerto soloist of Dana Wilson's Avatar Concerto for Bassoon with the West Point Band at the 2014 International Double Reed Society Conference at NYU in New York City
Performances as Principal Bassoon with Orchestra of St. Luke's of Stravinsky's The Rite of Spring, April 2013
Performance with contemporary music ensemble Alarm Will Sound in Berlin, Germany at the Philharmonie as part of the MaerzMusik contemporary music festival, March 2011
Concerto soloist with Orquesta Nacional de Colombia in Bogotá, May 2010
Organizations
Education
Doctorate of Musical Arts StudiesUniversity of Cincinnati College, Conservatory of Music
Artist DiplomaConservatorio "Agostino Steffani" Castelfranco-Veneto, Italy
Master of MusicUniversity of Illinois at Urbana-Champaign
Bachelor of MusicUniversity of Colorado