International Chamber Music Academy of Southern Germany
Summer Music
Chamber Music Academy of Southern Germany
The International Chamber Music Academy of Southern Germany is a new training and performance festival for highly gifted young musicians from UNCSA and throughout the world, created in partnership with the Landesakademie in Ochsenhausen, Germany. For two weeks each July, the academy takes place in the idyllic former convent Ochsenhausen of Baden-Wuerttemberg amongst the historic castles, medieval villages, and scenic mountains of Southern Germany. Academy faculty consist of internationally known artists and professors who will teach individual lessons and coach student ensembles.
The 2023 Academy will run from July 9 - July 17, 2023. The total cost for students is 670€, which includes tuition, admittance to all concerts and events, and room and board. We will accept students of violin, viola, cello, double bass, clarinet, bassoon, horn and piano.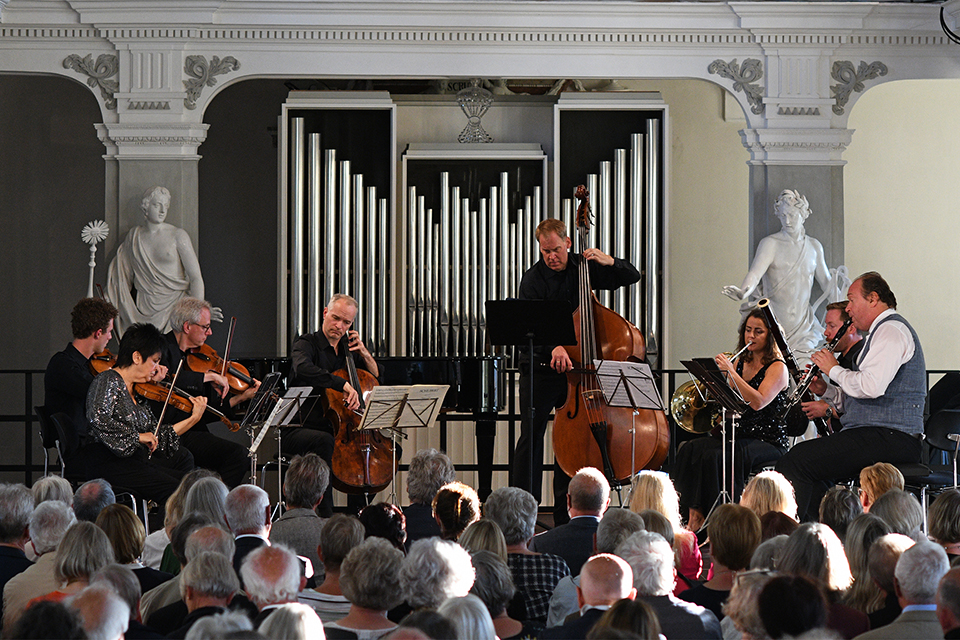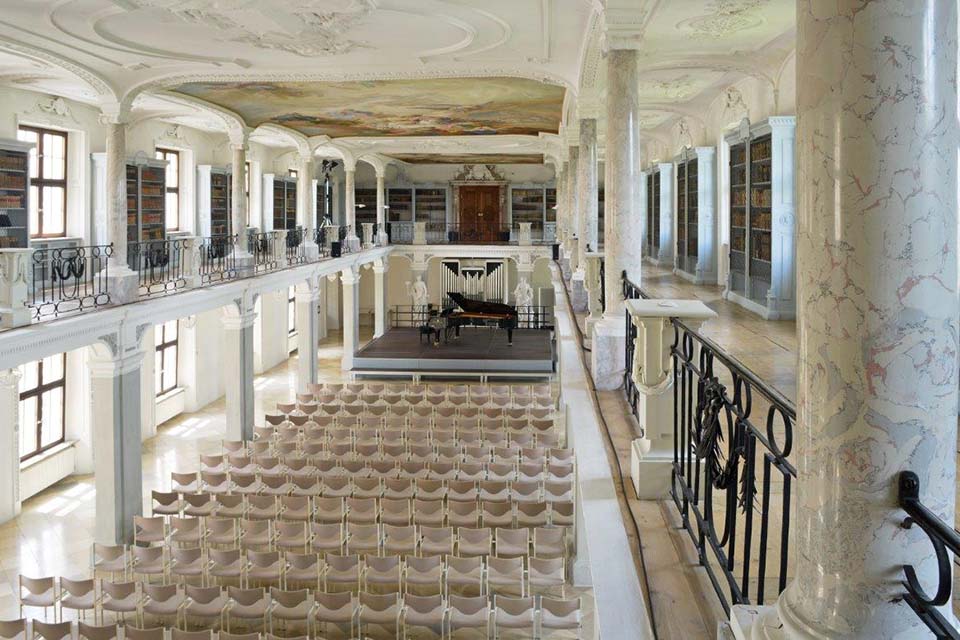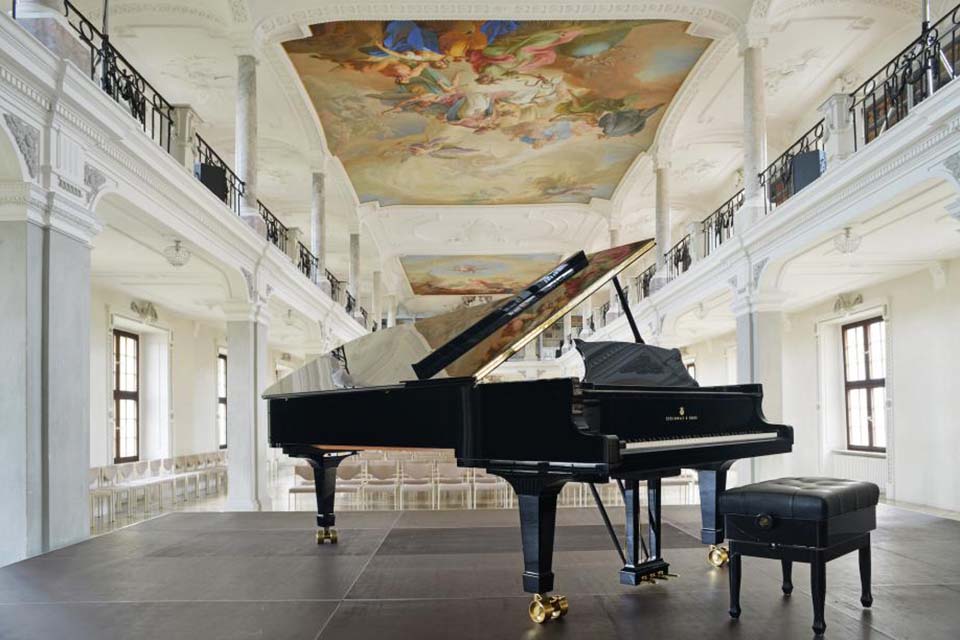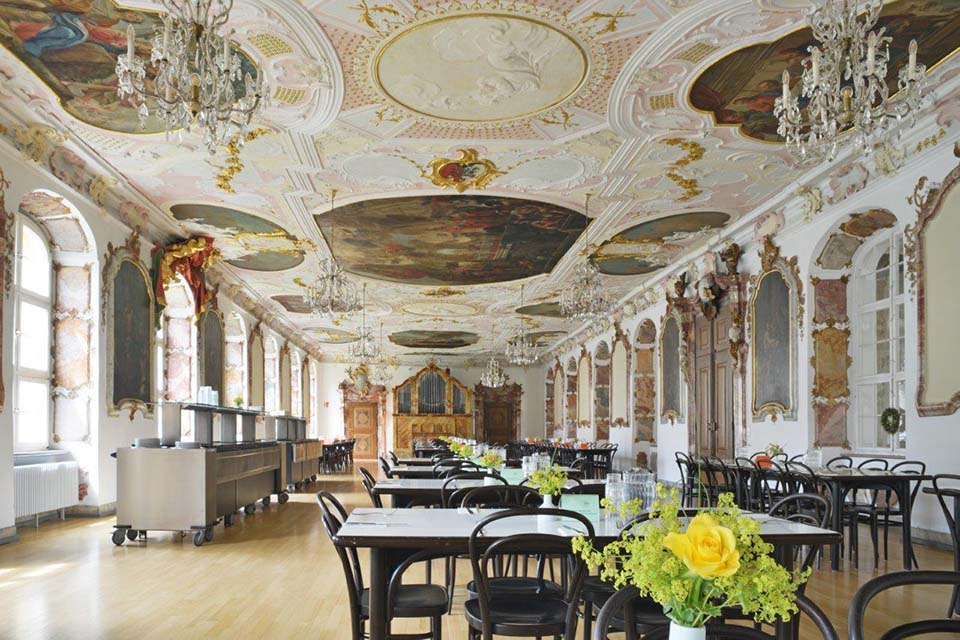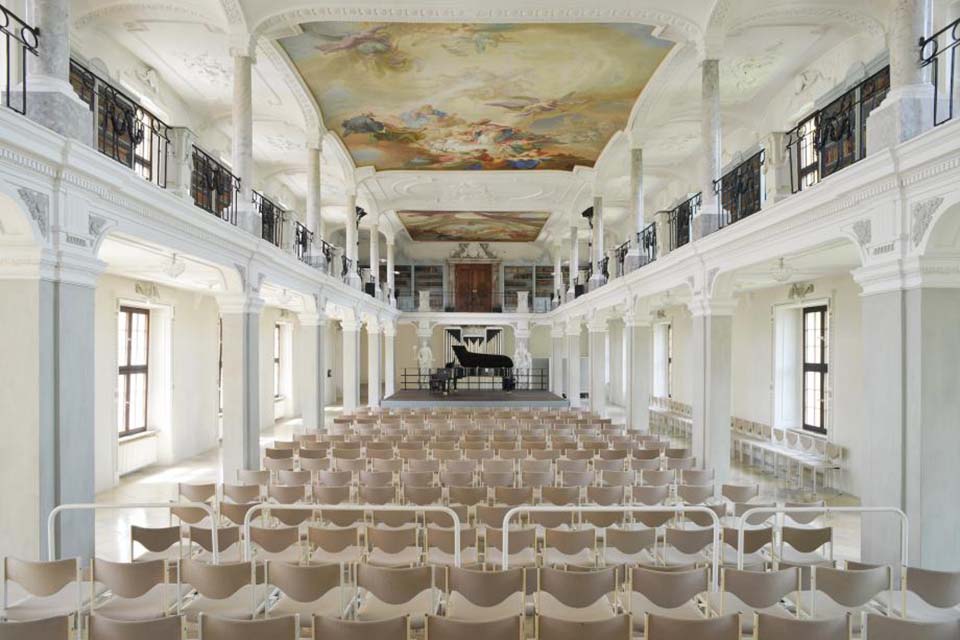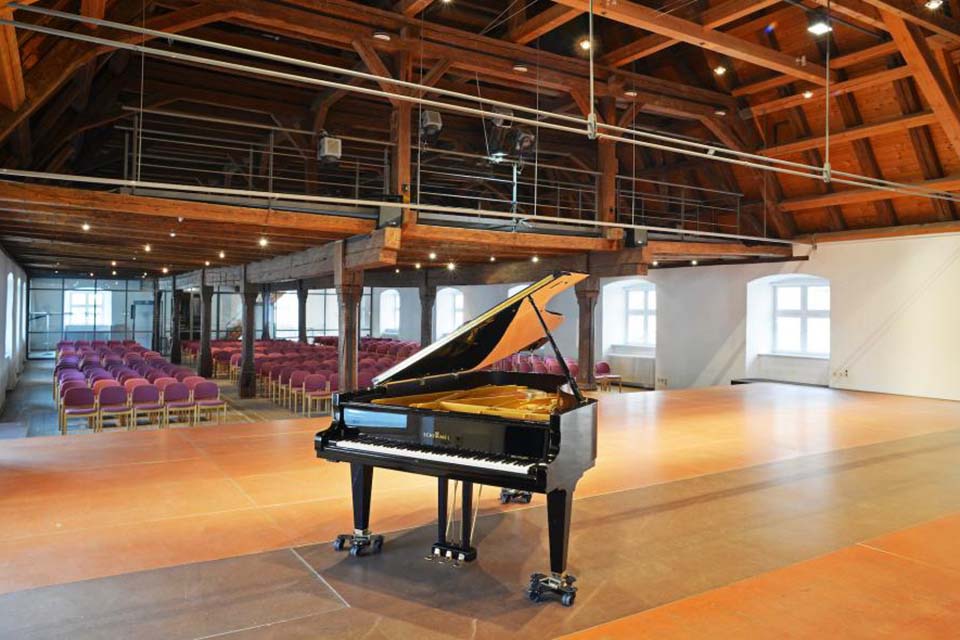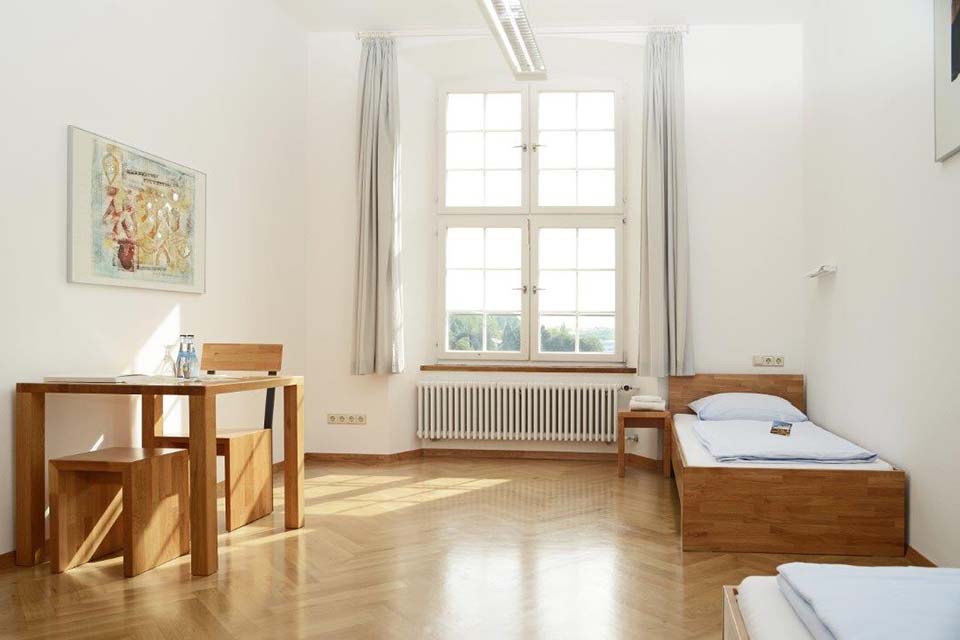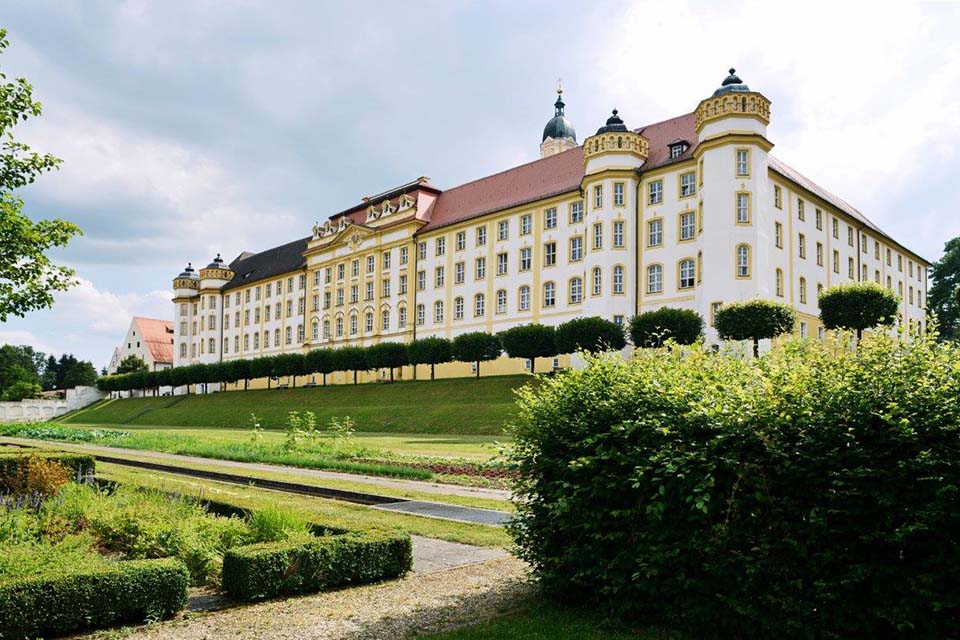 The mission of the academy and this partnership is to offer a transformational experience for students and to bring artists from Europe and America together to instigate change in the world of music, while drawing on and respecting its great traditions. The work of the academy will culminate with student and faculty concerts, public workshops, and master classes in Ochsenhausen, as well as in various concert venues throughout Southern Germany.
Program Faculty
Ida Bieler, violin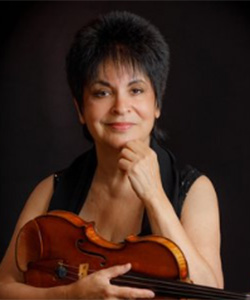 Described by Fanfare Magazine as "a specialist in everything, from Bach to new-music premieres…" violinist Ida Bieler is renowned as a musician of extraordinary scope. A winner of prestigious competitions on three continents, she has enjoyed an exceptional solo, collaborative and recording career worldwide, and is one of the most sought-after teachers of her generation.
Bieler has performed the canon of major violin concertos with over forty orchestras on four continents, including the premiere of Penderecki's second violin concerto under the direction of the composer. Her groundbreaking achievement as the first American woman appointed concertmaster of a major European orchestra, the "Gürzenich Orchestra" of Cologne, led to a major ensemble career in Germany's legendary Melos String Quartet and the acclaimed Xyrion Piano Trio. Over the course of a celebrated performing career spanning more than thirty years she has also produced an impressive catalogue of solo and chamber recordings with such labels as Naxos, MDG, Harmonia Mundi Musique, Coviello and Genuin. Awards and prizes have included the Cannes "Classical" award, the Echo "Klassik", Fono Forum's "Stern des Monats", and Strad's "Chamber Music Selection."
Ida Bieler has performed and been a frequent guest artist in major international festivals, including the Schleswig-Holstein Musik Festival, the Beethovenfest Bonn, the Music Academy of the West, and the Ravinia and Marlboro festivals. One of today's preeminent pedagogues, Bieler has held full professorships in Germany, England, Austria, and the US, and leads annual masterclasses worldwide. Bieler's outstanding students are international prize laureates, thriving chamber musicians, and winners of positions in major orchestras. Since 2013 she has been Artist-Teacher of Violin at UNCSA, and is a new faculty member of NYU's Steinhardt School of Music and Performing Arts.
François Benda, clarinet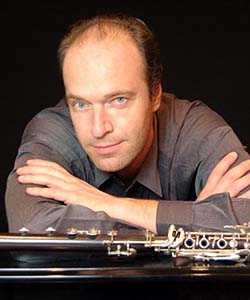 François Benda was born in Brazil, but his musical roots are in Europe. François Benda's international career began in 1988, when he debuted as a clarinet soloist at Zurich's prestigious concert venue Tonhalle and at the Victoria Hall in Geneva.
In 1991 François Benda was awarded the Premio internationale per le Arti dello Spettaccolo in Rome. Today François Benda performs at all the important music venues (Berlin's Philharmonie, the Musikverein in Vienna, Concertgebouw Amsterdam, Wigmore Hall London, the Tonhalle in Zurich) and appears as clarinet soloist with all leading orchestras. François Benda regularly appears as a guest artist at music festivals such as the Pablo Casals Festival, the Berliner Festwochen, Styriarte, Musicades Lyon, and the Pentecost Concerts in Ittingen, Switzerland. He appears in chamber concert recitals with Heinz Holliger, Paul Badura-Skoda, Bruno Giuranna, Isabelle Faust, Josef Silverstein and Bruno Canino. He's also a member of the Benda Musicians, the Weimar Soloists and the Variazioni Ensemble.
His comprehensive discography (for ECM, Fono, Pantheon, EPU, Hänssler und Genuin) includes also the clarinet concertos by Nielsen, Debussy, Busoni, and Rossini and, most recently albums with the complete Schumann works and complete Brahms works. François Benda's intensive study of recent instrument making developments led to the founding of the Clarinartis Company, in collaboration with instrument makers René Hagmann and Jochen Seggelke. His broad repertoar has been enriched in collaboration with contemporary composers Krzysztof Penderecki, Heinz Holliger, Elliott Carter, Luciano Berio, Georg Friedrich Haas, Wolfgang von Schweinitz and Bernhard Lang. In addition to his solo career, François Benda is one of the most highly sought after Professors of Clarinet. He teaches at the University of Arts in Berlin and the Hochschule für Musik der Stadt Basel, Switzerland.
Konrad Elser, piano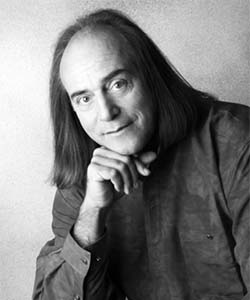 Born in Schwäbisch Gmünd, pianist Konrad Elser studied at the Musikhochschule in Stuttgart with Professors Paul Buck, Andrzej Jasinski and Oleg Maisenberg, who gave him his assistantship while he was still a student. Elser was a student of Martha Argerich in Geneva and attended master classes with Lew Vlasenko, Jörg Demus and Nikita Magaloff, among others.
Elser has received prizes and awards at numerous competitions. In 1982 he was awarded the bronze medal at the International Music Competition in Geneva. In 1984 he was a prizewinner at the German Music Competition in Bonn, in 1985 he won first prize at the Concours International de Piano in Epinal, and in 1987 and 1989 prizes followed at the Busoni Competition in Bozen and at the International Schubert Competition in Dortmund.
His concert activities as a soloist and chamber music partner have taken Elser across Europe, South America, China and Japan. For many years he gave concerts with the 'Melos Quartet', with well-known artists such as David Geringas, Ida Bieler, Thomas Brandis, the tenor James Wagner, the Lotus Quartet, the Cuarteto Casals and the Trio di clarone with Sabine Meyer.
After teaching at the University of Music in Stuttgart and the University for Church Music in Esslingen, Elser accepted a call to the University of Music in Lübeck in 1992, where he trains young pianists as a professor for piano and chamber music.
Zora Slokar, french horn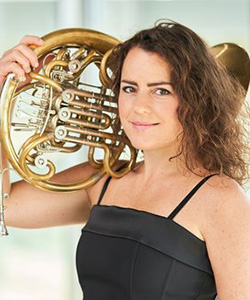 Zora Slokar was born in Bern. In her young career she has already played as a soloist with renowned orchestras such as the Tchaikowsky Radio Orchestra Moscow, Radio/Tv Orchestra Ljubljana, Orchestre de Chambre de Genève, Istanbul Devlet Symphony Orchestra, Capella Istropolitana and the Orchestra di Camera di Milano.
She is a passionate chamber musician and a regular guest at important chamber music festivals such as the Lockenhaus Kammermusikfest, Verbier Festival, December Nights Moscow, Oleg Kagan Musikfest Kreuth, Progetto Martha Argerich Lugano and the Festival 'Chamber Music Connects the World' Kronberg as partner of Gidon Kremer, Martha Argerich, Eduard Brunner, Sergio Azzolini and Maurice Bourgue.
Slokar has won many prizes and awards such as the first prize at the Anemos competition in Rome in 2002 and a final participation at the Paxman competition 'Young Horn Players' in London. In 2003 she won the first prize at the Ceccarossi competition in Orsogna, Italy and in 2007 the Kiwanis sponsorship prize in Zurich. She was also a Migros/Kulturprozent scholarship holder and was sponsored as a young soloist by the Orpheum Stiftung Zurich.
Her musical education began at the age of five with the violin. After the Violin-Lehrdiplom she concentrated completely on horn playing, which she started at the age of 16 with her father as teacher. She then studied with Erich Penzel in Maastricht, where she received her Bachelor`s Degree in 2003. In 2008 she received her soloist diploma at the Hochschule der Künste Zurich in the class of Radovan Vlatkovic.
As a solo horn player she has played in many renowned orchestras such as the Tonhalle Orchestra Zurich, Gustav Mahler Youth Orchestra, Verbier Festival Orchestra and the Ensemble Modern Frankfurt.
She is solo hornist in the Orchestra della Svizzera Italiana in Lugano.
Matthias Buchholz, viola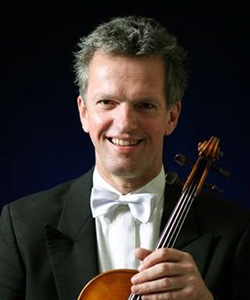 Matthias Buchholz was born in Hamburg in 1957 and began his music studies there. Further studies took him to Cincinnati, Detmold and the Curtis Institute of Music in Philadelphia. His teachers include Hirofumi Fukai, Bruno Giuranna, Michael Tree and Karen Tuttle. He received further important musical instruction through his work with Felix Galimir, Alexander Schneider and the LaSalle Quartet. Since 1976 he has performed - first as violist in the Brahms Quartet Hamburg, then in the Ridge Quartet New York - in the important European metropolises, the USA and Canada, South America and Asia.
He was a prize-winner at the German Music Competition in Bonn in 1978, the Coleman Competition in Los Angeles in 1981, and the Budapest International Music Competition in 1984. From 1986, Matthias Buchholz was first solo violist in the Stuttgart Radio Symphony Orchestra until 1990, when he was appointed professor of viola at the Cologne Musikhochschule. Since then he has conducted master classes in Taiwan, Japan and Korea, USA and in many European countries. He has been invited repeatedly to the festivals in Avignon, Berlin, Marlboro, Hitzacker, Lyon, Schleswig-Holstein and others, where his chamber music partners have included artists such as Salvatore Accardo, Norbert Brainin, Rainer Kussmaul, Joseph Silverstein, Benny Goodman, Anner Bylsma, Frans Helmerson and members of the Guarneri Quartet. As a guest, he has performed with the Auryn, Fine Arts, Petersen, and Vermeer Quartets, as well as the Trio Fontenay. World premieres and German premieres of works by composers Hans Zender, Heinz Holliger, Per Nörgard, Peteris Vasks and Detlev Müller-Siemens document his tireless commitment to contemporary viola music.
Since 1991 he has been a member of the Linos Ensemble, with which he has since performed in countless concerts in Europe and Southeast Asia. His CD's with works by Haydn, Schubert, Bruckner, Dvorak, Mahler, Prokofiev, Janacek and many other composers make the ensemble's joy in the intensive exploration of music audible.
In 2003, a new adventure began with the founding of the Heine Quartet: together with Ida Bieler, Ulrich Gröner and Christoph Richter, four quartet-experienced and -tested musicians founded the new Heine Quartet. Invitations to Zurich, London, Düsseldorf (Schumannfest 2006), Würzburg (Mozartfest), Stuttgart, Essen, Wiesloch, Ravensburg as well as to the Rheingau Festival 2006 followed the successful founding concert in Ochsenhausen in 2004. The first CD with quartets by Johannes Brahms (A minor op.51/2) and Leos Janacek (Intimate Letters) will be released in spring 2006 on the GENUIN label/Leipzig.
Miclen LaiPang, violin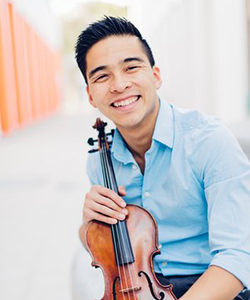 Violinist Miclen LaiPang is quickly establishing himself as one of the most exciting and versatile artists of his generation and has earned global recognition as a soloist, chamber musician, and concertmaster. The New York Times acclaimed Miclen as "a force to be reckoned with…" while German newspaper Die Welt said he is "a musician of daring virtuosity with gripping access and noble elegance."
Miclen has performed with numerous orchestras and have had solo recitals in halls such as the Carnegie Hall, Vienna Musikverein, Salzburg Dom, Walt Disney Concert Hall, Elbphlharmonie in Hamburg, Wigmore Hall, Royal Albert Hall, Berlin Philharmonie, Luxembourg Philharmonie, Victoria Hall in Singapore, St. Martin in the Fields, and many more. Miclen started his first violin lesson at the age of three, inspired by the work of his brother, a violinist in the Malaysian Philharmonic Orchestra. By the age of 9, he went on to win numerous competitions, including the grand-prize of the Merit Award Competition, the ASTA Competition, MTNA, and Redlands Bowl Young Artist Competition.
Since then, Miclen has performed in over 50 countries and has won multiple awards, including the Stradivarius International Violin Competition, Schoenfeld International String Competition, Grand Prize of the American Fine Arts National Competition, and the Bruno-Frey-Musikpreis. Just in 2021, Miclen has won First Prize at the American Virtuoso International Music Competition, Grand Prize at the Vancouver International Music Competition, First Prize and Judge's Best Performance Award at the Vienna Virtuoso Music Competition, Grand Prize at the Primuz International Strings Competition, Grand Prize and 2 Special Prizes at Nouvelles Étoiles Music Competition, First Prize at the Swiss International Online Music Competition and First Prize in the CD Category, First Prize at the 3rd Pro Violin International Competition, First Prize and Special Prize at the International Moscow Music Competition, First Prize at the King's Peak International Competition, First Prize at the American Music Talent Competition, and a laureate of the Odin International Music Competition, Medici International Music Competition, 6th Rising Star Grand Prix, and the North International Competition. He has also appeared as a violin soloist on worldwide television networks, such as NBC, ESPN, 3ABN, LLBN, and the Hope Channel.
As an avid chamber and orchestral musician, he has participated in festivals including the IMS Prussia Cove Open Chamber Music, Rome Chamber Music Festival, iPalpiti, Tanglewood, New York String Orchestra Seminar, Young Musicians Foundation Debut Orchestra, Lyricafest, and the Castleman Quartet Program. Other festivals he has appeared in include Verbier, Ghent, Aspen, Rheingau, Spectrum New Music Festival, Salzburg, Port City Music Festival, Montecito International Music Festival, and Boston Music Institute Masterclasses. He is currently the artistic director of the Miesbach Kammermusikfestival and teaches chamber music at the International Chamber Music Academy of Southern Germany at the Landesakademie Ochsenhausen. With a wide range of standard violin repertoire, he is also an advocate for the music of contemporary composers.
He has performed and premiered pieces by Steve Reich, John Harbison, György Ligeti, Luciano Berio, Lansing McLoskey, Augusta Read Thomas, Christopher Theofanidis, and Thomas Sleeper. In addition to his classical career, Miclen has also enjoyed collaborations with artists such as Shelly Berg, James Newton Howard, Bruce Hornsby, Andy Farber, and Arturo Sandoval. In 2018, Miclen became one of the violinists for the Echo Klassik nominated LGT Young Soloists; described by Fanfare as "one of the finest youth orchestras in Europe". Miclen has recorded two CD's with them, with the first one in 2019 under SONY MUSIC and the most recent one featuring him on the Kreutzer Sonata arranged for violin and chamber orchestra on NAXOS.
In April 2020, Miclen won the Woordfees Festival Award for "Best Classical Instrumental Performance" when he gave the African premiere of the Kreutzer Sonata in Stellenbosch. In 2021, Miclen won a three year scholarship from Villa Musica Rheinland-Pfalz where he is working with leading musicians from around the world. He is also a member of the highly acclaimed O/Modernt Chamber Orchestra. Besides music performance, Miclen has a deep-rooted affection for musical outreach and entrepreneurship. In 2012, he founded the Southeast Asia Music Festival in Bukidnon, Philippines which was catered to bringing world-class music and musicians into a remote area of the world. The mission was to give the highest quality instruction and to inspire a greater appreciation of music in the talented musicians of the area as well as fostering musical growth and advancement. He has also worked carefully with El Sistema inspired programs in the United States on developing and advising efficient ways to bring music into undervalued society.
Miclen has had the privilege to work with international artists such as Ivry Gitlis, Janos Starker, Gerhard Schulz, Robert McDuffie, Lawrence Dutton, Jens Peter Maintz, Christoph Richter, Matt Haimowitz, Ross Harbaugh, Irvine Arditti, Jodi Levitz, Csaba Erdélyi, and Peter Serkin, Trio Zadig and many more. His primary mentors include Ida Bieler, Charles Castleman, Ruggiero Ricci, Aaron Rosand, Alice Schoenfeld, and Linda Rose. His previous institutions include the Colburn School, Eastman School of Music, Frost School of Music at the University of Miami, and the Robert Schumann Musikhochschule in Düsseldorf. Currently, Miclen resides between Cologne and Vienna where he keeps a busy schedule as guest concertmaster, teaching, chamber music projects, and solo performances. He was the teaching assistant of renowned violinist Ida Bieler under whom he completed his Konzertexamen degree with highest honors from the Robert Schumann Hochschule. He is currently studying with Boris Kuschnir at the Universität für Musik und darstellende Kunst Graz.
Elina Gotsouliak, collaborative piano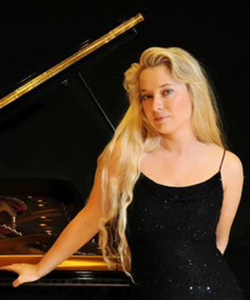 Elina Gotsouliak was born in Riga (Latvia), attended the Music High School and then the Music Academy in Riga, where she majored in piano and harpsichord. During this time she won the first prize at various international piano competitions, including the Concours Musical de France Ginette Gaubert and at the Concours International de Piano Maryse Cheilan in France.
From 2002 she studied with Rudolf Buchbinder in Basel, where she completed her concert diploma with distinction. Since 2010 she has been a lecturer at the Hochschule für Musik in Basel. Gotsouliak appears increasingly as a concert pianist and chamber musician as a soloist with various orchestras and as a chamber music partner of artists such as Felix Renggli, Sergio Azzolini, Gustavo Nunes, Emanuel Abbühl, François Benda in Switzerland, Italy, France, Spain, Portugal, Austria, Slovenia, Cyprus, Latvia and Brazil.

She is a regular guest at various international music festivals and concert series, including Swiss Chamber Concerts (Switzerland), Musica Viva, Schleswig Holstein Music Festival, Crescendo Festival in Berlin (Germany), J. S. Bach International Chamber Music Festival (Latvia), International Summer Academy in Payerbach and Music Forum Viktring (Austria), Beregneria Festival (Züpern), Ljubljana Festival (Slovenia), Allegro Festival Guimarães (Portugal).

Her solo CD with the late works of Frédéric Chopin, which was received with the highest praise by the music press, as well as a chamber music CD with works by Robert and Clara Schumann.
Kara I-Ting Chen, collaborative piano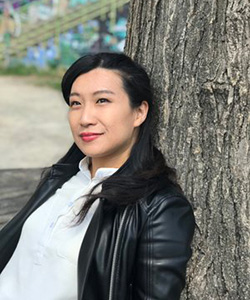 Kara I-Ting Chen was born in Kaohsiung City, Taiwan in 1986. She received her first piano lessons at the age of five and received a sound piano education at the music school in Tainan, Taiwan continuing with concert studies at the University of Music and Performing Arts Vienna. During her studies with Alexander Jenner, Heinz Medjimorec and Noel Flores, she also received valuable impulses at master classes given by Karl- Heinz Kämmerling and Andrzej Jasinski.
She has won several national and international competition prizes, including the 1st prize at the Taiwan National Student Competition of Music (1998) and a second prize at the International Chopin Piano Competition in Taipei (1999).
As a pianist and accompanist, she has participated in many master classes and competitions (including the Cello Competition in Liezen, International Competition "Anna Kull") as well as in concerts in Switzerland, Turkey, Italy, Poland and Austria.
Since 2012, I-Ting has been working at the University of Music and Performing Arts Graz as a repetiteur at the Institute for String Instruments.
Hillel Zori, cello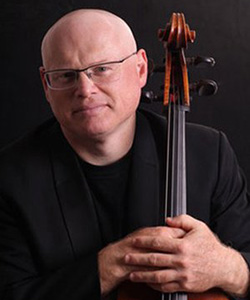 One of Israel's eminent musicians, cellist Hillel Zori, who has been hailed by the international press to "have his playing linked directly to the Jewish-romantic tradition," has distinguished himself as winner of the gold medal at the Canals Competition in Barcelona, a laureate of the Geneva-CIEM, the Whitaker and the Cremona-Premio Stradivari competitions as well as winner of the Dutilleux prize at the Rostropovich competition and the Jackson Award at Tanglewood Music Center. A consecutive awardee of the AICF, he studied with Uzi Wiesel at the Tel Aviv Rubin Academy and later at the New England Conservatory in the US with Bernard Greenhouse. His vast repertoire spans from Bach cello suites to contemporary music including numerous premieres.
Since his 1984 debut with the Israel philharmonic and Zubin Mehta, Zori has been featured as soloist with many orchestras such as the Dusseldorf Symphony, the Jerusalem Symphony, the Bremen Kamerphilharmonie, the Israel Chamber Orchestra, the BBC Scottish Symphony, the Israel Camerata and the Philadelphia Chamber Orchestra to name a few, performing with prominent conductors such as Mehta, Shalon, Sloane, Paternostro, Brabins, Volkov, Velber, Sheriff and many more.
An avid chamber musician, he has toured the globe extensively as a guest in festivals such as Marlboro, Tanglewood, Solsona, Keshet Eilon, Jerusalem and Dartington festivals collaborating with celebrated artists such as Tabea Zimmermann, Shmuel Ashkenazi, Hagai Shaham, Atar Arad, Pnina Saltzmann, Eugene Drucker and Vadim Gluzmann to name a few. His versatile activities have brought him to major venues such as the Wigmore Hall, the Carnegie Zankel Hall, the Tel Aviv Museum, the Moscow Music Dome and the UN General Assembly Hall in NY performing Bruch Kol Nodrei under the baton of Zubin Mehta for the 2009 International Holocaust Memorial Day.
Active also as a composer and as conductor, he wrote a virtuoso suite for cello and orchestra on themes from the opera Carmen, a Ladino Medley for strings, a string trio, and "Carmel"- songs and verses for voice and chamber ensemble. His adaptation of Wiesenberg's "Monodialogue"- Fantasy for viola, (dedicated to Tabea Zimmermann) – was published by Schott Music. As a conductor, he has conducted the Ra'anana Symphonette, the Israel Camerata and the Israel Youth Philharmonic among others. As a recording artist, he was featured on the BBC3, the IBA and the SWR radio stations, and his album for Cello Classics "Inspirals", cellists –composers' anthology, was selected by the BBC as a January 2014 "CD of the Week".
A most sought after pedagogue; among his numerous students are winners of national and international competitions. He has served as juror for international competitions and presented master classes around the world. A regular guest to the Keshet Eilon String Seminar as well as the Jerusalem Music center, Zori serves as professor and head of strings at the Buchmann-Mehta School of Music at Tel Aviv University.
Saxton Rose, bassoon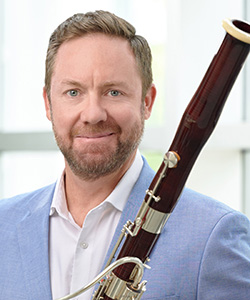 Saxton Rose is principal bassoonist of the Winston-Salem Symphony and a member of the acclaimed New York-based wind quintet Zéphyros Winds. He was principal bassoonist of the Puerto Rico Symphony Orchestra from 2003 to 2008 and has appeared as guest principal bassoonist with the Mahler Chamber Orchestra and Orchestra of St. Luke's. A frequent concerto soloist, recent engagements include appearances with the National Symphony of Colombia, National Symphony of Panamá, Orquesta Filarmónica de Boca del Río (Mexico), Puerto Rico Symphony, and the West Point Band. Formerly Professor of Bassoon at the University of North Carolina School of the Arts, he is now Dean of the School of Music and director of the contemporary music ensemble. Rose graduated with highest honors from the class of Stefano Canuti at the Conservatorio "Agostino Steffani" in Castelfranco-Veneto, Italy and studied with William Winstead at Cincinnati College-Conservatory of Music.
Paul Sharpe, double bass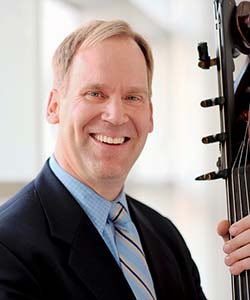 Paul Sharpe is the Professor of Double Bass and an assistant dean at UNCSA. He has performed in recital at prestigious music festivals and venues all over the world – including Germany (Villa Musica), Italy (Orfeo), France (Bass2008), Poland (World Bass Festival), Brazil (Bass Encounter), Virginia's Garth Newel Chamber Institute and Alaska (Anchorage Chamber Music Festival and Fairbanks Summer Arts Festival).
As soloist he has performed with the orchestras of Winston-Salem, Boise, Theatro Sao Pedro (Porto Allegre, Brazil), Fairbanks Summer Arts Festival, Lubbock, Dallas Chamber and Aspen Young Artists. His work as a member of the unique cello-bass duo, Low and Lower has pushed him from the traditional role of a classical double bassist into singing, acting, composing, arranging and more. Sharpe serves as Principal Bass of the Winston-Salem Symphony, is a frequent guest principal and assistant principal bass of Charleston (South Carolina) Symphony and a bassist with Arizona MusicFest.