Collaborative Day: Reeds and Keys
Collaborative Day: Reeds and Keys
Nov. 18, 2023
Come join us at UNCSA School of Music for Collaborative Day: Reeds and Keys. This unique event brings together three special events: Clarinet Day, Double Reed Day and Collaborative Piano Day. Some of the activities offered will be specific to each instrument, while others will provide opportunities for pianists and winds to collaborate.
Events during the day will include masterclasses and sessions for participants with UNCSA faculty artists Allison Gagnon, Oskar Espina Ruiz, Robin Driscoll, and Stephanie Patterson. Our featured special guests include Ana Maria Otamendi, founding director of the Collaborative Piano Institute; Eric Ohlsson, Professor of Oboe at Florida State University; Jimmy Gilmore, former Principal Clarinet of the North Carolina Symphony, Rochester Philharmonic, and the U.S. Military Academy Band at West Point; and Nicolasa Kuster, Professor of Bassoon at the University of the Pacific and Principal Bassoonist of the Stockton Symphony. The day will culminate in a showcase recital at 4:30 p.m. in Watson Hall on the Campus of UNCSA.
Registration
Included with your $15 registration fee:
Participation in Collaborative Day: Reeds and Keys
Lunch
Two tickets to the end of event performance
Post Concert Reception
Schedule
Note: Below is a sample schedule for the event. Times and events are subject to change.
8:30 a.m.
Check-In
Watson Lobby
9 a.m.
Welcome & Opening Concert
Watson Hall
9:30 a.m.
Classes
12 p.m.
Lunch
Dining Hall
1 p.m.
Classes
4 p.m.
Break
4:30 p.m.
Final Concert
Watson Hall
5:30 p.m.
Post Concert Reception
Watson Lobby
Guest Artists
Ana María Otamendi
Since her orchestral debut at age twelve, Venezuelan pianist Ana María Otamendi has performed as a soloist, collaborative pianist, and conductor with renowned orchestras and at important venues such as Chicago Symphony Hall, Spivey Hall, Teatro Teresa Carreño (Caracas, Venezuela), Salzburg Domesaal, Megaron Mousikis Concert Hall (Athens), Parco de la Musica (Rome), Teatro Arcimboldi (Milano), Teatro Odeum (Patras), as well as many other venues in Austria, Panama, Brazil, Venezuela, Colombia, United States, Spain, Italy, and Greece. Over 300 collaborative performances with renowned artists such as Donald Sinta, Michelle DeYoung, Paul Groves, Ana María Martinez, Alexis Cárdenas, members of the Chicago Lyric Opera Orchestra, Philadelphia Orchestra, Houston Grand Opera Orchestra, Pittsburgh Orchestra, Dallas Symphony, Dallas Opera Orchestra, Milwaukee Symphony, and many more.
After finishing her two-year tenure as Studio Artist at the prestigious Houston Grand Opera Studio, as well as the Merola Opera Program of the San Francisco Opera, she became the Head Vocal Coach of the Moores Opera Center at the University of Houston. Currently, she is the Janice Harvey Pellar Associate Professor of Collaborative Piano at Louisiana State University and head of the collaborative piano program. She is the Co-Artistic Director of the Collaborative Piano Institute, an intensive three-week summer program devoted to collaborative pianists, that counts with stellar faculty, such as Martin Katz, Rita Sloan, Warren Jones, Kathleen Kelly, Marie-France Lefebvre, Howard Watkins, and many more.
She is also pianist and founding member of the and the Aelia Duo (with pianist Elena Lacheva), and the Reverón Piano Trio, a Venezuelan ensemble devoted to the standard, modern, and Latin American piano trio repertoire managed in the United States by Meluk Kulturmanagement and in Latin America and Europe in society Halac Artists - Meluk Kulturmanagement. Her recordings of Latin American chamber music and songs with IBS Classical and Centaur Records have received unanimous praise.
She is a regular guest artist, guest speaker, and teacher at different Universities in the United States and abroad such as New England Conservatory, University of Michigan, Yale, Cambridge, Universidade de Sao Paulo and Universidade Federal do Rio Grande do Norte (Brazil), Mahidol University (Thailand), University of Minnesota, University of Texas at Austin, the University of South Carolina, and many more. Ana María holds a Master's degree in piano performance from the University of Wisconsin, an Artist Certificate from the University of South Carolina where she worked with the renowned pianist Marina Lomazov, and a Doctorate in Collaborative Piano from the University of Michigan, where she studied with world-class collaborative pianist Martin Katz. In 2021 she won the Emerging Artist Award from the University of Michigan, as an artist who has greatly contributed to the profession, as well as the Rising Faculty Research Award from Louisiana State University for professional excellence.
She was principal keyboard of the Venezuelan Symphony Orchestra (2007–08) as well as Assistant Professor at the University of Musical Studies in Caracas. Besides her musical training, Ana María is fluent in English, Spanish, French, and Italian, and also a Geophysical Engineer. Her thesis was published in the prestigious journal Physics of the Earth and Planetary Interiors.
Eric Ohlsson
Dr. Eric Ohlsson enjoys a significant musical career that is varied and far reaching in scope. He is dedicated to both performing and teaching on a national and international scale. His primary position is as the Charles O. DeLaney Professor of Oboe in the College of Music at Florida State University, a post he has held since 1986.
Ohlsson performs regularly as principal oboist of the Tallahassee Symphony, the Palm Beach Opera Orchestra, and in the summer months, with the Brevard Music Center Orchestra, where he has been a member of the Artist Faculty since 1994.
He was formerly principal oboe of the Naples Philharmonic (1986-96), the Columbus Symphony (1975-80), the Augusta Symphony (1982-86), and the South Carolina Philharmonic (1980-86). Additionally, he has played in the same capacity as a guest performer with groups such as the Charlotte Symphony, the Florida Orchestra, and the Jacksonville Symphony.
He has many engagements to his credit as a recitalist and chamber musician the US, Canada, Europe, and South America, and has given solo and chamber recitals at venues such as Weill Recital Hall in New York City, Teatro Colon in Buenos Aires, the Brevard Music Festival in North Carolina, with the City Music Chamber Orchestra in Cleveland, at the Casa Rui Barbosa in Rio, at the Philharmonic Center for the Arts in Naples, Florida, and at the Grand Castle of Vianden in Luxembourg, to name a few. He has performed at Conferences of the International Double Reed Society on ten separate occasions.
Ohlsson has been a featured soloist with the Naples Philharmonic, the Tallahassee Symphony, the Augusta Symphony, the Pro Musica Chamber Orchestra, City Music Cleveland, the Brevard Music Center Festival Orchestra and Brevard Sinfonia, the South Carolina Philharmonic, the South Carolina Chamber Orchestra, the Florida State Chamber Orchestra, and the University Orchestras of Florida State University and The Ohio State University. His repertoire includes the concertos of Haydn, Mozart, Strauss, Francaix, Martinu, Vaughan-Williams, and Zwilich.
As a pedagogue, Ohlsson has taught hundreds of young oboists at FSU, Brevard Music Festival, and at the Vianden International Music Festival. Many of these students now hold important positions as university professors, symphonic performers, and educators across the country. He has also taught at the University of South Carolina, the South Carolina Governors School of the Arts, Otterbein College, and Denison University.
His degrees are from The Ohio State University (DMA and MM) and James Madison University (BME). His most influential teachers are John Mack, William Baker, James Caldwell, Ben Wright and Travis Cox.
Nicolasa Kuster
Bassoonist Nicolasa Kuster joined the faculty of the University of the Pacific Conservatory of Music in Stockton, California in the Fall of 2008. She is a Founding Co-Director of the Meg Quigley Vivaldi Competition, a biennial competition for young women bassoonists from the Americas which awards $20,500 in prizes. She is Principal Bassoon of the Stockton Symphony and a member of the Pacific Arts Woodwind Quintet. Previous positions include Principal Bassoon of the Wichita Symphony and Second Bassoon in the Tulsa Philharmonic Orchestra, the Rhode Island Philharmonic, and the Virginia Symphony.
Ms. Kuster taught at Wichita State University and was a member of the Lieurance Woodwind Quintet for eight years-she is featured on their most recent CD, Music from the Americas (Summit). She spent six summer seasons performing with the Spoleto Festival Orchestra in Spoleto, Italy and can be heard on the Chandos Label playing Principal Bassoon on Gian Carlo Menotti's operas The Consul and The Saint of Bleeker Street; two CDs of Gian Carlo Menotti's orchestral, vocal and instrumental works; and Prokofiev's War and Peace. She has participated in numerous summer festivals, including Anchorage Music Festival; New Hampshire Music Festival; Ameropa Chamber Music Festival in Prague, Czech Republic; Sequoia Chamber Music Workshop in Arcata, CA; and the Marrowstone Festival in Bellingham, WA.
Her solo appearances with orchestra include multiple-city tours of Kazakhstan, televised performances in Italy and Panama, and numerous performances in the United States. She is the winner of the 1995 Chicago Musicians Club of Women's Solo Competition Farwell Award, which she won while a member of the Civic Orchestra of Chicago studying with the late Bruce Grainger, Assistant Principal Bassoon of the Chicago Symphony. She is a double degree graduate from Oberlin College and Conservatory and a student of George Sakakeeny. She taught at Oberlin as a sabbatical replacement for him in Fall 2002.
Ms. Kuster began her musical studies as the daughter of musically minded missionaries, growing up in Peru, Nicaragua, Costa Rica, and Panama.
Jimmy Gilmore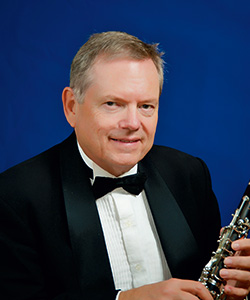 Jimmy Gilmore is a native of Dallas, Texas and is Principal Clarinetist (ret.) of the North Carolina Symphony. He holds a Bachelor's degree from the Eastman School of Music and a Master of Science degree from the Juilliard School of Music.
Mr. Gilmore was formerly a member of the Rochester Philharmonic and the U.S. Military Academy Band at West Point. A faculty member of Duke University and Meredith College, Mr. Gilmore has made numerous appearances as a soloist and recitalist throughout the Southeast. In addition, he has appeared many times as a concerto soloist with the North Carolina Symphony.
In the 2016-17 season, he performed the Copland Clarinet Concerto with the Duke Symphony Orchestra. Mr. Gilmore is very active with leading arts organizations in the Triangle music community and maintains a thriving private studio. Many of his students have gone on to study at major conservatories and universities; several now hold positions in professional orchestras. He is in great demand as an adjudicator and clinician.
Chamber music has long been an important part of Mr. Gilmore's musical life. He is a founding member of the ensemble, AURORA MUSICALIS and has performed in many recitals in the Carolinas. And he is Assistant Executive Director of the North Carolina Chamber Music Institute which he co-founded in 2014.
Mr. Gilmore is also a published writer. His articles have appeared in Opus Magazine, The State Magazine, The Spectator and Clarinetwork. In 1989, his one-act play, The Picture Album won second prize in the Wachovia Playwrights Competition, a state-wide contest.