Organ Faculty
Faculty
Kenan Professor of Organ
School of Music
UNCSA
Timothy Olsen's students have gone on to prominent graduate schools such as Eastman School of Music, Notre Dame University, University of North Texas, Manhattan School of Music, etc., as well as to significant church positions. Each year he also hosts a national High School Organ Festival & Competition at UNCSA & Salem College in January. For more information about Dr. Olsen and the high school competition, visit this site. If you have questions about the organ program at UNCSA (High School, undergraduate, and graduate) or Salem College (undergraduate and graduate), email Dr. Olsen at olsent@uncsa.edu or timothy.olsen@salem.edu.
James Bobb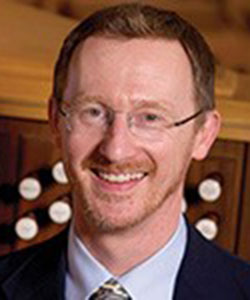 Elliot M. and Klara Stockdal Johnson Chair in Organ and Church Music
St. Olaf College
James E. Bobb is the Elliot & Klara Stockdahl Johnson Assistant Professor of Organ & Church Music; Director of St. Olaf Cantorei, and Cantor to the Student Congregation at St. Olaf College in Northfield, Minnesota. Following the Lutheran cantorial tradition, Bobb regularly composes or improvises music for weekly worship and directs the 80-voice Cantorei in concerts, worship services, and the annual St. Olaf Christmas Festival. Bobb plays organ and/or oversees the preparation of music for the six live-streamed chapel services each week, including Sunday morning Eucharists. As Assistant Professor of Music, Bobb is one of two professors of organ and teaches church music classes in one of the few undergraduate-only programs leading to a Bachelor of Music degree in Church Music.