How to paint your ballet shoes
How to paint your ballet shoes
Like UNCSA, many companies and schools are updating their ballet dress codes to include the choice to wear flesh-colored tights and shoes. Need to know how to paint your ballet shoes?
It's easy! Follow the tutorial and color recipes below from Marissa McCullough, Director of the UNCSA Dance Costume Shop, to paint your pointe shoes, ballet shoes and slippers at home.
Supplies
Paint: Angelus Leather Paint in White, Brown, Red and Yellow.
You can buy Angelus online at major retailers like Amazon, Walmart and Michaels. Four-ounce bottles should be enough for each of the recipes below.
Container for mixing
Brushes: a flat 2" brush and a #10 or #12 round brush
Paper towels or newspaper: For stuffing your shoes
Masking tape: For protecting the soles
Water
Gloves (optional)
Step 1: Prepare your shoes
Ballet shoes can be painted new, right out of the package. Pointe shoes will require prep before you paint — so go ahead and sew them, step on them, scrape, hammer and crack them. The only thing not advised before painting is using glue. Products like Jet Glue, Frey Check or shellac should be applied after the paint is dry, as the glue will not absorb the paint and will create splotches.
Step 2: Tape and stuff your shoes
Next, tape over the soles of your shoes. Cover the entire sole with masking tape so that no paint will get on the sole, which can impede dancing. For flesh colored ballet shoes, start with pink (instead of white) for both men and women. Using the same base color ensures the paint recipes remain a consistent color — and tan soles on pink shoes have a more natural look.
After you've taped the soles, stuff the shoes tightly with paper towels or newspaper. Make sure you leave out any elastic, ribbons and drawstring so you can paint those, too.
Step 3: Mix your paint
Now that your shoes are prepped, you can mix your paint. These recipes will make enough paint for about three pairs of shoes, so a little goes a long way. Stir together paint colors and add water using the proportions in the recipes below to get the colors shown in each photograph.
Paint Mix #1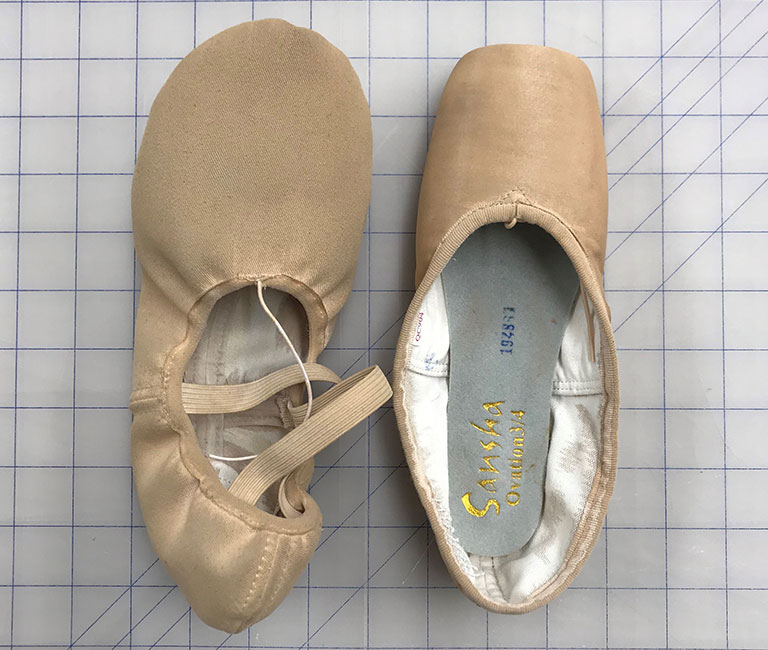 1 Tbsp white paint
4 drops red paint
2 drops brown paint
1 drop yellow paint
¼ cup water
This color is a great match to Capezio tights in "Shortbread."
Paint Mix #2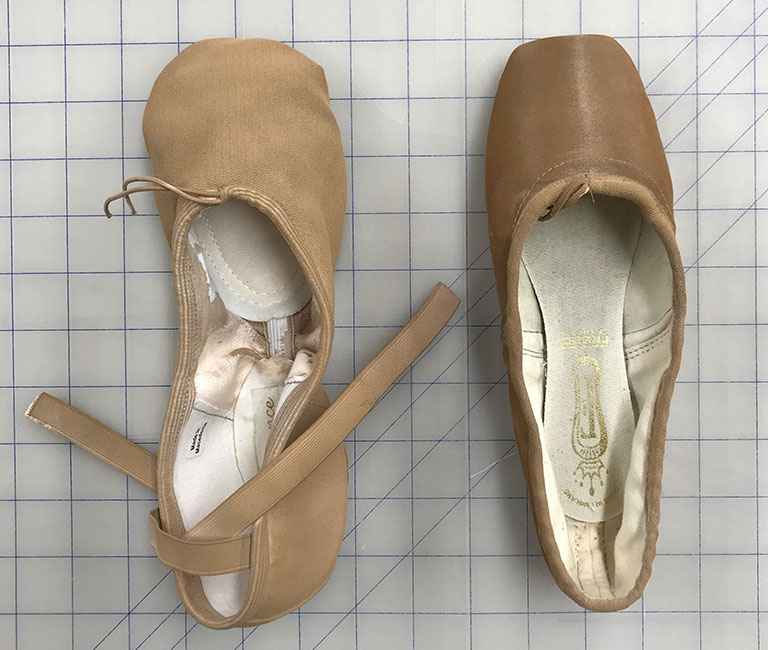 1 Tbsp white paint
¾ tsp brown paint
½ tsp red paint
¼ tsp yellow paint
¼ cup water
This color is a great match to Blendz tights in "Maven Mahogany."
Paint Mix #3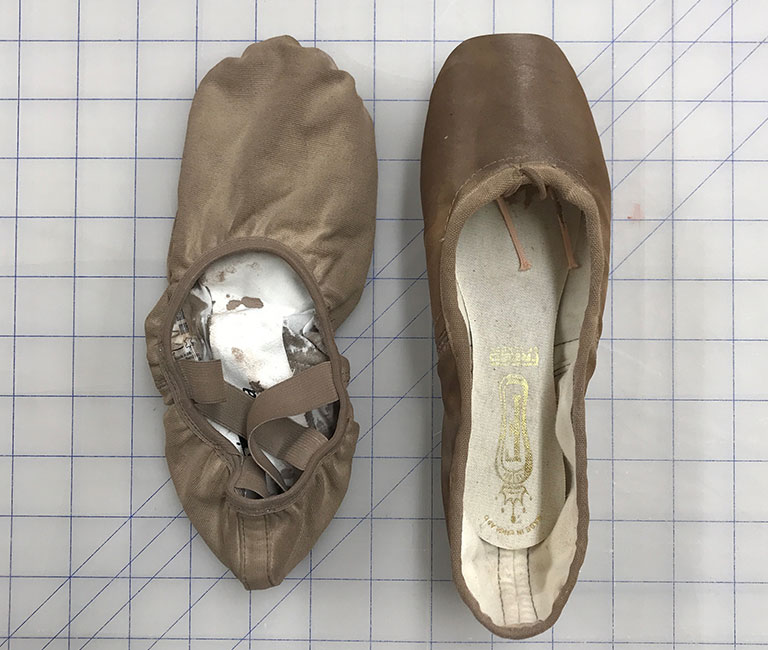 1 Tbsp brown paint
2 tsp white paint
¼ tsp yellow paint
2 drops red paint
¼ cup water
This color is a great match to Body Wrappers tights in "Mocha."
Paint Mix #4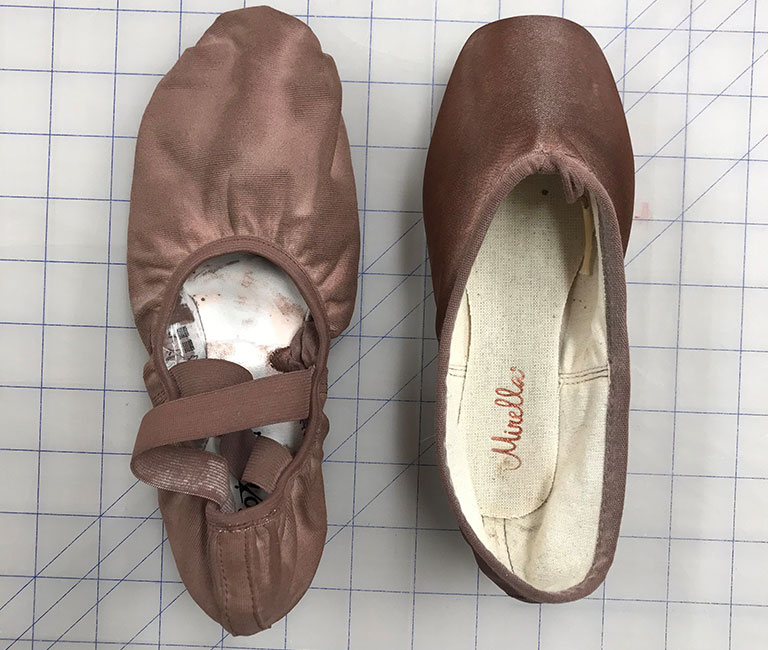 2 Tbsp brown paint
1 tsp red paint
2 drops white paint
1 drop yellow paint
¼ cup water
This color is a great match to Nude Barre tights in "Bohemian Princess."
Storing paint mixture: Store extra paint in an airtight container. Store before adding water, or the mixture will separate over time.
Note about paint colors: The color recipes above are given as starting points. You'll want to experiment and tweak the colors to be just right for you. Keep in mind that matching paint to the color of your tights and matching paint to your skin color may require different combinations.
If you'd like additional guidance finding a tights brand and color that works for you, feel free to email McCullough to make an appointment with the Dance Costume Shop.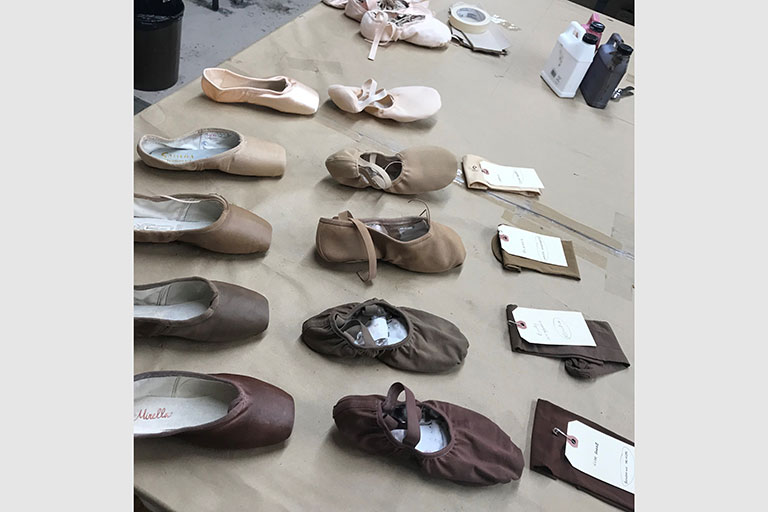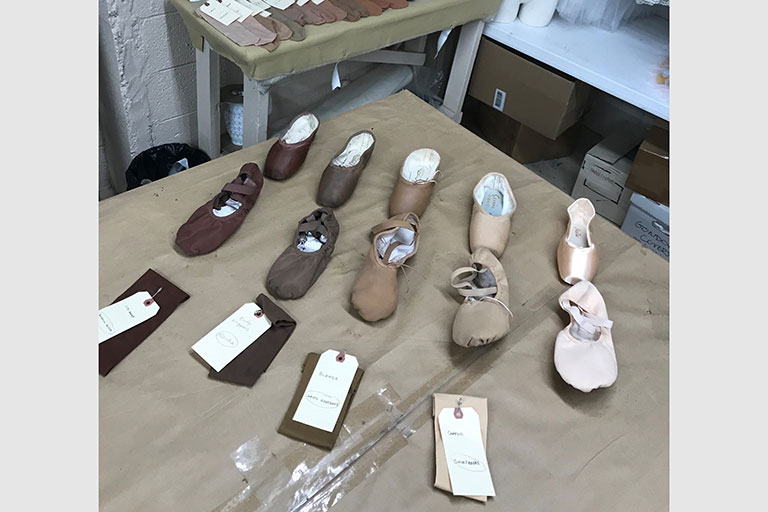 Step 4: Paint your shoes
Once the paint and water are mixed, you're ready to start painting.
Paint the box: Paint the box or toe first, as it's the most visible part of the shoe. Take your 2" flat brush and paint across the box.
Paint the edge of the sole: Flip the shoe over and paint along the edge of the sole with your flat brush. If you're painting a ballet shoe, use your round brush to get into the gathered area under the toe. Blend up toward the box and do a final swipe to blend it all.
Check the details: Check the entire shoe to ensure you've gotten all nooks and crannies, paying attention to the drawstring area, which may require a little more paint than the satin. Paint your elastics and ribbons and carefully spread them out afterwards, so that they don't lay on the shoe.
Let them dry: Now, leave the shoes to dry for a few hours. Bring out your tights to check and see if you're happy with the match. You may need another coat, but try to avoid more than two coats. After the final coat, leave everything overnight to dry. Hang the shoes so that the bottoms and tops dry at the same rate.
Break them in: Once your shoes are dry, remove the stuffing and tape. They're ready! Remember to give yourself a day or two to break them in before performing. The paint will tighten or stiffen them slightly, but they should loosen up after a class or two.